Saree Draping Tips For Short Women
Are you struggling to achieve the perfect look in a saree because of your short height? Read on!
Are you a woman struggling to drape your favourite saree because of your short height? Do not fret because we have got all the useful styling tips for you. This article will talk about the fabric of saree, draping style, patterns, accessories, footwear that short women must invest in. Let's take a look!
Fabric Of Saree
Image Courtesy: Kajol Devgan/Instagram
Fabric makes all the difference in styling. If you are a short woman with a slim or healthy figure, you need to purchase the right fabric to achieve grace in the six-yard saree.
Therefore, short women must go with lightweight fabrics that fall gracefully on the silhouette. Such cloth pieces sit tightly on your body and give the illusion of tall height. They also make a woman look slimmer.
Chiffon
Chiffon is a lightweight fabric that hugs your body while offering a stunning flow. If a woman is short and healthy, she must choose pure or mixed chiffon sarees for any occasion. They are perfect for weddings, events and outings.
Georgette
Did you know that georgette hugs your body tighter than chiffon? Well! Now you are aware of the magic qualities of the fabric. Hence, short women must buy georgette sarees.
Not only such sarees will make you look slim, but they will also emphasise your curves. You can wear a georgette saree to a cocktail party, official event or an upscale wedding function.
If you want to achieve a regal look, you can choose lightweight silk sarees. A short woman must remember not to pick heavy Banarasi, Art, Kanjivaram or Assam silk sarees. Not only they will make you look shorter than your actual height, but they also add the illusion of a bulky figure.
Prints Of Saree
Another important aspect that one must loo before purchasing the saree is print. Short women must go for smaller prints. They help you look tall and slim. You must have seen Alia Bhatt and Shraddha Kapoor donning smaller prints.
If you choose to go with heavy and large print, you would look bulky. Large prints offer a round look which short women might not prefer. You can also pick a saree with no prints at all.
Borders Of Saree
If you are a short woman, you want to give an illusion of long height. Hence, you must choose to think borders. Take a look at Parineeti Chopra and Rani Mukherjee in the pictures.
Most of the Bollywood divas with short height don sarees with thin and light borders. It also accentuates the figure and makes a woman look more attractive. A saree with heavy borders add a bulky appearance which you might be trying to avoid the whole time.
Patterns Of Saree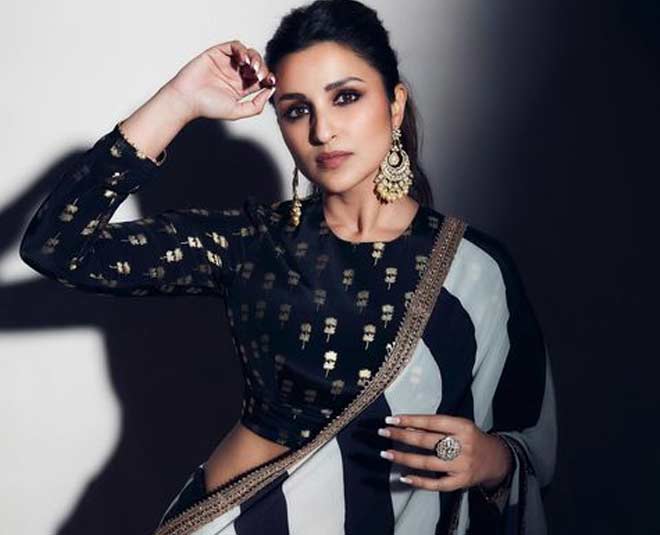 Image Courtesy: Parineeti Chopra/Instagram
Much like borders and prints, patterns of a saree also play an important role in how you look after you are done getting ready for an event. Therefore, it is crucial that short women know what pattern would suit their body type.
Most stylists prefer vertical strips for short women. They add the illusion of a taller height than your actual height. If you choose horizontal stripes, they will make you look shorter than you actually are. A saree like Parineeti Chopra's in the above image is ideal for short women.
Saree Draping Tips For Short Women
How you drape a saree is crucial to your final look. If you do not add safety pins at the places, the complete look would be unappealing to your eyes. Hence, you must ensure to make small please and stack them nicely over one another.
Before you make the front pleats, pull the fabric extending to pallu towards your thigh. It must stretch in nicely and fall from your waist to your thighs. Pin it there and hide it with the front pleats. Also, you must ensure to wear slim petticoats over the long and A-line ones.
This trick will make your waist look small and add an illusion of tall height. Moreover, a tight wrap offers an elegant look that you can don for parties, weddings, gatherings and casual events.
Footwear Choices For Short Women Wearing Saree
There is no doubt that you must try a pair of heels with a saree. However, it is not necessary that you pick pencil heels or stilettos. You can also go for wedges, kitten heels, pumps and blocks. A pro tip that you must remember is that you must be wearing heels before you start draping the saree. It will ensure even the fall of the saree in the front and back.
Blouse Designs For Short Women Wearing Saree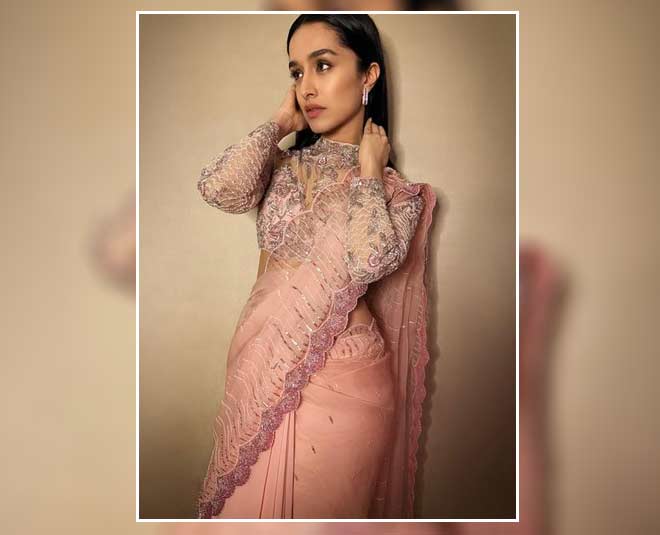 Image Courtesy: Shraddha Kapoor/Instagram
If you are wearing the saree in tight-fitting, the blouse design must also fit perfectly to your torso. The length of the blouse must be medium to give a taller appearance at the end. Women with short height can also try boat necks, halter necks, strips on the shoulder or full sleeves.
Don't Miss: Choose Saree According To Your Body Type
Accessories For Short Women Looking To Style A Saree
Well! The trend of today talks about minimal accessories. Therefore, short women must pick statement jewellery pieces to accentuate their features and overall appearance. Sometimes only heavy earrings are enough to complete the look.
Don't Miss: Regional Sarees That Are Famous Throughout India
If you want to wear a neckpiece as well, you must ensure that it is a choker piece with small and lightweight earrings. You can also wear a ring or bracelet to accentuate the beauty of your hands.
Stay tuned with HerZindagi for more styling tips.