Brassieres or bras are considered as a wardrobe essential since they lift the breasts upwards. It is also believed that bra helps support the body posture and somehow prevents a lot of spine problems, along with back pain. While there is a slew of benefits of wearing them, the undergarment also comes with some discomfort and problems. When at home, one doesn't have to care about even wearing them, however, while stepping, we women need to check for any kind of wardrobe malfunction and comfort factor. This is when a few tips and tricks can come handy. Knowing some simple bra hacks can be life-changing, and that's why we are sharing some of them with you. Check it out!
Hand Wash Your Sports Bra
As the name suggests, a sports bra is supposed to be donned while working out. This means its fabric has to deal with a little more sweat and bacteria. While the clothing already is dealing with polluting agents, which cause the fabric to break down, washing them in the washing machine can stretch its band out. And we don't want this to happen. That's why it is important to take it off after exercising and give it a rinse from hand, while you're in the shower. It will protect the fabric and will also allow your sports bra last way longer.
Don't Five Things That Happens Once You Stop Wearing Bra
Use Covert Clips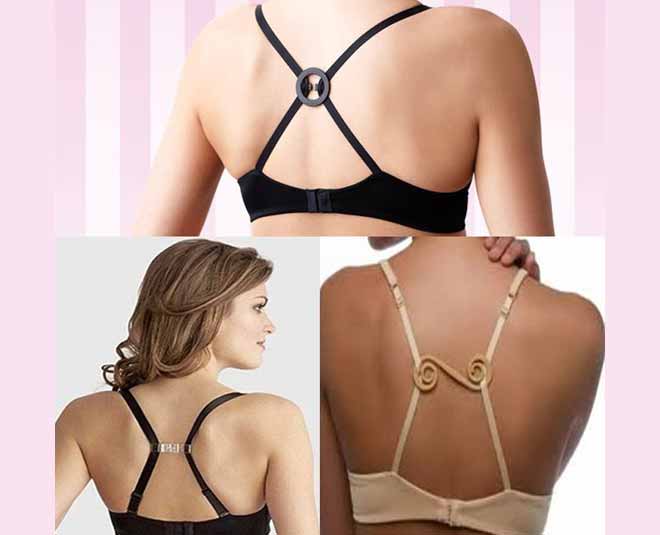 We women love to don different styles of clothes. While some are backless, others are strapless. But every time you plan on wearing any such outfit, you first need to think of an appropriate bra that you can wear underneath. If you have many such pieces it is wise to invest in a bra, whose strap you can adjust according to your preference. But until you buy that, use a covert clip or paper clip to attach both straps together in the center of your back, creating a racerback-style.
Don't Miss: Find Best Bra For You: Which Ones To Pick, Which Ones To Avoid
Invest In A Modeled Cup Container
Keeping your bra unattended with other clothes is not a very smart thing to do. Not only you will be ruining their structure and hooks, but you will also be destroying other delicate fabrics (how to protect delicate fabrics while ironing) in your wardrobe. That's why one must invest in a modeled cup container, which is specially designed to protect the bras. It is an amazing option to keep the underwire and the cups from getting bent or out of shape. The cup container is also advantageous while you are travelling.
Silicone Bra Strap Pads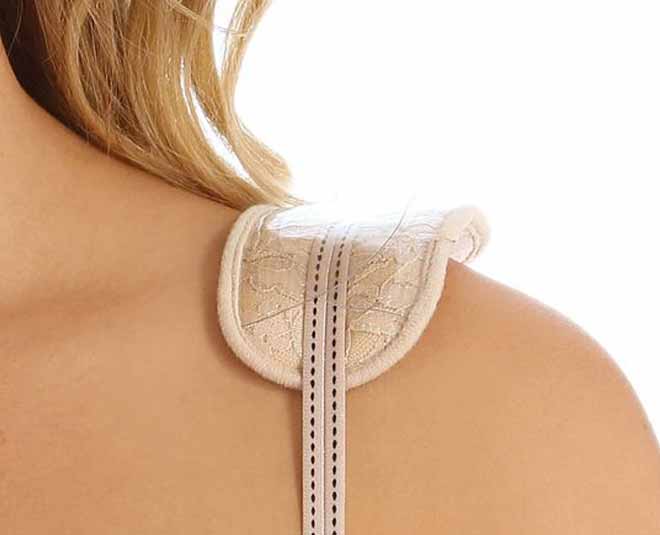 Breast size varies from a person to person. Someone's breasts can be small, others have to deal with heavier body parts, which cause a lot of problems, such as causing pain on their shoulders. If you're not going braless (tips to sport a dress without a bra), avoid the pain with a simple silicone bra strap pads under your straps. You may also suffer from pain if you wear the wrong size of a bra or if the straps are too tight. The pads will help to relieve the pressure that is being caused by strap tugging. It will easily prevent grooves in your skin. However, be extremely careful while investing in a one. If you buy a very thin one, it will do next to nothing to relieve pain.
Secure Your Straps
Be it a blouse of your saree or a simple t-shirt, of course, you don't want the straps to peep out or slip off. It will keep making you uncomfortable. To avoid this either stitch an inch strap underneath your shoulder's hemline or use a double-sided tape. Using tape is a temporary option. If the problem is there in any of your regular clothes, its best to stitch a strap to keep everything in place.
If you liked this article, do comment on our Facebook page. Stay tuned to HerZindagi to read more such stories.