The craze of Bohemian clothes and accessories has increased with women now wearing its pieces to work and colleges. Bohemian or Boho style consist of effortless and relaxed items. It can be loose-fitted dresses or extremely casual accessories that portray creativity and art. Head-bands, vibrant colours, stripped or open-toed footwears, flowy silhouettes and feathered pieces of jewellery are a few classic elements of the boho-chic fashion. Reportedly, the style which was bought in by "hippies" in 1960 and 1970s, garnered the attention of Hollywood celebrities initially and later became popular around the world. So, if you wish to add a few elements of Bohemian style in your wardrobe, invest in these accessories which can elevate your everyday look.
Fringed Necklace
Adding the Bohemian fringed necklace to work jewellery box can help you to style those plain white shirts in the best way possible. Buy pieces made up of metal or threads, or the one with big stones, it can go with most of your dresses, such as the gowns with plunging necklines or turtle neck tops. If you like to colour coordinate your outfits with the accessories, make your DIY neckpieces. Or, nowadays Bohemian pieces are available in most of the street shops, retail stores and e-commerce websites, so you pick your favourite necklace from wherever you want.
Boho Tribal Rings
The most elegant and effortless jewellery item is the finger rings. The ordinary ones can go unnoticed for a minute or two, but not the beautifully detailed Bohemian ones. Be it your ethic attire or just casual ones, the boho tribal rings adds to the overall appearance, making you stand out. Buy any variety, the small, big, metal or the stone ones, these rings will make you appear classy and chic. Nowadays, set rings are trending but, the over-sized rings are not likely to disappoint you.
Boho Foot Anklet
Be it your spring collection or exotic summer style, the boho foot bracelets is ought to become your best pals. Ever wondered what to style your ankle-length jeans with during summers? The Bohemian foot bracelets are the reply! Not just a pair of jeans, but you can style this piece with flowy dresses and gowns too. While all the pattern of boho foot bracelets looks beautiful, the one with stones will never let you down.
Feather jewellery
There is no possibility that the list of Bohemian jewellery can do without a few statement feathered pieces. There are many varieties available in this category. Starting from the hair accessory to the stunning earrings, there is so much you can add to your day-to-day look. While you can also make these at home, a lot of street shops keep a wide variety of feathered necklaces, bracelets, earrings and key chains that you can attach to your handbags to add more of a Bohemian touch.
Don't Miss: Discover The Latest Jewellery Trends Of 2019 And Accessorize With What's In Vogue
Don't Miss: Stack It In Style: Tips To Layer Your Fine Jewellery In A Fun Way!
Arm Cuff And Leg Cuff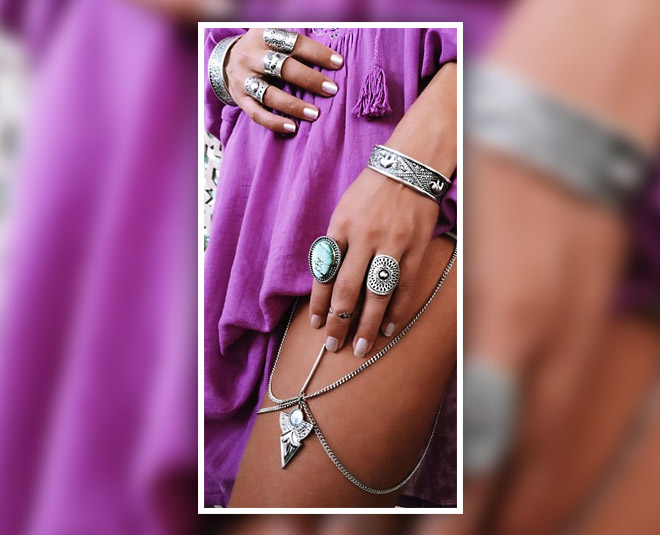 If you like to keep it simple and don't like wearing a lot of neckpieces or earrings, probably you will like wearing arm cuffs and leg cuffs. These are very easy to carry and adds a unique touch to your style. Pair it with plain tops, sleeveless short dresses, and casual ethnic attires. Having one of the arm or leg cuffs in metal will keep you sorted. As you will be able to pair these with any outfit of any colour.