Footwears are an essential part of our outfits that may make or break the overall look. Therefore, choosing the right footwear is very important. It's just as crucial as picking out an outfit. A poor shoe choice may make even the most attractive outfit look mediocre, while a superb pair of shoes can make even the most awful outfit look passable.
So, to help you in selecting the appropriate footwear for your attire, we are here to assist you.
White Sneakers
White sneakers are a stylish and comfortable footwear that will instantly enhance your casual outfit. These shoes are extremely versatile which can match with your favourite jeans as well as gorgeous maxi dresses. Investing in a pair of white sneakers will serve you well in most of your outfits. Being so versatile, white sneakers deserve a place in every women's shoe collection.
Flat Boots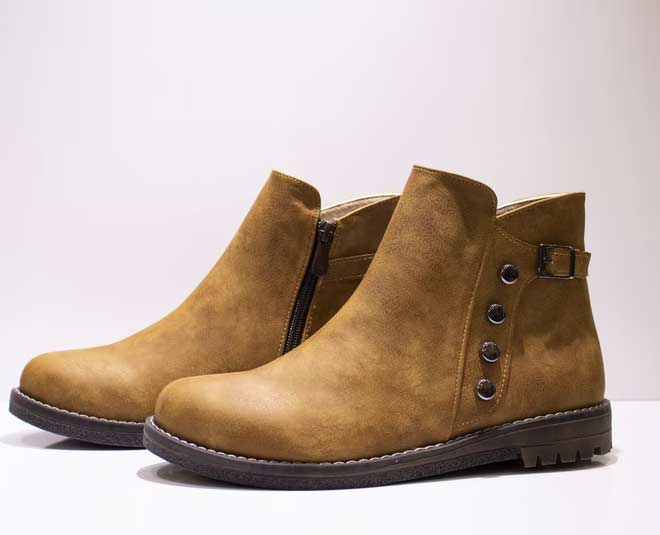 Flat boots have an elegant appearance that draws everyone's attention all the time. These flat boots have a dazzling style and are a great choice for the winter. You can put them over jeans or leggings for a fashionable look. There are always some attractive styles of flat boots that will look great on you, whether your legs are short, muscular, or long and spindly. They don't just look good with jeans and leggings, you can also pair them with skirts and dresses if they suit.
Don't miss: Team Up Your Winter Boots With Right Outfits Like These Celebs
Black Pumps
It's impossible to not include iconic black pumps on a must-have footwear list. There's a reason they're a classic. Basically, they'll come to your rescue when you can't decide what you should be wearing. They go with anything, whether you're wearing a sophisticated pencil skirt or a night-out outfit with bell-bottoms. You can pair them with vividly printed clothing for an even more daring look.
Opt for classic black pumps to complement your gothic leather look and get mesmerized with the result.
Don't miss: These Tips Will Help You Buy The Perfect Heels Online Or In Stores
Loafers
These slip-ons are popular not only with ladies, but also with males. Loafers recently become a must-have for women. They are both comfortable and fashionable, and they go well with both casual and formal ensembles. Loafers come in a variety of styles, including heels and flats, and include a stitching line that creates an impression of a 'crease' between the top of the toe and the bottom, giving them a gorgeous appearance.
Thigh High Boots
Everything looks great with boots, but with thigh-high boots, it's even better. They may not be the most comfortable, but they have a far more glamorous appearance. They are quite adaptable and wearable. They look great with jeans, skirts, as well as with dresses, and give a very stylish appearance.
Coloured Heels
When your clothing is predominantly neutral, a brightly coloured heel works out great. It brings your outfit to life and is a fun way to experiment with colour when you don't want to go overboard. You may go with anything from neon green to candy pink, it will look great as long as it pops. They are a trendy style which gives a marvellous look.
Go and get yourself these footwears and set them in your wardrobe now to go all fashionista!
For more such fashion tips and tricks, stay tuned to HerZindagi!
Did you like this article ?