There is something very special about homemade chutneys. Prepared using fresh ingredients, chutney prepared at home always has that fresh and delicious flavour which you can't really get anywhere else.
Talking of chutneys, let's talk about the most loved homemade condiment, the tomato chutney. It is usually served with South Indian food. The juiciness of tomatoes, a hint of mustard seeds, and that tangy flavour of garlic and red chillies just make it perfect!
Do you know, adding tomato chutney to your daily diet can have numerous benefits for your health? Read on to know.
Prevents Cancer
Tomatoes have vitamins and glutathione present in them which are great for our overall health. Having this chutney can help you prevent yourself from life-threatening diseases like cancer. Also, tomatoes have lycopene which is an antioxidant known to fight the free radicals in the body which can lead to cancer.
Low In Calories

Tomatoes are a low-calorie food. Having tomato chutney will add up to only about 31 calories because it is high in water and fiber quantity. Having your meal with tomato chutney will keep you full for longer. If you are on a low-calorie diet then having tomato chutney is a good option for you. You can have it as a dip with your besan chilla or with homemade dosa.
Good For Digestion
Tomatoes are high in fiber which is known to be highly beneficial for your digestive system. Having this tomato chutney will help you have a good bowel movement which will further prevent any digestion related issues like constipation, indigestion among others.
Don't Miss: Tomato Seeds: Things You Should Know About Consuming This Healthy Ingredient
Regulates Blood Pressure
Those suffering from health problems like hypertension should have this tomato chutney. This is because tomatoes are low in sodium and high in potassium which is ideal for people having high blood pressure levels.
Prevents UTI
UTI or urinary tract infections are one of the most common problems women suffer from. Tomatoes have high water content which is great for those suffering from this health issue. So adding tomato chutney to your diet is an easy way to prevent this infection.
Homemade Tomato Chutney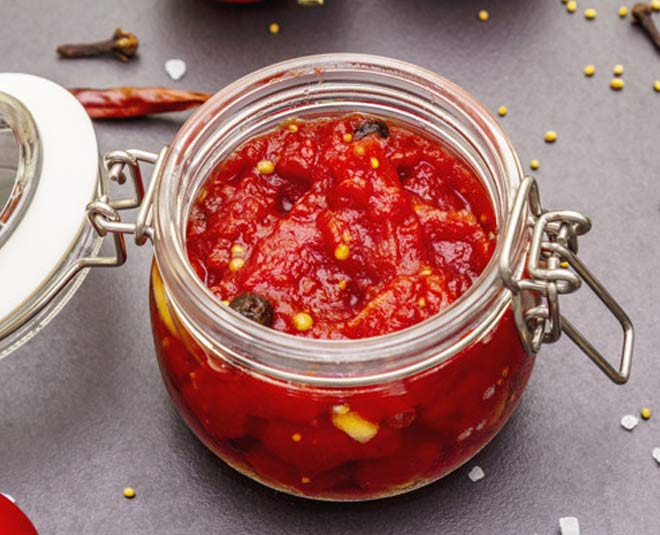 Ingredients Required
1 Tomato
1 Finely Chopped Onion
1 Chopped Green Chilli
1 Tsp Coriander Leaves
2 Chopped Garlic Cloves
1 Tsp Mustard Oil
1/2 Tsp Cumin Seeds
1/2 Red Chilli
1/2 Tsp Coriander Seeds
Salt As Per Taste
Sugar As Per Taste
Lemon Juice As Required
Directions
In a pan, add cumin seeds, coriander seeds, and red chilli. Dry roast them and keep them aside.
Now in a grinder, add all three ingredients and blend to make a powder.
Place a tomato on a high flame and burn it till the skin starts to turn black.
Peel off the skin and start to mash the tomato using a fork.
Transfer mashed tomato to a bowl. Add green chilli, onion, coriander leaves, spice mix, salt, sugar, and some oil. Mix all the ingredients well.
You can add freshly squeezed lemon juice as per your taste.
Expert Tip -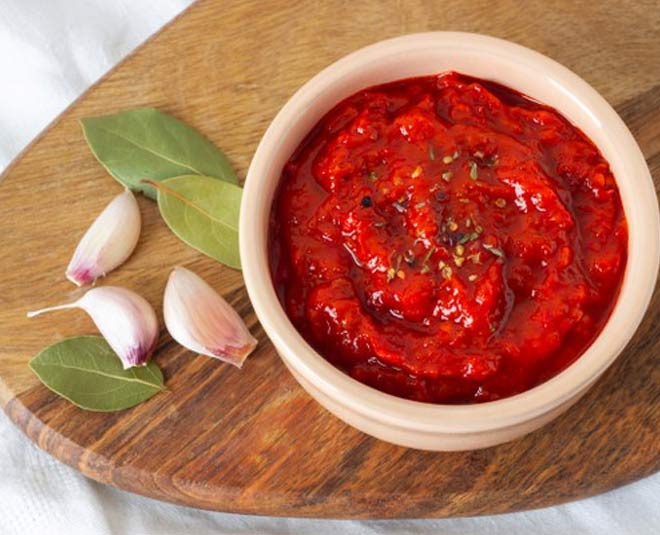 Tomato chutney is a good source of lycopene and an antioxidant. Having vitamin C, folate, vitamin A, vitamin K, and potassium. Because it is rich in Potassium, it should be taken sparingly by renal patients.
We are sure you will love this homemade tomato chutney. It is easy to make and requires just a few ingredients. Do try making it at home and share the experience with us.
Don't forget to incorporate this tomato chutney into your diet for its amazing benefits. However, if you are undergoing any medical treatment, do consult your doctor before adding it to your diet. For more such stories related to diet and nutrition, stay tuned!