Also known as Aloo Bukhara in Hindi, Plums are one of the most loved fruits. Sweet, tangy and juicy, plums are available during the monsoon season. If you are a plum lover like me, you would agree when I say that this delicious fruit makes the rainy season more special for us!
Do you know this tasty fruit is also loaded with essential vitamins and minerals which are great for our overall health?
Plums are packed with antioxidants, minerals like potassium among others which all contribute to our health and benefit us in many ways.
Here are a few health benefits of plums which would convince you to binge on this fruit this monsoon. Read on.
Plums Can Help In Weight Loss
If you are on a weight loss journey, you should definitely add plums to your diet. Plums are low in calories and super juicy. Having 1-2 plums for breakfast will keep you full for a long time and prevent you from bingeing on unhealthy snacks.
Plums Are Great For The Heart
A lot of studies suggest that having plums can benefit your heart health. Regular consumption of plums can help promote blood circulation in the arteries. This further prevents heart-related issues like cardiac arrest, stroke among other heart problems.
Plums Help Boost Your Immune System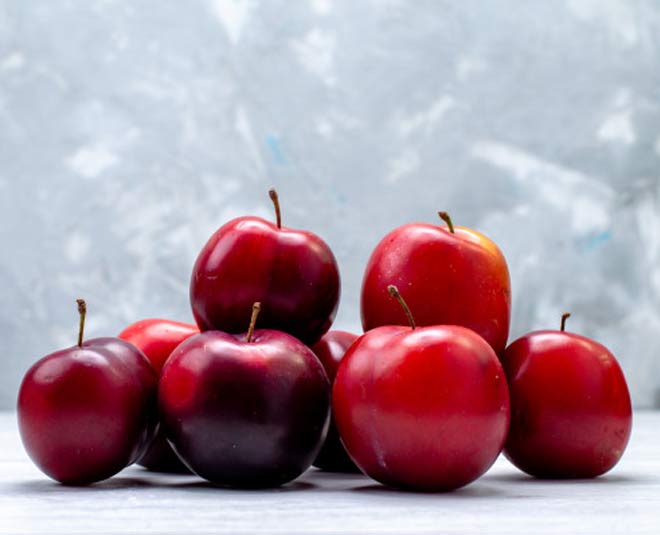 Plums are rich in vitamin C which is known to strengthen the immunity system. Consuming more plums will help you boost immunity and keep health infections at bay.
Plums Are Good For Eye Health
If you are hunting for foods that can boost the health of your eyes, plums should be your pick. Plums are rich in vitamin C and beta carotene which are believed to be great for eye health. Consuming plums will also help you prevent age-related eye issues like cataract.
Don't Miss: This Plum Chutney Recipe Is For All Those Sweet Souls Out There!
Plums Improve Digestion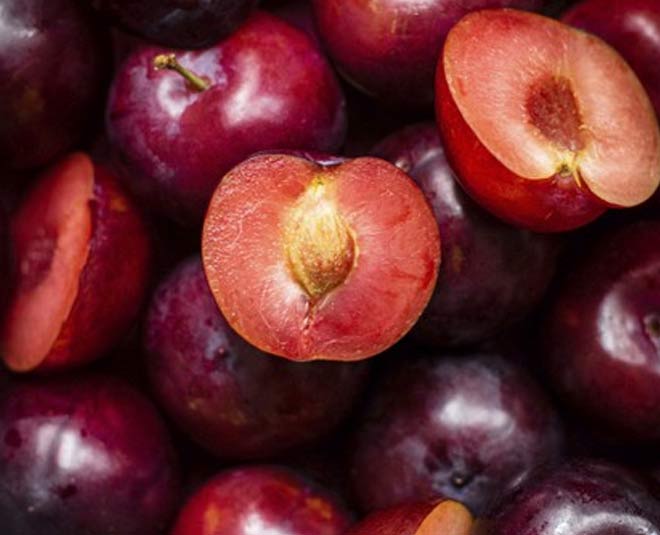 Aloo bukharas are rich in dietary fiber which is great for our digestive system. Having a fiber-rich diet prevents any digestion-related issues like constipation, indigestion among others. Plums have 2 components called isatin and sorbitol which work like a laxative and improve bowel movement.
Plums Can Prevent Cancer
Plums have antioxidants present in them in a high amount which is highly beneficial for our overall health. These antioxidants fight the free radicals that damage our body and lead to chronic diseases like cancer.
Don't Miss: Know Some Of The Amazing Health Benefits Of Eating Peaches
Plums Improve Skin Health
For that natural glow on your face, you need to consume a vitamin C rich diet. Plums are loaded with the goodness of vitamin C and this is why they can benefit your skin in many ways. Consuming more plums will help you fuel your body with vitamin C and antioxidants which will keep your skin look young and glowing.
Having a vitamin C rich diet will help you prevent premature ageing and delay the appearance of ageing signs like wrinkles, fine lines, pigmentation among others.
If you don't like having plums as is then you can use them to make some interesting recipes like plum chutney or a refreshing plum drink as per your liking.
What Does The Expert Say?
Jaya Johri, Dietician, LNJP Hospital shared that normal people can have up to 100-150 gram plums a day. Renal patients should avoid it.
Did we convince you enough to have more plums this season? Share your thoughts with us on our Facebook page. For more such stories, stay tuned!