Also known as kadi patta, curry leaves are commonly used in Indian cuisine, especially in South India. The leaves are added to different food preparations for their fresh aroma and flavour.
Curry leaves are a good source of vitamins C, E, B among others which are believed to be beneficial for health in many ways.
Nutritionist Pooja Makhija recently took to her Instagram handle and shared the benefits of adding curry leaves to your daily diet.
Benefits Of Curry Leaves
The expert shared that curry leaves have anti-inflammatory, anti-bacterial, anti-diabetic, anti-dysentery, carminative, and digestive properties.
She further shared that curry leaves can be used to treat a lot of health-related issues. Nutritionist Pooja Makhija shared that curry leaves can help lower cholesterol, improve vision, cure anaemia, improve dental care, improve heart function among other benefits.
View this post on Instagram
The expert on her post wrote, "A real gem in our kitchen pharmacy- curry leaves. Pungent to taste but the burst of essential oils pinene, sabinene, terpinene. All extremely beneficial for hair, skin & digestion also works better than statins to lower cholesterol levels."
Curry Leaves Are Packed With Antioxidants
The antioxidants present in curry leaves can benefit your health in many ways. These antioxidants prevent oxidative damage in the body and prevent any health issues related to the nervous system, kidneys, and heart.
Curry Leaves Reduce Risk Of Cancer
The flavonoids present in curry leaves work like anti-cancer agents. They help in preventing the growth of breast cancer cells. Consuming curry leaves can also prevent cervical, colon cancer.
Curry Leaves Reduce Risk Of Heart Diseases
Consuming curry leaves helps in preventing oxidative damage in the body which further leads to heart issues. It keeps the cholesterol levels in control and keeps heart problems at bay.
Curry Leaves For Anaemia
A lot of women suffer from anaemia due to the deficiency of iron in their body. Curry leaves are packed with folic acid and iron which can help improve the iron levels in the body and treat anaemia.
Curry Leaves Help Manage Diabetes
Diabetics should add curry leaves to their diet because it is believed to be effective in lowering blood glucose levels. Curry leaves are rich in fibre which helps in slowing down digestion and further prevents the spike in the blood sugar levels.
Don't Miss: This Guide Will Help You Store Curry Leaves Or Kadi Patta For Longer
2 Ways To Add Curry Leaves To Diet
To enjoy the maximum health benefits of curry leaves or kadi patta, it is important that you add it to your daily diet. The nutritionist shared 2 ways to do it.
Add To Your Vegetable Juice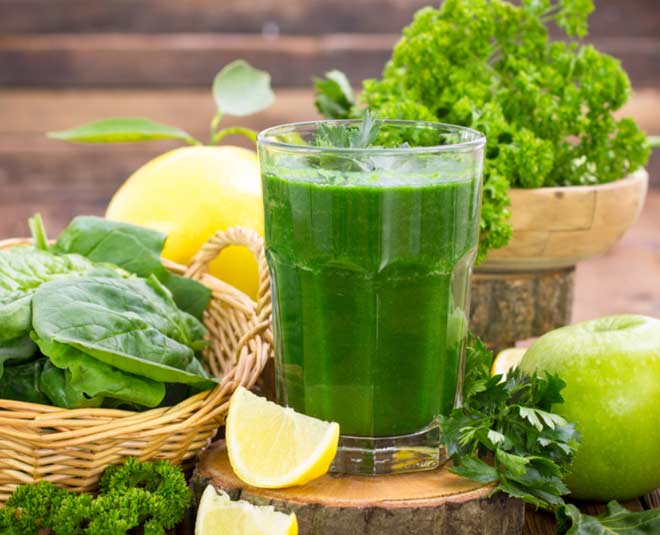 The expert shared that one can add 8-10 leaves of curry leaves to their vegetable juice and drink up.
Don't Miss: Drink Curry Leaves Tea Everyday To Improve Digestion, Prevent Cancer
Make Curry Leaves Powder
The nutritionist shared that the other way is by preparing curry leaves powder by drying the leaves and grinding them into a fine powder. Store this powder in an airtight container. Have a teaspoon of curry leaves powder everyday. The expert shared that it is beneficial for pregnant women who experience morning sickness and nausea.
She further shared that 1/2 tsp of curry leaves can also be added to the buttermilk and consumed if one suffers from flatulence.
How do you like to have curry leaves in your diet? Share your thoughts with us on our Facebook page. For more such health-related stories, stay tuned!