A beautiful island off the southeast coast of Africa, Mauritius comprises of Rodrigues and Mauritius island and outer islands which are a part of Mascarene islands. This place is amazing not just for honeymooners but also for those looking for a relaxing vacation after hectic days at work. Who doesn't want some peace out time? This destination is a complete package with pristine white sand beaches, stunning blue water, mountains, UNESCO World Heritage Sites and more. Here is a small list of what all you can do here.
Port Louis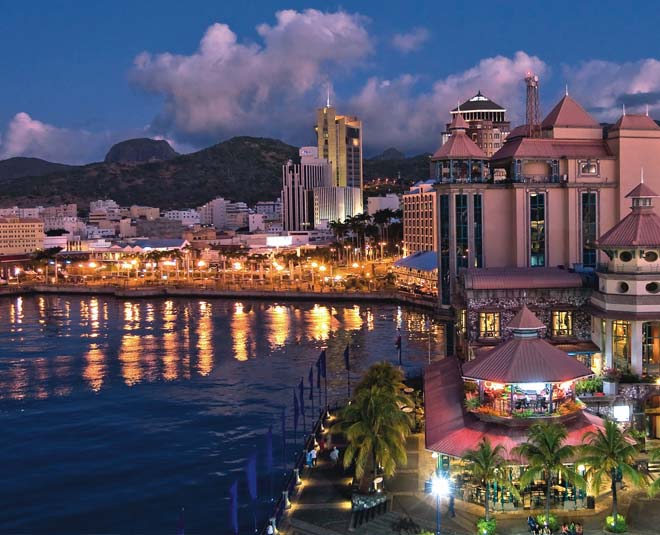 Image courtesy: www.sunresortshotels.com
The capital and the largest city here, Port Louis has so many different things going on here that you would need more than a day or two to discover it all. For the shopaholic, we have a picturesque central market or bazaar. This is your place for locally grown vegetables, exotic foods, local products and spices, handicrafts and souvenirs. This is also the place where you get cheap clothing.
If you are a theatre person then the Port Louis Theatre is where you should head to. There is also a full-day guided tour of the city, which is the best unless you want to make your own.
Deep Sea Fishing
Image courtesy www.ebrahimtours.mu
This activity is among the most famous things to do in Mauritius. You can go fish out so many species in the sea, which includes blue and black marlin, yellow tuna, different varieties of barracuda and sharks, and more. If you did not know, The Marlin World Cup is held off the Mauritius island every year in February-March. There are several world records for fishing, including the Mako shark, blue shark, Bonito, white tuna, and becune. Most all of the hotels will have fishing boats to hire for an experience of a lifetime! You just can't miss out on the water sports.
Caudan Waterfront
This is the meeting place for locals and lovers. The Caudan Waterfront has a great shopping centre. You have access to street entertainers, a Kiddyland, a wide array of food options and many unique shoppes, here. There are a number of historical buildings which you can visit on the waterfront, including the Mauritius Natural History Museum, Blue Penny Museum, and The Stamp Museum. The Blue Penny Museum has many rare stamps, which includes the blue penny and penny orange stamps from 1847 which are among the rarest stamps in the world. Take in the culture and chomp on some good restaurants here at the waterfront.
China Town
Image courtesy: i.pinimg.com
This is another attraction you must see, There are many shops and restaurants with a unique culture. The Pharmacies in this area not only have the modern remedies but the traditional Chinese ones that you can try. You will find many vendors and stores selling traditional foods like chow mein and fish balls.
Don't Miss: Dubai: The Land Of Theme Parks And Resorts
Mahebourg
Now, this is the place where you can experience the local culture. Your Mauritius travel will not be complete if you do not visit the undeveloped south section of the island. You will find very few people here as there are no beaches here. This leaves it as the most untouched portion of the Mauritius island. The scenery is magnificent and it has some of the wildest landscapes in the country all along the coastal road from Souillac to Le Morne. You will also see the Mauritius attraction of Ile aux Aigrettes, the amazing Lion Mountain and the town of Mahebourg on your way to this place as well. So your trip will not go waste here if that is what you are worried about. Mahebourg is located in the southern section of the island and on the amazing Grand Port Bay. You will also find unique products, tropical fruits and vegetables, fresh fish, local handicrafts, spices, teas and more.
Ile aux Aigrettes
This islet is made of an old calcareous coral reef partially covered by sand and soil. It has international recognition as the plants found here grow nowhere else in the world. This place was declared as a nature reserve in 1965. The islet boasts of some of the world's rarest birds here, like the Kestrel and the pink pigeon. Other animals like the Aldabra giant tortoise and the green Gecko Phelsuma can be spotted in the country as well. If you feel like spoiling yourself, check out this great luxury relaxation tour at Ile aux Aigrettes that includes, lunch, drinks and activities.
Grand Bay
Are you a night/party animal? For a fun-filled night out, the locals here head to Grand Bay! Great restaurants, bars and discos as well as more opportunities for shopping is what you get here. The La Cuvette beach is a great place to relax and enjoy your visit.
Blue Bay Marine Park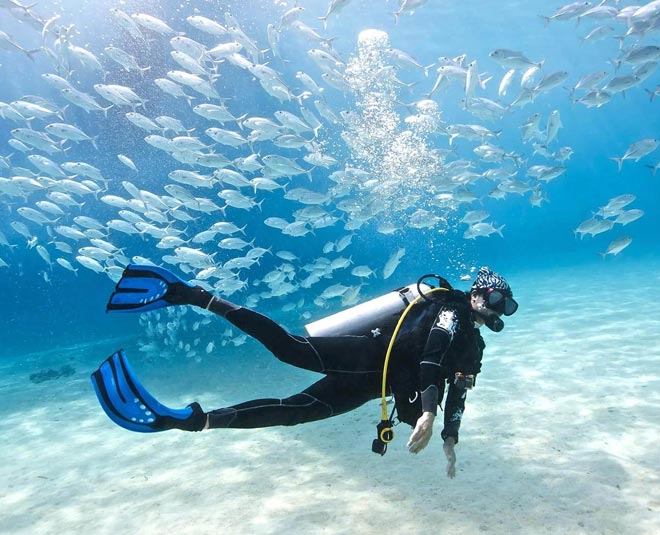 Image courtesy: pickyourtrail.com
Scuba diving is what you get here. This place is probably the most popular places to see in Mauritius for tourists. The beautiful beaches and crystal-clear waters is certainly the place where you will want to spend a lot of time. It is located on the southeast part of the Mauritius island and is near the airport and several hotels. All are within walking distance. Get yourself enrolled for some scuba diving, snorkelling, surf, sail or enjoy any water sport you desire. If you do not want to move at all, well just sprawl on a yoga mat on the beach and sunbathe, sip on some tropical drinks.
There are over 50 different species of corals, some of them very rare, in a unique network of reefs that break the waves of the ocean to protect the bay. If you're not an experienced diver, opt for an introductory dive at Grand Bay.
We will keep on adding some more places in this section as there are so many. Watch out for this space and share what you think we must see in Mauritius if you have already been here.