Coconut oil and sweet almond oil have many uses that just in case you forget your eye makeup remover or face wipe, for instance, then these oils are your backups. Always carry a small amount of it in a clear bottle and remember that a little goes a long way. I tried this Urban Botanics Sweet Almond Oil and here is my review of the same.
Claims
Cold-pressed from Spanish almonds to retain antioxidants and nutrients.
Moisturises and softens skin and helps protect against oxidative stress and UV radiation.
Extremely gentle and a natural skin treatment alternative to creams.
Helps restore the protective oil layer of hair, resulting in beautiful, shiny hair strands.
Main Ingredients
Vitamin E rich
100 % Pure High-Grade Almond Oil
Preservative Free
Packaging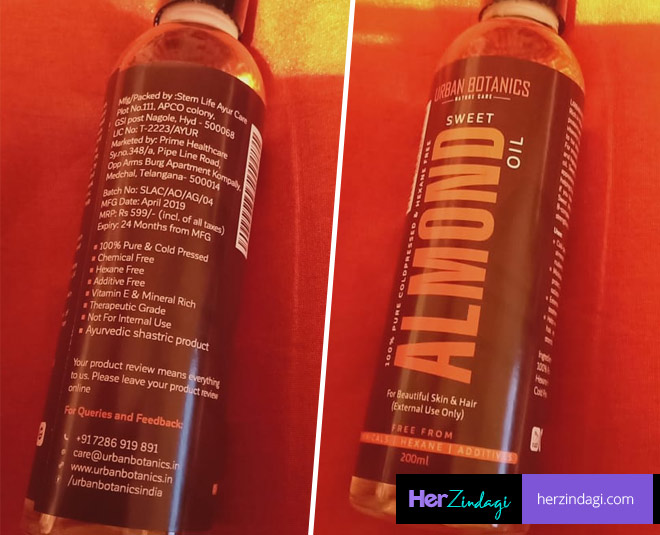 Packed in a sturdy transparent plastic bottle, I have zero complains about the packaging. The branding is bold and the tinge of block-coloured treatment is perfect. Transparent enough for us to see the ingredients, this bottle is good to carry while travelling as well. Yes if you want that skin-related products should be in a glass bottle, I agree with you but then it will add to the weight, will easily break and not at all travel-friendly and the price goes up automatically. The lid is also intact, won't spill unless you play around with it and do not take care of your products.
Don't Miss: HZ Tried & Tested: Tresemme Keratin Smooth Shampoo Detailed Review
My Experience
It is like any other oil inconsistency, has a slight colour which is a natural colour of almonds and does not have a smell as such. It is easily applicable for eye makeup removal purpose, face cleanser and makes for a brilliant lip balm at night. I have a thing for transparent bottles so that I loved as I can see how much of the product is left. The plus point? It is pure and they have mentioned the ingredients on it, however, I think the list is incomplete. For the price though, the claims of the product justify but still, I am interested in knowing what more does it have except the oil.
Pros:
Multi-purpose oil.
100 % Pure
Odourless
Worth the price
Travel-friendly
Cons:
Doubt on the ingredients list
Price
Urban Botanics Pure Cold Pressed Sweet Almond Oil for Hair and Skin, 200ml for Rs 599 but is available on discount for Rs 399 here.
Rating
4/5