There are endless ranges of hair colours in the market in the present day. But most of them are filled with very harsh chemicals that end up leaching out the shine and nutrition in the hair and thus we end up with messy hair after that. This is the reason why I refrain from trying them out. But at the same time I love experimenting with colours on my hair and that is why I wanted to try henna-based colours this time. So, I got Surya Brasil Henna Cream in red colour and tried it on my hair. Below is a detailed review of the same read on if you too love colouring your hair.
About The Brand & Key Ingredients Of The Product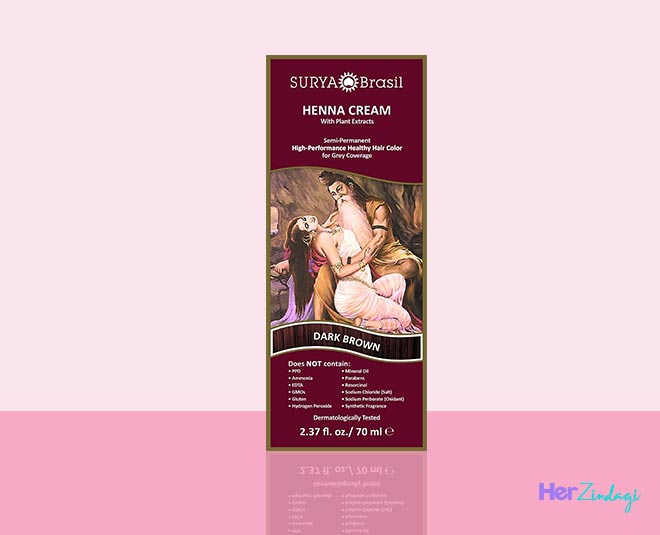 Founded by Clelia Cecilia Angelon in 1995, Surya Brasil is an international brand known for a wide array of Ayurvedic, natural, organic and vegan product range, which includes Henna Cream hair colour, etc. And owning to its age the brand has been able to captivate the youth a lot.
Below are the ingredients present in the Henna cream that I used: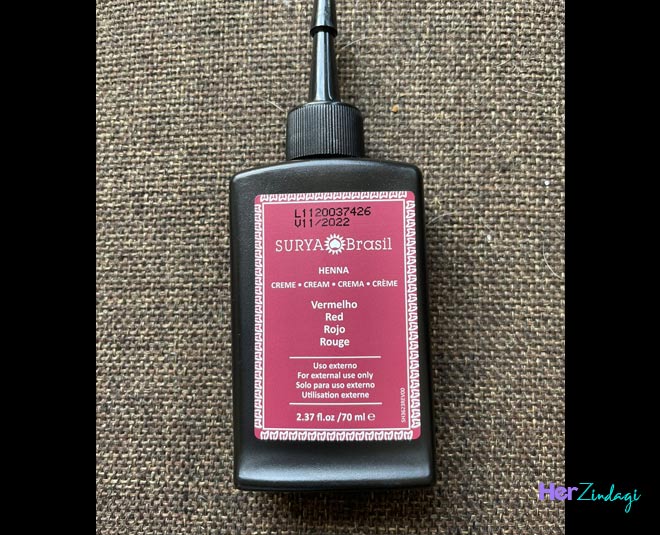 As per the brand claims the product comprises of
Carrots
Hazelnut
Aloe vera
Henna
Guarana
Chamomile
Brazil Nut
Acerola
Amla
Brand Claims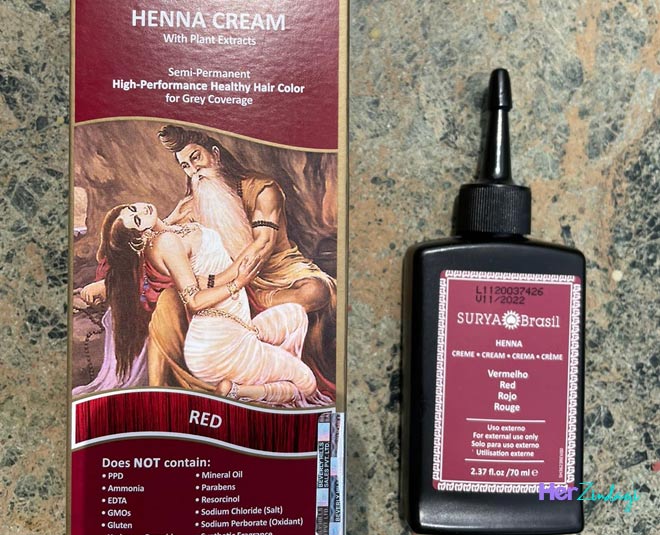 The brand claims that the product is absolutely organic, vegan, safe and contains no PPD, ammonia, EDTA, GMOs, gluten, hydrogen peroxide, mineral oils, parabens, resorcinol, sodium chloride, sodium perborate or synthetic fragrance and is further dermatologically tested.
Not only that, but the company that this product contains no heavy metals, lead and is further devoid of any harmful chemicals. However, this semi permanent hair colour still delivers a good coverage and renders a great shine on the hair.
Packaging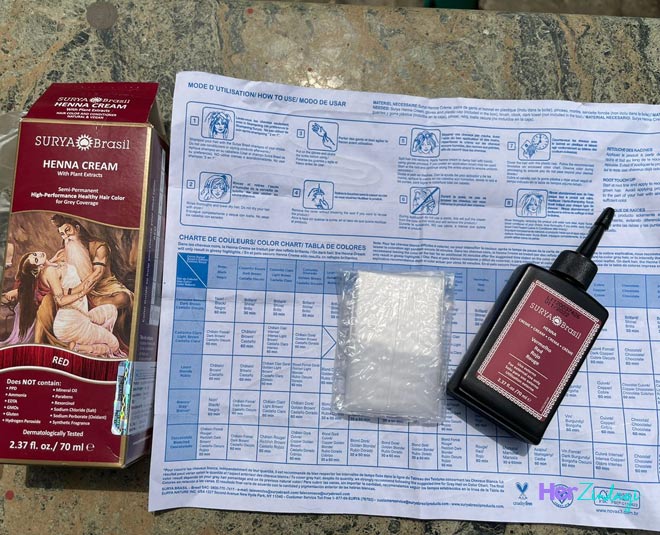 The colour comes in a hard paper box along with a pair of plastic gloves, the henna cream bottle, a plastic cap and a user manual with detailed instructions. The cream itself comes in a handy bottle with an attached nozzle for application.
Colour & Texture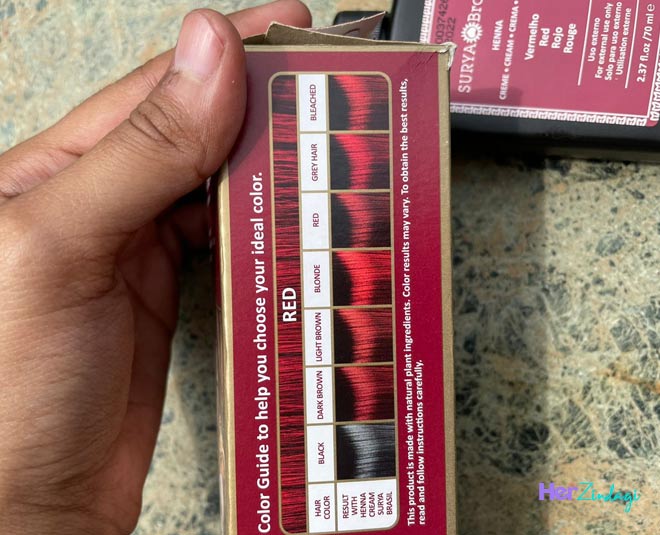 The henna cream comes with a very soft and creamy texture which makes the application easier. The colour of the creme is variable as per the colour options. The cream is thick and flowy and the outcome turns out to be really good after you've coloured your entire hair.
Price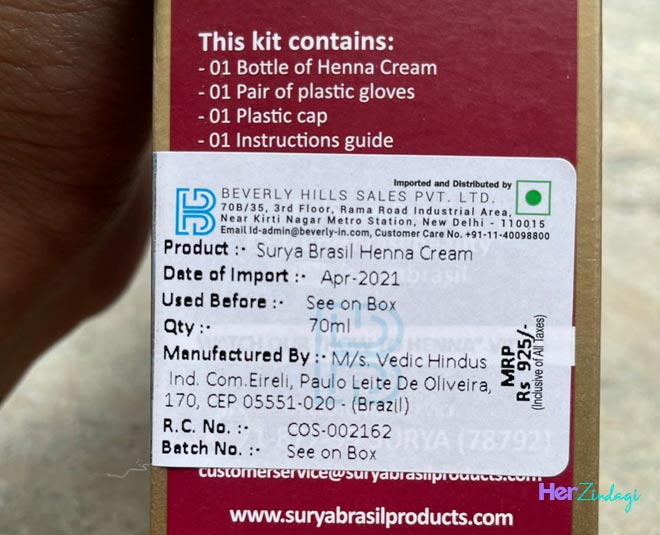 Price is one of the most important factors that help us decide whether or not we should actually buy the product and coming to the price of this product. It is priced at Rs.925 and is available online at the same price.
My Experience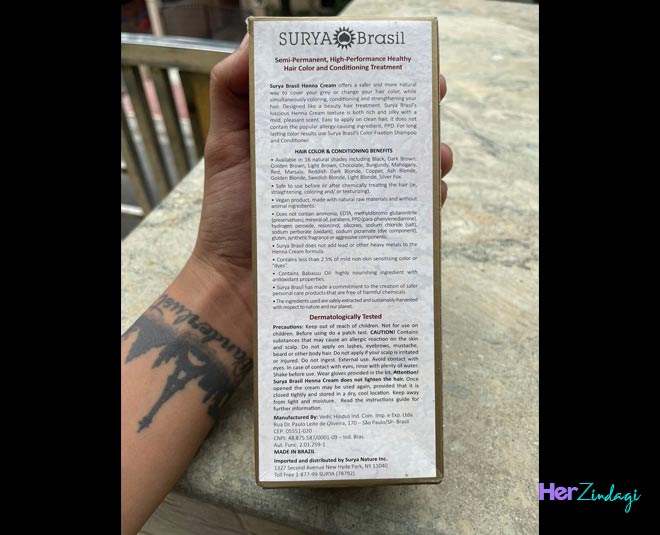 Initially, I was not very sure of this product because, for me, it was a new hair colour that I was trying for the first time. But as and when I started working along with it, my feelings changed. This was surely delivering to its promise and it did not smell like chemicals at all. The application nozzle was another plus point along with the texture and the colour really did well for me. However, I did find the price a little too much as compared to other hair colours in the market.
Don't miss: HZ Tried & Tested: Kay Beauty Matte Lip Crayon Lipstick Scripted Detailed Review
Pros
The product has a lot of pros for sure:
It is Natural
Vegan
Free from toxic ingredients
Creamy and rich in texture
Facilitates easy application
Good colour coverage
Cons
High priced
Quantity is less
For more such interesting product reviews, stay tuned to Her Zindagi.