Holi 2020 is just a day away and if you are busy prepping up for tomorrow and missed doing a pre-Holi nail care then you must take some time for it right away. We all love this festival of colours, getting drenched in colours. However, the struggle starts after the celebrations are over. Getting rid of Holi colours is not an easy task and washing these out can be a real pain.
Just like your face and hair, your nails also need proper attention pre and post Holi. Your hands stay dipped in colours and coloured water for hours and this can damage your nails in the long run.
Pre-Holi Care
If you don't want the harmful colours to stick to your nails then apply transparent nail paint on your nails. This will make it easy for you to remove the colours from your nails after playing Holi.
Another trick is to apply a dark shade nail polish on your nails. A darker shade will not allow the colour to stick to your nails and keep them neat and clean. If you wear a lighter shade then it will absorb more colours.
Post-Holi Care
Holi colours make your nails dull and breakable. To prevent your hair from breaking, you can soak your hands in water. Make sure you don't use hot water as it will make the colours stick to your nails. Use cold water or water at room temperature to dip your nails.
You can also dip your nails in rose water and relax your hands. This will help you remove all the colour from your hands and nails.
Don't Miss: How To Remove Holi Colours From Your Skin And Hair? Try These Home Remedies
Your nails may start looking yellow after playing Holi. To whiten your nails, you need a bowl filled with lemon juice. Dip your nails in this bowl for 10 minutes. Lemon juice works as a bleaching agent and it cleans all the colour stains and it whitens your yellow nails too.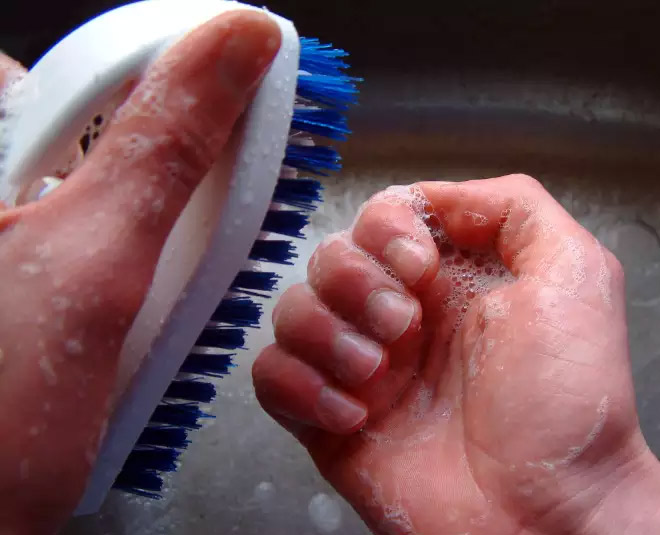 A lot of people have a habit of scrubbing their hands to get rid of the Holi colours. You should avoid that as it can make the condition of your nails even worse. You need to be a little patient to get rid of the harsh colours.
Don't Miss: Here Are The Holika Dahan 2020 Puja Timings & The Right Way To Do It
Add almond oil in water and then dip your hands in it to get rid of the Holi colours easily.
Planning to go to the salon for a quick maicure to remove the Holi colours? It is not actually a great idea. It is best to avoid manicure for a few days. Let your nails breathe a little. Also, avoid using any nail paint on your nails for a few days.
A popular home remedy to remove Holi colours is using Amchur powder on the nails. You can use some of this powder on your nails and then scrub it with a toothbrush to get rid of the colour.