So, it was just yesterday that I met Madhuri Dixit for an interview while she was in the capital to promote her upcoming movie, Total Dhamaal. And all I can say after seeing her for the first time off-screen is that she hasn't aged at all! She looks youthful, beautiful and charming. She looked pretty much like she looked back in the 90s.
Can you believe Madhuri is 51? Yes, Madhuri is in her 50s but when you look at her you can't really say that. Her skin looks flawless and as fresh and young as someone just 25. Through the years, we have never seen a day where her skin looked dull. She has this unusual freshness and glow on her skin. Wonder what is the secret behind Madhuri's glowing skin? Well, Madhuri trusts home remedies when it comes to her skin.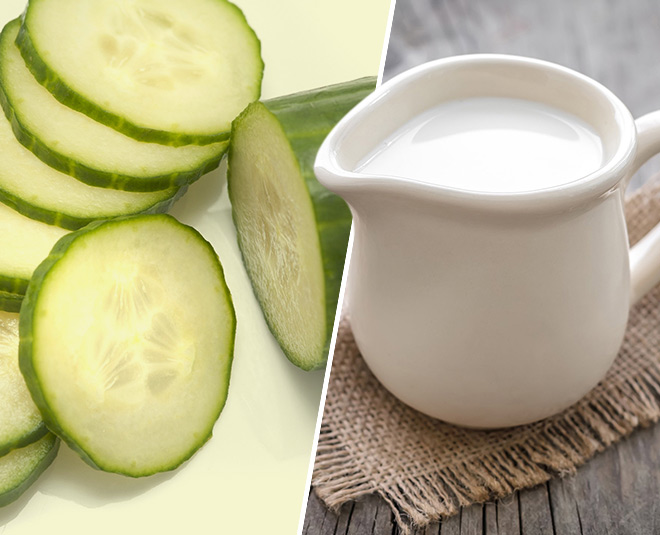 In an exclusive chat with HerZindagi, Madhuri shared her hack for fresh looking and glowing skin. Madhuri shared, "There are days when your skin feels a little dull, you get those dark circles. To get a fresh glow, all you need is a cucumber and some milk. Cut cucumber into thin and round slices. Dip these cucumber slices into milk. Now keep these slices in the freezer and once they get a little cold, rub these all over your face."
Why Cucumber?
Cucumber has manifold benefits when it comes to your skin. From whitening your skin to treating acne, cucumber can help you solve almost all your skin problems.
Cucumber has a high water content that helps us keep our skin hydrated. It is also rich in antioxidants that keep the skin fresh for long.
Our skin has a protein called elastin and this protein is responsible for maintaining the elasticity of the skin. Using cucumber on your skin prevents the breakdown of elastin which makes your skin loose. It is thus a very beneficial product for skin tightening.
Cucumber acts as a great skin whitener too. It is the melanin content of the skin that makes your skin darker. Cucumber brings down the melanin content of the skin and makes your skin look bright. Don't Miss Revealed! Madhuri Shares Her Beauty And Fitness Secret, Drinks This Every Morning
Before moisturising your skin, you also need to tone your skin. Cucumber acts as a natural skin toner. It makes your skin moist and smooth.
Cucumber is great for every skin type and gives you a naturally youthful skin!
Milk For Skin?
Not many people know but milk is a great cleanser for your skin. From hydrating your skin to lightening it, milk can do it all.
With both water and proteins present in it, milk can act as a great moisturiser for your skin. It makes your skin smooth and supple.
Milk is also a great ingredient if you wish to lighten your skin. It promotes skin lightening by removing pigmenting skin cells. Using milk regularly helps in reducing tan, dark spots and dark patches from the skin.
Milk has proteins, minerals, and vitamins that help in reducing wrinkles. Regular application of milk on the skin helps in reducing the appearing of aging signs. Now you know why Madhuri has a wrinkle-free skin!