Get Your Skin Glowing With Aloe Vera Gel Prepared At Home
Learn to make Aloe Vera gel quickly at home for a fresh and glowing skin.
Aloe vera is a blessing by nature that has several beauty and health benefits. They have been in use for such things for more than 2000 years. As they are rich in essential vitamins like vitamins A, C, E, B12 and folic acid, several beauty and skin experts suggest a use of aloe vera on skin to keep the skin healthy. Aloe vera also provides minerals like calcium, chromium, copper, selenium, magnesium, manganese, potassium, sodium and zinc.
A report by medicalnewstoday.com says, Using aloe vera on the face has benefits because: its anti-inflammatory properties can reduce pain, swelling, and soreness of wounds or injuries. It supports the production and release of collagen. It can speed up wound healing time and limit scarring.
Aloe vera gel has so many benefits that it's no surprise that everyone wants to use it to look and feel better. Although aloe vera gel is widely available, fresh aloe vera gel is preferable because it has no side effects. You can easily and quickly make aloe vera gel at home. Here is a way to make fresh and pure aloe vera gel at home in minutes.
Ingredients For Aloe Vera Gel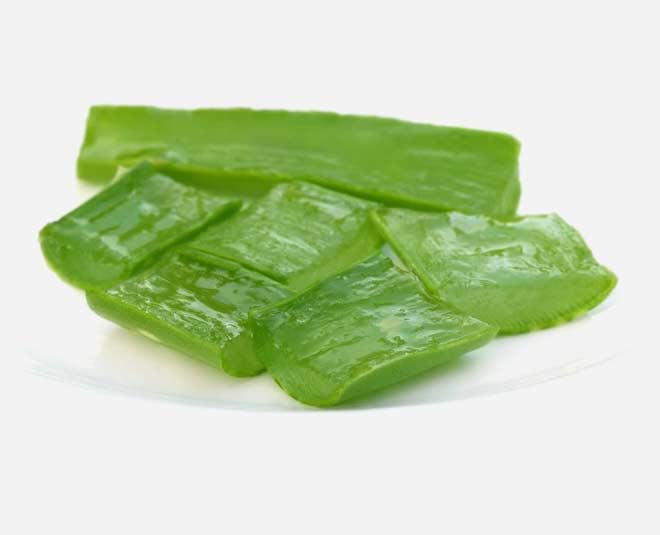 Aloe vera leaf
A sharp knife
Clean air-tight container for storing
Clean bowl
Blender
Method Of Preparation:
First of all, wash the aloe vera thoroughly and cut them into 8 parts.
Now, cut out the ragged edge carefully. Make sure you get only the edges as it may get difficult to get the gel out of the leaf.
To peel off the skin, make a long, lengthwise incision in the middle of the leaf.
Then, place your knife under the rind and remove the skin off the leaf by sliding it along the length of the leaf. To get as much gel as possible, keep as close to the skin as possible.
Carry on with the other half of the skin in the same manner.
Now, carefully scrape out the pulp with the help of a spoon and collect the pulp in a bowl. Try to avoid the yellowish part of the pulp, as they contain toxins.
To help the gel last longer, add a few drops of grapefruit seed extract, vitamin C powder, vitamin E oil, or an essential oil.
After that, in a high-powered blender, blend the mixture for 30 seconds.
The gel is ready to be used. You can now put it in a clean storage container and refrigerate.
Your Aloe vera gel will remain fresh in your refrigerator for a week.
With this quick trick, you can prepare your Aloe vera gel at home quickly for a healthy skin. However, Aloe Vera gel does not generally have side effects, but a patch test before application is recommended. For more information, you can consult medical advice.
Don't miss: You Will Ditch All Beauty Products And Start Using Aloe Vera After Reading This!
Tips For Preparing Aloe Vera Gel
There are some precautions you need to keep in mind while preparing Aloe Vera Gel
Wash your hands thoroughly before applying aloe vera gel as dirt on your hands can spoil the gel.
Extract aloe vera gel from large leaves. As the gel extracted from the larger leaves is more beneficial.
Try preparing the Aloe Vera gel at home with this method and let us know how it turned out for you. If you have more tips and tricks about using Aloe vera gel, do let us know by commenting on our Facebook and Instagram page.
For more stories like this, stay tuned to HerZindagi!