Getting rid of dead skin cells from all the parts of the body is imperative to generate new ones. Not doing so can create a build-up and result in skin problems like clogged pores and excessive oil. Proper scrubbing removes the layer of dead skin cells clogging the skin and uncovers new cells. While we do clean our hand, face, belly, legs, and feet, we often end up neglecting hard-to-reach places like our back. Not cleaning up this part of the body makes it look dull and dirty. However, it is not easy to clean back ourselves, because it's hard to reach at sides and in the middle just with our hands. Here's what you can do to clean your back.
Two-Sided Scrubbing Pad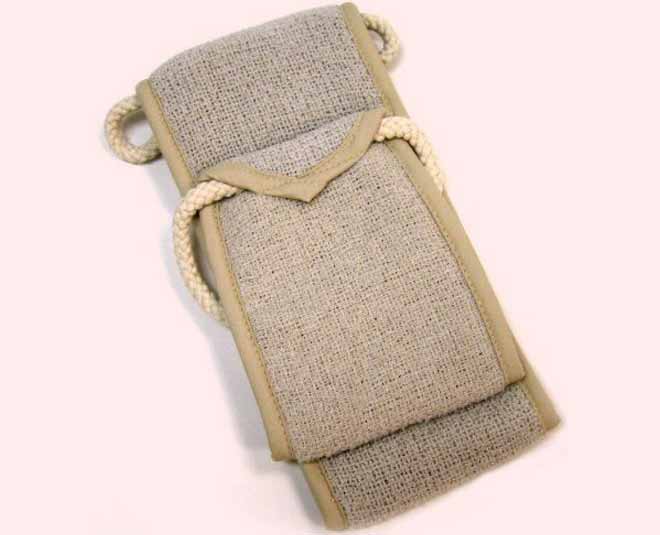 Two-sided scrubbing pad comes with two handles and a long flat surface for exfoliation. It is easy to scrub against your back to get rid of all those dead skin cells. You can also make this at home using simple towel fabric. Just stitch the handles and its ready to use. However, don't forget to clean it after every 3rd or 4th day. Put it in a washing machine to ensure it stays free of bacteria.
Crocheted Body Scrubber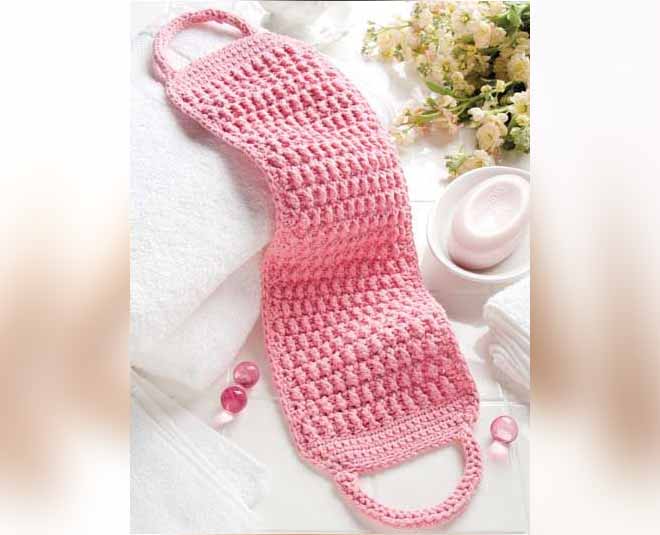 Crocheted fabrics are great to remove deposited dirt or dead skin cells from the body. The uneven texture plays a vital role in exfoliation. You can either buy this or can also make this at home. All you need is an old crochet tablecloth, cut it into two halves, and sew two ends together. Attach handles and it is ready to use. Pour half tablespoon of shower gel, rub to creates lather, and then scrub your back.
Don't Miss: Lockdown Challenge: Get Glowing Skin In 21 Days, Follow This Skincare Plan By Day
Loofah With Handle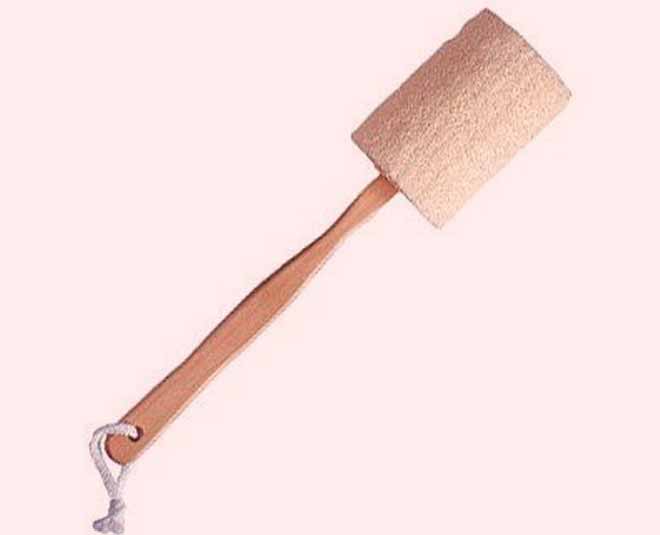 These are the most popular and one of the easiest tools to clean impurities from the back portion of the body. This loofah comes with a long handle that is meant to reach all the corners of your back, where the hand cannot reach on its own. There are different kinds of handle loofah that are available in the market. It is best to invest in one that comes with the option to replace loofah. So, that you can use the handle with another loofah that you bring after the first one becomes extra soft.
Don't Miss: Easy To Make Besan Or Gram Flour Scrubs At Home For Glowing Skin
Bamboo Scrubbing Brush
If you have sensitive skin or don't want to use harsh tools on your back, you can choose a soft-bristled bamboo scrubbing brush. It has a thick tooth that scrubs your back and also massages it at the same time. Apply shower gel before scrubbing your back with this, as the bamboo scrubbing brush is effective if your back is damp.
Braided Loofah Scrubber
This is the most common back scrubbing tool found in Indian households. The long surface and two handles at either end make the task of scrubbing easier. The best part is you don't have to worry about cleaning the back from the right side of the loofah, because the making helps it to function from either side. Also, it soft on the skin and does not cause any kind of scratches while exfoliating.
Stay tuned to HerZindagi for such articles.