You may have heard a lot about facial serums but do you know what exactly it is? A facial serum is basically a concentrate which is prepared using ingredients that target your different skin issues. Face serums have gained a lot of popularity in the last few years and if you are active on social media, you may have spotted a lot of MUA's talking about its amazing benefits. Well, there is a range of skincare products available in the market and all of them have their own benefits. So does the facial serum. Let's quickly take you through the amazing benefits of making a face serum a part of your skincare routine. Scroll down.
Great For Tired, Dull Skin
Has your skin started to look dull and tired? This can be due to various reasons, like lack of sleep, too much exposure to polluted air, or unhealthy lifestyle habits. Using a face serum helps in reducing these signs of dullness and fatigue from your face and gives it a radiant glow. Facial serums boost skin regeneration and repair the damaged skin.
Don't Miss: Uses, Benefits of Facial Oils Decoded!
Reduce Signs Of Ageing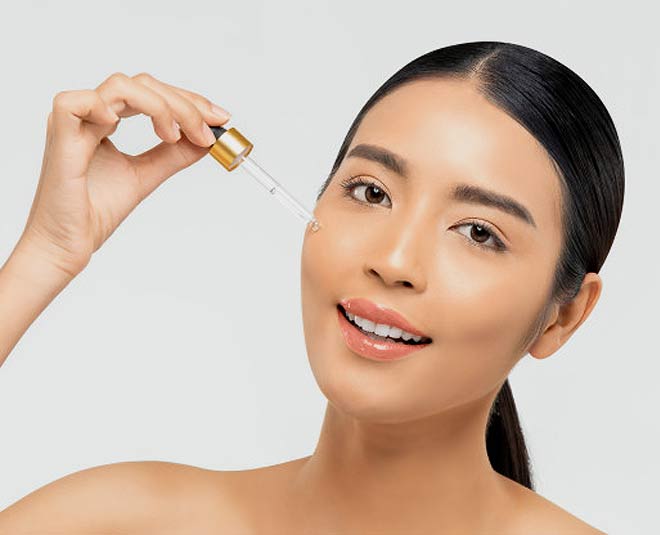 We all want our skin to look young and beautiful. Adding facial serums to our beauty routine can be an easy way to reduce the appearance of aging signs like fine lines and wrinkles. Facial serums increase the regeneration process in the skin which leads to new cell growth and this further helps in making your skin look youthful.
Good For Dry Skin
Does your skin start to feel dry a few minutes after you applied a moisturiser? Your skin needs intense moisturisation and nothing better than using a face serum. Using a face serum can help in improving the moisture in your skin and prevent your skin from getting dry.
Don't Miss: Apply This 3-Ingredient Homemade Face Serum For Glowing, Youthful Skin
No More Open Pores
Open pores make your skin look dull and old. When you have open pores, your skin tends to attract more dirt and dust. This further leads to skin problems like acne, pimples, and blackheads. Using facial serums regularly helps in reducing the open pores and makes your skin look tight and young.
Lightens Spots
Using a face serum is also helpful in reducing the appearance of facial scars, pimples, and spots.
How To Choose A Facial Serum?
A lot of face serums are available int he market and you can pick one according to your skin type or concern. Most of them have active ingredients like vitamin C, hyaluronic acid, arnica, grape seed extract among others.
First address your skin problem and then your skin type. Accordingly, select the right face serum. Most commonly used face serums have ingredients like vitamin C and hyaluronic acid.
When And How To Apply A Face Serum?
A facial serum can be applied after you wash your face in the morning. If not in the morning, you can add it to your night routine. Just take a few drops on your hands and massage through your skin. Massage in an upward motion and let it soak in. You can follow up with sunscreen or moisturiser. You may feel like serum works like a moisturiser but it isn't actually the same thing. It gets easily absorbed in your skin as compared to your regular moisturiser.
Now that you know the numerous benefits of using a face serum, do add it to your daily skincare routine. For more such beauty tips, stay tuned to HerZindagi.com