Who would have thought that coffee, out favourite morning beverage could be an ultimate fix for all our hair and skin problems? Containing antioxidants, coffee is a natural exfoliator. By removing dead skin cells from the skin, coffee limits the occurrence of breakouts and also reduces wrinkles and lines. When combined with other natural ingredients, it creates face masks that can do wonders for the skin. what's more? Coffee can also tame your frizzy hair, prevent hair fall and nourish your scalp.
For Smoother, Shinner And Stronger Hair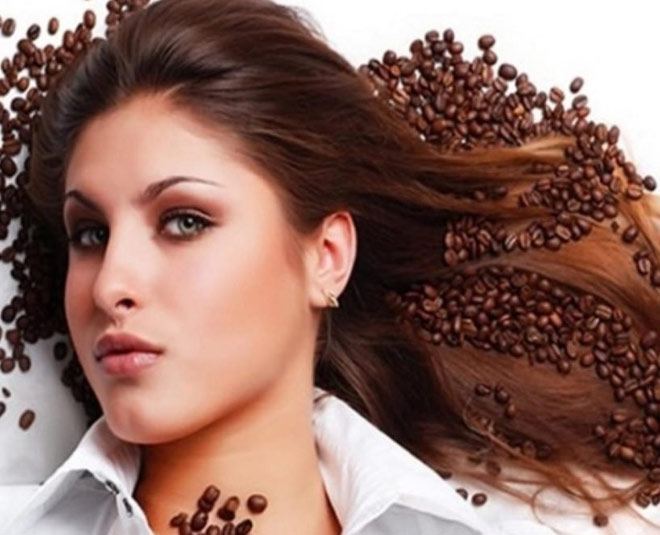 If your hair lack luster, coffee can make it come back to life. Laden with antioxidants and protein, coffee can repair damaged hair and nourish the hair follicles.
How To Use It
Mix the coffee powder and conditioner together. Apply it on your hair and let it rest for around 20-30 minutes. Rinse off with cold water for smoother and shinier hair! Repeat twice a week for effective results.
For Glowing Skin
Who does not wish to have glowing, radiant-looking skin? If you too want it, start using coffee as a face scrub. It is packed with antioxidants that can cleanse your skin without sucking out the moisture. It also acts as a barrier to keep bacteria and fungi at bay, which in turn prevents breakouts.
How To Use It
To make this face pack, start with mixing 2 tbsp of coffee powder with a few drops of water. Gently massage it on your face and let it rest for couple of minutes. Rinse off with cold water for smooth, glowing skin!
For Darkening Hair Colour
Ditch those chemically made hair colour products and expensive hair salon sessions, and start applying coffee to darken hair colour. Coffee contains various oils and chemicals that help to smoothen the cuticles and add that extra shine and depth to dull hair.
How To Use It
Simply, mix coffee grounds with water and apply the paste after shampooing your hair. Leave it on for 10-15 minutes and then wash it off with normal water.
Don't Miss: Looking For Acne Marks Removal Cream? Choose From These Options
For De-Puffing Tired Eyes
Do you have often wake up with puffed eyes? Or apply makeup to hide dark circles? If yes, here comes coffee to your rescue. Containing anti-inflammatory properties, coffee helps in improving the appearance of puffiness under-eyes, reducing the appearance of wrinkles, and brightening dark circles.
How To Use It
In a bowl, add coffee powder, dark chocolate flakes and few drops of water. Mix well and apply it under your eyes. Let it sit for a couple of minutes, then wash it off with lukewarm water. Repeat this procedure twice a week to make your eyes appear vibrant and youthful again.
For Baby Smooth Feet
Cracked heels look unsightly. But coffee can help you get rid of it and make your feet smooth.
How To Use It
Simply, mix 2 tbsps of coconut oil with half a cup of coffee powder and 2 tsp of vanilla extract. Apply this mix to your feet and wash it off after a few minutes.
So, are you going to give it a permanent space in your beauty regime? Do you know any other remedy? If yes, share it with us and we will surely include it in our article.
Stay tuned to HerZindagi for such articles.