Jacqueline Fernandez has turned 35 today and it seems like the diva is become more graceful with every passing day. The actress is blessed with a naturally glowing skin and it is no secret. We keep wondering to invade her secret beauty regime. Don't we? Flawless skin is a dream-like situation for every woman. Surprisingly, she took to her Instagram handle and shared a video on her skincare routine. Isn't that amazing? Well, hold your horses. We have been sharing step-by-step process of getting a glowing and blemish free skin tone like her. The healthy eating habits and fit lifestyle of this 33-year-old actor equally complements every inch of her beauty regime.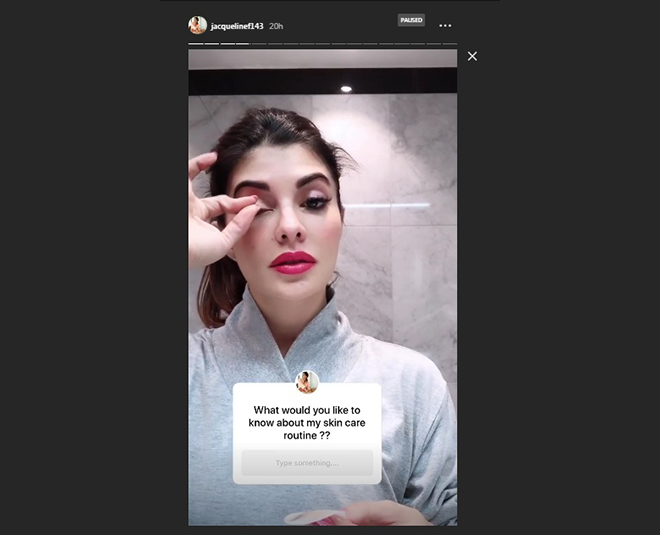 This fitness freak is often seen sharing workout videos and pictures, and recently unraveled her skincare routine with countless fans. Do you want to know her secret tips? Let's crack the code. Women who always wished to have a perfect skin type like Jacqueline Fernandez will surely love it. This Bollywood diva is sharing all the tips by herself. In nutshell, you can discard all the doubts and follow the suit.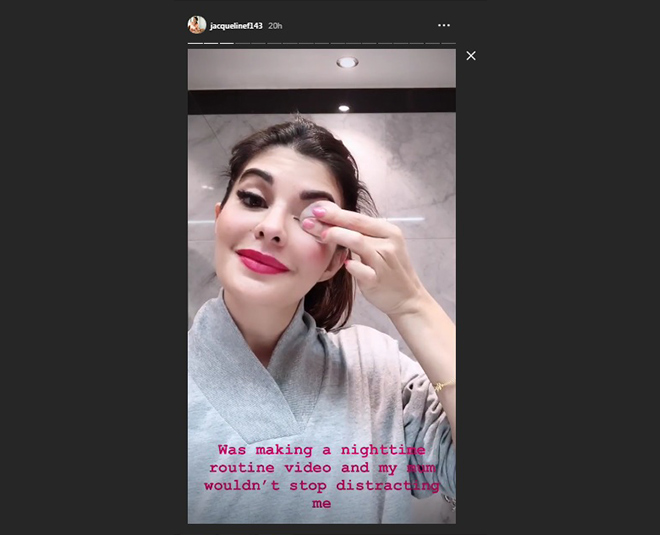 What exactly includes in her night beauty regime? In her latest video, she is seen removing her makeup and asking fans do they also face similar difficulties in removing it. Therefore, in order to make things simpler, she told some useful tips to remove makeup easily.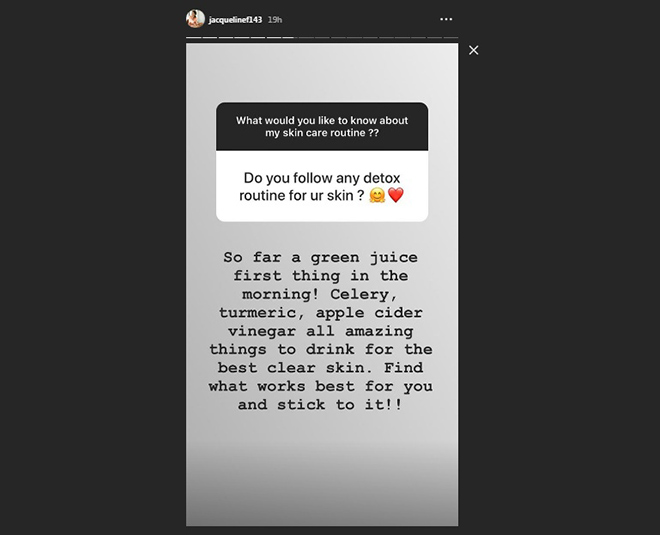 What is her personal skincare routine? She is a celebrity and cannot take an escape route from applying makeup most of the times. Isn't it? This leads to skin related problems. It is important to detox your skin and hair to keep them healthy.
Don't Miss: Here Is Why You Should Get A Facial Done At least Once A Month
What is the best way to detox? Jacqueline Fernandez starts her day with a glass of fresh green juice. But there is more in her morning routine to detoxify her skin and body. She includes ajwain, turmeric and apple cider vinegar in her early morning drink. This natural remedy is good for unblemished skin. That's not all; she urged to know your skin type to work accordingly.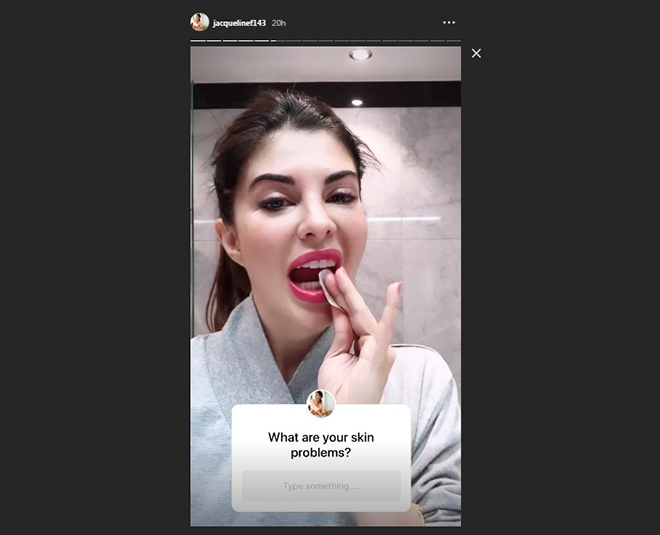 What is the secret behind her glowing skin? Her mantra for a naturally glowing skin is quite basic actually. Yes, you read it right. Her secret to flawless skin is water. This is what she does to keep her body hydrated all the time. Jacqueline Fernandez consumes 1 liter of water early in the morning. And she equally stressed on drinking 1-1 liter water pre and post lunch. You can probably have green tea at night. Looks like, you have it all now.
Don't Miss: Meet The Top Makeup Artists In That That Have Been Transforming Our Celebs
What for the pimples? This is quite menacing for all of us. Do you have pimples? Despite having a sweet tooth, Jacqueline Fernandez refrains from eating anything sweet. Therefore, avoiding sugar or sweets is a good way to keep pimples at bay.
What is the best serum for skin? Jacqueline Fernandez unraveled one more secret related to her skin. She said vitamin C is best for all the skin types. Vitamin C helps in fighting wrinkles and keeps your skin young and alive. Do you have dry skin? Apply vitamin C on your face. She applies vitamin C serum on her face and consumes more of citrus in her diet.
Do you have dark circles? This can help. Jacqueline Fernandez involves her body in regular exercises and yoga to maintain a good and healthy blood flow in her body. Drinking lots of water and adequate amount of sleep help in saying goodbye to dark circles.
How to tackle anti-aging signs? She said embracing aging is the most beautiful treatment for your skin. Moreover, you can use sunscreen to keep your skin protected.