Hailing from Bengal, Saraswati puja has always been more than merely worshipping Goddess Saraswati. It was about finally getting to wear that mom's beautiful saree that you have been eyeing on, going out with your friends– all donning yellow ethnic attires– and forgetting about studies completely for a day and of course the blossoming love.
About Saraswati Puja
Basant Panchmi which is celebrated on the fifth day of Shukla Panchami of the Hindu month Magh is the day of worshipping the Goddess of knowledge, music, and arts, Saraswati. And for a state like West Bengal, the day holds even greater significance being the unofficial Valentine's Day. In this article, we'll explore why is Saraswati Puja called the Bengali Valentine's Day.
Saraswati Puja In A Bong Girl's Life
Being a Bengali, as a child, the day of Saraswati Puja always brought me the most excitement. Ask why? To begin with, for the puja at your home, you keep your books at the deity's feet so no study till the deity is immersed. Secondly, you get to prepare for the puja at your school which celebrates the Puja rather grandly. Top that with your mother dressing you up in a beautiful yellow saree and going to school where you get to spend the whole day with your friends. But as you grow older to the age of adolescent love, the day becomes the ultimate day you look forward to. Here some women shared their Saraswati Puja story. Take a look.
Why Is Saraswati Puja Bengali Valentine's Day
Bengalis have forever romanticised bosonto and prem (spring and love). From Tagore's poems such as প্রহর শেষের আলোয় রাঙা সেদিন চৈত্রমাস, তোমার চোখে দেখেছিলাম আমার সর্বনাশ । which roughly translates to "In the light of the end of the time, that day in chaitra month, I saw my destruction in your eyes" to modern day songs like bosonto eshe geche (spring has come), Bengalis celebrate spring with little festivals and lots of love.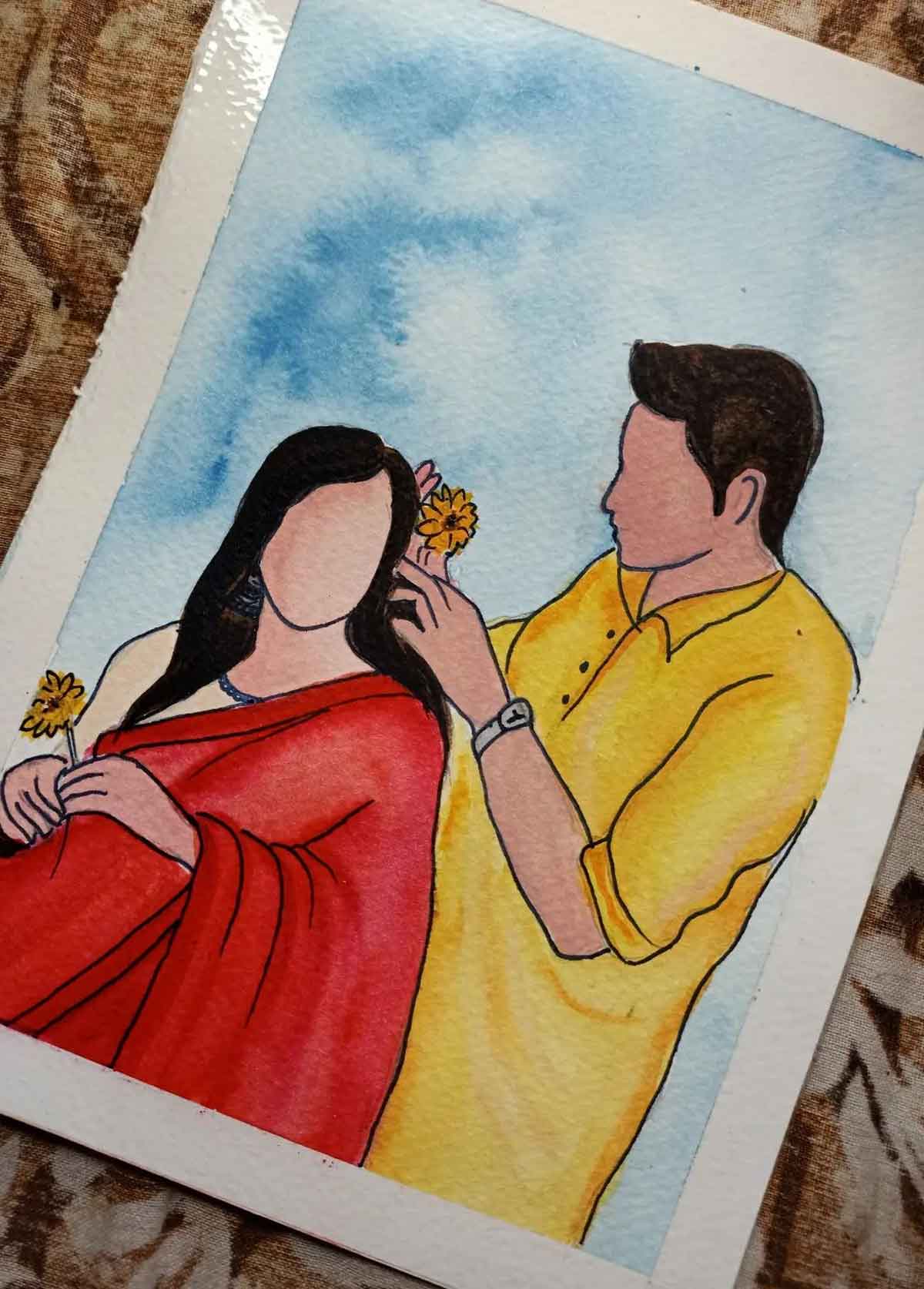 Saraswati pujo is said to be the beginning of spring, when the winter starts fading away and the festival of colours steps in and with it the love in the air. Here are a few Bengali women who share their stories of how Saraswati pujo has been for them during their school and college days.
Debapriya Ghosh, 26
"I was in a long-distance relationship for many years and Saraswati Puja was always special because it was the time we got a chance to meet! The duration of video calls used to be a lot more than any other normal days! Getting decked up in a bright colorful saree and getting to see my partner in similar colour kurta was always exciting. This one year, we got to spend it together in Kolkata, I wore a black saree all by myself with some help from him and he borrowed a black kurta from one of his friends. Throughout the day, we roamed around the streets of "the city of passion" with our fingers intertwined. The day was full of whispers, blushes, and giggles."
Madhuparna Mitra, 27
"Saraswati Pujo has always been a bearer of anticipation and excitement because it meant that I would see my partner in traditional attire and vice versa. That hint of romance in pandal hopping and having prasad together always felt special. It was super cute to see that glitter in his eyes that day because he was suddenly in a romantic mood singing a song for me and giving me a flower. The adventurous part for me was spending the whole day with him from restaurants to shopping mall without letting my parents get a hint of it. I had immensely supportive friends who had my back, scary at times but that's fun, to be honest! And last but not the least, I definitely made sure to click some couple pictures with him and it was all yellow! :)"
Aaratrica, 25
There was this senior boy in college who always had his eyes on me. And to be honest, I liked his attention. Though we never spoke we knew that we liked each other. It was Saraswati puja when we first time spoke and he said that he always wanted to see me in saree and it finally happened. He was also wearing a yellow kurta and I couldn't take my eyes of him. We somehow sneaked out from our campus and spent the whole day together making memories for a lifetime.
Did you like this article ?