India is a multi-cultural country, which is rich in traditions. When it comes to Hinduism, there many gods and goddesses that are worshipped and each of them has a specific day dedicated to them. Every Monday, worshippers chant to Lord Shiva and keep fasts while Tuesdays are for Lord Hanuman, Lord Ganesha's day is Wednesday, so on and so forth. Today we will specifically talk about Tuesdays when most Hindus worship Lord Hanuman and keep a fast for an entire day to please him, especially on the occasion of Hanuman Jayanti 2021.
It is said that this fast when kept religiously, brings many problems and issues bank on track as God fulfills all desires when he sees a pure and dedicated "bhakt". Scroll down to understand the significance and the story behind keep the fast, the chant that you must read out, and how to go about it.
As per folklore and mythology, there used to be a city called Kundalpur in ancient times where a brahmin named Nanda and his wife Sunanda lived. The wealthy couple however had no kids who could carry forward their name. This made Nanda leave home and head to the forest to worship Lord Hanuman in peace with utmost devotion. Back at home, Sunanda too prayed to Lord Bajrangbali.
Every Tuesday she would keep a fast and break it in the evening by making offerings at home and having them later. But one day, a particular Tuesday required her to fast for some other reason and she had to miss out on the one she would completely dedicate to Lord Hanuman. Therefore, neither could she make the offerings nor eat them herself so she slept that night without eating, with the resolution to keep it the next week without fail and not eat until then.
After some time when her husband came back home, he found a pretty boy which made him ask his wife about his whereabouts. She told Nanda about her dedicated fasting and how it pleased Lord Hanuman and gave them a child. However, he doubted his wife for cheating on him and thought of her as an adultress, using the Tuesday fasting story as a front. Sunanda has named her son Mangal. One day when her husband was heading to get some water from a well, Sunanda requested him to take the boy along.
Don't Miss: Here Is Why You Should Read Hanuman Chalisa Everyday
But to Sunanda's dismay, when the husband returned, the son was missing as he had pushed his son into the well due to his long-brewing doubt.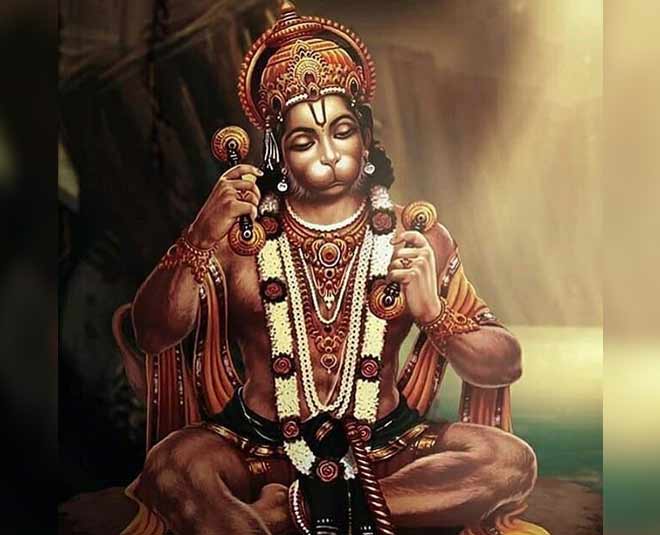 When Sunanda asked him about the child, even before he could say something, Mangal came out of nowhere, giggling away as if nothing had happened. This shocked Nanda.
That night, when the family was asleep, Nanda had a dream in which Lord Hanuman himself came and told him that the child is in fact he himself and that his wife was telling him the truth about the boy's origin. Mangal was indeed a blessing given to the couple due to Sunanda's dedication and pure-hearted request.
After this, the family lived happily ever after and the day became dedicated to Lord Hanuman who blesses those with pure thoughts and complete dedication.
The Right Offerings To Make
Evert Tuesday, put a garland of red flowers and a red cloth around Lord Hanuman and read the Mangalvar Vrat Katha on this day.
As offerings, make laddus. Lord Hanuman is said to like 3 types of laddus: Kesariya bundi laddu, besan laddu and malai-Mishri laddu. Besan ones however are said to be his favourite so make these and chant with a pure heart.
Some other food items that are said to be loved by him include imartis, a Banarasi paan and a mixture of different dried fruits called Panchmeva which consists of almonds, raisins, cashews, chhuara and coconut.
Stay tuned to HerZindagi for more interesting stories and reasoning behind different days according to Hinduism.