Your kid went to play outside and returns home with grass stained clothes. Your husband went to the office and returns home with ink-stained shirt. You're preparing dinner, and stains oil on your favorite white kurti. Did this ever happen to you? I know, we've all been there.
We all have tried everything to remove that stain but that pesky stain remains. But don't panic or throw it away just yet. There are few tips and tricks you can use to remove that stain and save your clothes.
Luckily, there are a few common things to remember while removing stains. First, the earlier you react, the easier it would be to take it out. Second, always remove the stain by placing an ice cube on it. Third, always carry stain wipe with you. Lastly, never put the stained garment in dryer until you're sure that stain has removed. The dryer heat can make the stain permanent.
Now let's dive into the different types of stains and how to get rid of them.
Armpit Sweat Stains
Ingredients
1 cup of vinegar
A ½ cup of baking soda
1 tbsp of salt
1tbsp of hydrogen peroxide
How It's Done
Pour vinegar and 2 cups of warm water in a bowl, and soak the shirt in it for 30 minutes. Mix other ingredients in a separate bowl until it becomes a paste. Take your shirt out and apply this paste on the stain for 25 minutes. Wash out the solution and throw the shirt in a washing machine.
Mattress Stains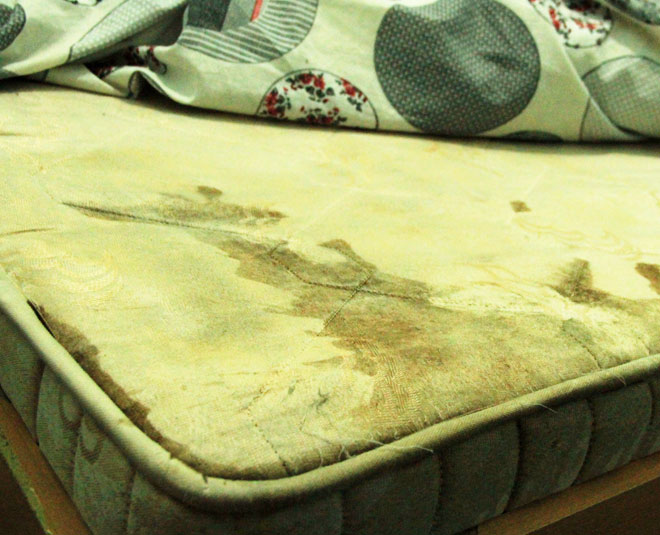 Ingredients
1 part baking soda
1 part detergent
A brush
A strainer
1 cup of hydrogen peroxide
How It's Done
Sieve the baking soda on the mattress and gently rub it using a brush for 15 minutes. Now clean the mattress. Mix hydrogen peroxide and 10ml of liquid soap. Apply the mixture on the stained area for 20 minutes. Then rinse the area with cold water and let it dry.
Deodorant Stains
Ingredients
How It's Done
If deodorant stains are appearing on your shirt, then rub it away with dryer sheets. Make sure the cloth is not wet.
Lipstick Stains
Ingredients
How It's Done
Spray your hairspray on the stain and let it sit for 10 minutes. Wipe it off with a wet cloth and put the shirt in the washing machine.
Blood Stains
Ingredients
How It's Done
Rinse the stain with cold water. Make a thick paste of salt and water in a separate bowl. Apply the paste onto the stain and gently scrub it with a toothbrush. Wash again with cold water.
Coffee Stains
Ingredients
Cold water
Liquid Dish Soap
How It's Done
Put the stained cloth under running water and keep it there until the water running through the fabric is completely clear. Now, mix the liquid dish soap and water in a bucket. Put the cloth in it and gently rub the fabric. Let it sit for half an hour and wash the fabric with cold water.
Also Read: Try These Easy Hacks To Clean Burnt Vessels
Ink Stains

Ingredients
Hair Spray
Paper Towels or a piece of cloth
How It's Done
If your pen leaves an ink mark on your shirt, spray the hairspray on it and let it sit for 10 minutes. Clean the stain with paper towels or a piece of cloth.
Trust me, if you'll follow the above-mentioned tips, you'll surely get rid of them. Stay updated with HerZindagi to know more about stains and cleaning.