It's that time of the year again when communities in the north, south, east and west part of India come together to celebrate the winter solstice in their own traditional ways. The celebrations have a variety of legends associated with them and are a time of enjoying the bounty of nature with delicious food prepared at home and making merriment.
Lohri
The winter time festival of Punjabis marks the end of winter season and Punjabis go all out to celebrate it a night before maker sankranti by making a bonfire, making offerings from the new harvest and dancing to traditional songs to welcome the next season.
Traditions of Lohri: In the run up to the bonfire, children go about collecting wood to be burnt along with the harvest materials like grain and jaggery that will be offered to the fire from the people in their area. The Sindhi community celebrates it as Lal Loi.
Traditional food of Lohri: Peanut and jaggery chikki, phuliya or popcorn, til ka laddoo, til gajak, rewri, moongfali
Bihu
Also called Magh Bihu or Bhogali Bihu, this festival is celebrated by the people of Assam with great fervour.
Traditions of Bihu: Just like the bonfires for Lohri, youngsters make huts from bambooand thatch called Meji and Bhelaghar. A great feast is prepared and eaten inside and then the huts are burnt the next day. Games of pot breaking and buffalo fighting also take place.
Traditional food of Bihu: Olive-jaggery chutney, Pumpkin Oambhal, Assamese fish curry, Dhekia Xak, Shungha Pitha, Til Pitha
Read More: Celebrate Lohri With Full Zest At These Venues
Pongal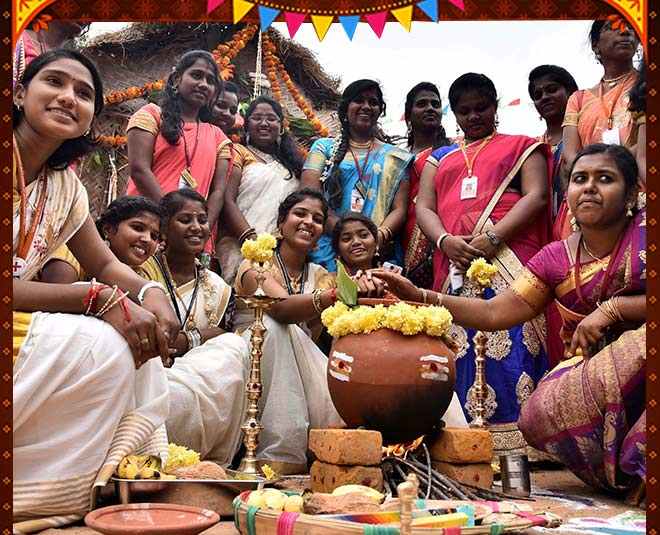 Traditions of Pongal: The southern part of India, celebrates this festival, also called Tamizhar Thirunaal to mark the heating of earth as we move from winter to summer. Day before Pongal, called Bhogi is when the old items are burnt in a bonfire. The Thai Pongal comes next which is a celebration of prosperity. Maatu Pongal is celebrated next with girls feeding birds and decoration of cows. Kaanum Pongal comes next and people reunite with their relatives on this day.
Traditional food of Pongal: Ven or Khara Pongal, Sakkarai Pongal, Murukku, Vadai, Paal Payasam
Uttarayan
Traditions of Uttarayan: Gujaratis celebrate the arrival of summer season by flying kites which was a tradition of the Nawabs. People eat new baby mangoes and sattu (made from new crop of wheat).
Traditional food of Uttarayan: Undhiyu-puri, Jalebi, Chikki, Bor, Lilva Ni Kachori
Want to know more about festive traditions or festive recipes? Then keep reading HerZindagi.