It all begins very simply. Your office colleague or boss gives you little compliments, stands too close for comfort, tries to place hands on your body and then one fine day expresses what's actually in his/her perverted mind. You are in shock and have no idea of how to react. Were you taught by your parents what to do in such a scenario? Did your school/college teach you about this? Did you sit with a cup of coffee in your hand and think about it for hours on weekends? Was this a regular topic of discussion among your friends? Not likely. We are taught to respect, comply, say yes, be obedient, be sweet, be forgiving, be practical (now that's an interesting word!), be patient and cultivate a host of other qualities from our childhood that don't serve us well when we face sexual harassment. The situation is worse at workplace where we are even more reluctant to talk about these things. In the aftermath of the #MeToo movement things have changed to an extent but going all out on social media is only a fraction of the actions that need to be taken. Women, who are especially vulnerable to sexual harassment at work, should know their rights and the legal roadmap to be taken to deal with such situations to bring the perpetrator to book while reserving their right to a safer workplace.
HerZindagi talked to legal expert Indrani Lahiri of the reputed law firm Kochhar & Co. about what's the legal guideline for women in cases of sexual harassment at workplace and here's what she had to share.
Legal Route For Workplace Harassment
The legal roadmap in cases of complaints filed with the Internal Complaints Committee (ICC) of an organisation as per The Sexual Harassment of Women at Workplace (Prevention, Prohibition and Redressal) Act, 2013 (POSH Act) is as follows:
Once a complaint is received from the aggrieved woman, one copy of the same should be sent to the respondent (alleged accused/perpetrator) within seven working days
The respondent should file a reply to the complaint within a period of ten working days from the date of receipt of such complaint
Thereafter, the ICC should initiate and carry out the inquiry in accordance with the principles of natural justice i.e. both parties should be given an opportunity of being heard
While carrying out the inquiry, the ICC would:
(a)Interview the aggrieved women, respondent and the witnesses
(b)Take their written submissions and statements
(c)Examine evidence; and
(d)Record minutes for each meeting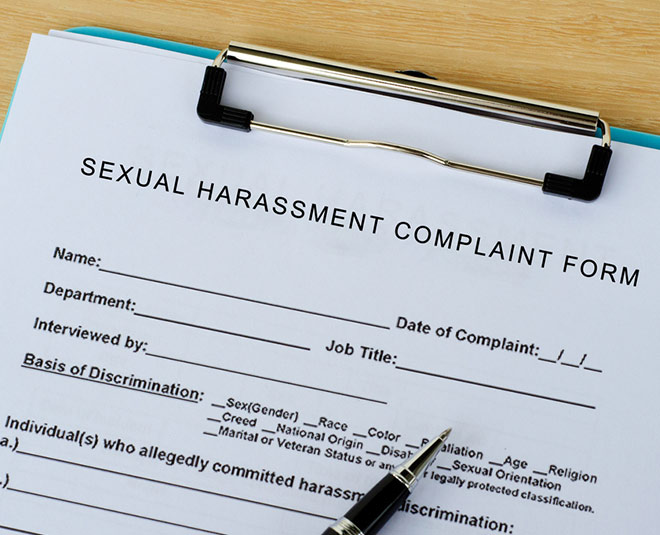 Image Courtesy: www.blogspot.com
The ICC may terminate the inquiry or give an ex-parte decision if the aggrieved women or respondent fails, without sufficient cause, to present herself or himself for three consecutive hearings
ICC would prepare inquiry report based on findings with cogent reasons supported by evidence, if any
The Parties would not be allowed to bring in any legal practitioner to represent them in their case at any stage of the proceedings
While conducting the inquiry, a minimum of three members of the ICC including the Presiding Officer would be present
ICC would provide recommendations to the employer company/organisation in the Report for action to be taken against the respondent / aggrieved woman, if needed – report to be provided to the employer i.e. person(s) responsible for the management, supervision and control of company/organisation
Conciliation
Aggrieved individual may request for a conciliation
Conciliation would be carried out by the ICC before initiating inquiry
Monetary compensation should not be made the basis for settlement
Settlement arrived at should be recorded and signed by the parties
The ICC would forward the recorded settlement to the Employer and provide copies thereof to the aggrieved individual and respondent
No further inquiry after a settlement, except in case of breach of the settlement terms, wherein it may be initiated
The aggrieved woman may also file an FIR with the Police against the perpetrator.
Read More: NGO By Jaya Wahi That Supports Rape Survivors
Be Fierce.Be Fearless.Be Open
But what if you think that you are not being heard by the management? What if you are told that your entire career is at stake? As the #Timesup #MeToo movement taught us, you should speak up, talk back, spread the word and get the strength of numbers (colleagues, friends, family) to back you up. Remember, if you tolerate it today, it may be a threat to your life tomorrow. If you tolerate it today, someone else will be a victim tomorrow. People like Tanushree Dutta are an example of how speaking up about workplace harassment, even in the face of being shunned by the bigwigs in the industry, can work out for the better. How it can not only save you but hordes of other victims and how it can call out not one but many perpetrators.
Life Coach Pankaj Dixit says that if you are not interested in forming a close relationship with a colleague then do not meet them alone. If invited, take your friends along or politely decline the offer. If you feel that your boss is unnecessarily pressurising you to seek favours then talk to your male friends to know their viewpoint and find out a solution. There's no rule book for office behaviour, what you can do is be firm and present yourself as clearly as possible.
Want to know all about women's safety laws, legal guidelines for cyber stalking cases and the best apps for women's safety? Then keep reading HerZindagi and don't forget to share your experiences with us.