It's frequently said that looking for perfect fit jeans is the most stressful clothing to shop for. With so many different brands, fits, sizes, and fabric of denim, its no wonder that finding the perfect pair can be such a puzzle. Denim probably is the item in your wardrobe that you wear frequently- so there's a huge pressure to find a perfect fit, or what will suit on our body type.
In desperate need to find a perfect fit, we tend to forget our body type. Yes, body type. Wearing right jeans, according to your body shape, can boost your body confidence and make you feel like a diva! If you have ever been tempted to wear different types of jeans or found yourself wondering "should I try wearing boyfriend jeans", then we're here to help you out. You can use this easy denim wearing guide and go straight to shopping- to buy a perfect pair!
How To Find Your Right Jeans Size
Shape Of The Leg: When you go for jeans shopping, always look for the shape of the leg. It's the shape of the leg that gives you different types of fits. Common fits include: skinny, regular, slim, boyfriend and straight. Legs can be straight or tapered, and always try on new jeans before purchasing it.
The Rise: Distance from the crotch joint to the top of the waistband is known as the rise. There are four types of rises: low rise, mid rise, drop crotch, and high rise.
The Length: The length is the measurement of the inseam, starting from the crotch to the leg opening. While trying jeans, make sure the front of the hem should rest on top of your instep, and the back would kiss the floor.
The Deni: When it comes to jeans, make sure what type of denim you are buying- with or without stretch. If you want to buy skinny fit then go for the stretched jeans. But for regular and loose fits, go for loose denim.
TIP: If you want to buy skinny fit jeans, always look out for elastane percentage. If you don't want your jeans to get loose after some time, then make sure your jeans have 3 percent elastane.
Types Of Jeans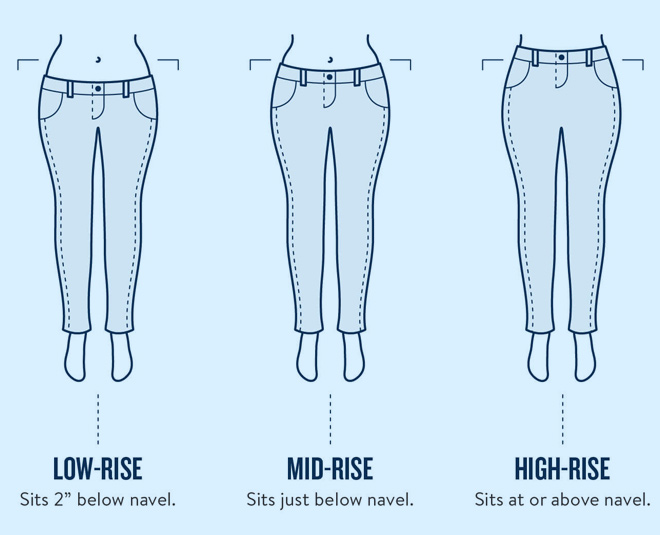 Low-Rise
Low-rise jeans will be a great option for women who have curvy hips. But make sure they fit properly at your hips to avoid the dreaded waist-gap problem. Athletic body types can also rock low-rise jeans.
Mid-Rise
Mid-rise jeans are comfortable for all body types, and a bit of a secret weapon to give a proper shape of our midsection. These jeans are also compatible with just about any top length, which makes them a great go-to all around.
High-Rise
These jeans are very much in trend and is a perfect style for cropped tops and tuck-ins. It'll look great on athletic body types with a smaller waist. Hourglass shapes on the slender side look fantastic in high rise jeans with stretch.
Jeans According To Body Type
Boyfriend Jeans
People with apple and athletic body shape will rock this type of jeans. Jeans that have looser fit typically pairs well with fitted tops. If you prefer wearing something with more structure, then pick a less stretched jeans with a simple fold at the hem. But if you are looking for the perfect fit, look for denim with lots of stretches to give you the casual and classy look.
Flared Jeans
Flare jeans look amazing on pear and hourglass shapes. Opt inseam according to your body and then choose your heel height. You can either wear an oversized top or an ultra-fitted top- to flaunt your waist.
Are You Dressing Right According To Your Body Type? If No, Then Read This: A Handy Guide To Dressing For Every Body Type
Straight Leg Jeans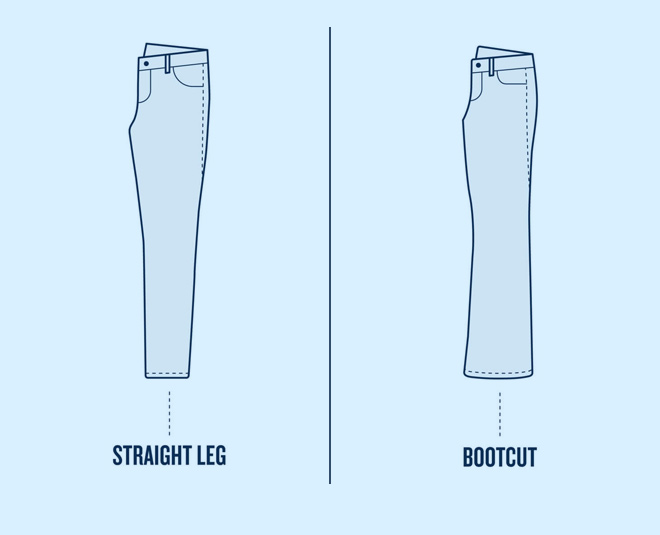 Body shaped like an hourglass, apple, and athletic will look dazzling and classy in this type of jeans. A simple round neck tee, jeans, and bellies (or sandals) is a trendy uniform to wear.
Bootcut Jeans
Hourglass and pear shapes love good bootcut denim. It's hard to pick which top to wear with bootcut jeans because anything you wear with it will surely look amazing!
Skinny Jeans
Despite the name, these jeans have nothing to do with your figure. Everyone can wear this type of jeans, no matter what your body shape is. Pear and hourglass shapes will look best in dark shade skinny jeans, while apple and athletic shapes can try lighter shades year-round. These jeans are the perfect accompaniment to loose, oversized tops.
Figured out the perfect jeans for you? Now stay tuned to HerZindagi for more such fashion advices.
Did you like this article ?