After a long wait of 7 years and 3 months, Nirbhaya finally got justice. The four convicts, Pawan Gupta, Akshay Kumar Singh, Mukesh Singh and Vinay Sharma, involved in the brutal gang rape and murder of a 23-year-old medical student were hanged to death on March 20, 2020.
Now, two weeks after the execution of rapists, Humans of Bombay spoke to Seema Samriddhi Kushwaha, Nirbhaya's indomitable lawyer, to share her full side of the story. who represented Nirbhaya's parents against the criminals.
Seema Kushwana was born in a remote part of Uttar Pradesh where being a girl was considered as a sin. "Until recently, if you Googled it–it wouldn't show up–that's how remote it is," she shared. She was the fourth daughter and had five siblings. "When she (my mother) had me – a girl – everyone except my dad and bua was unhappy. The elders and even my mom considered killing me, 'What will we do with one more girl? they debated. But bua and papa intervened and I got a shot at life."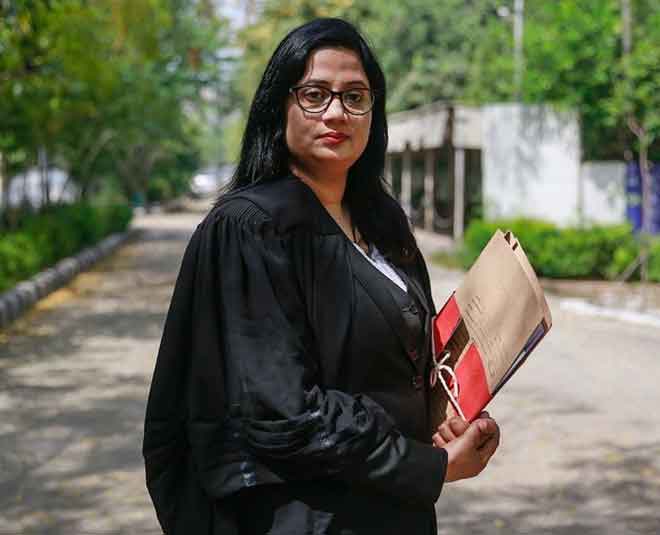 Recalling her childhood she remembers feeling that the girls in the family weren't treated equally and allowed to go school. "Growing up, my brothers treated me like an unwanted child. Things got better eventually, but I always felt that us girls weren't treated equally. But dad gave me the space to grow independently–that's why at 5, I fought to go to school which was 1 km away from my village. We had to cross a jungle to get there, but somehow 7 of us girls managed until the 8th grade." After that, all the girls in her school quit their studies as the senior school was 3 km away and the villagers were against it. "But I was stubborn," she tells, "By then dad had become the village Pradhan and I'd see city folk and MLAs visit with their educated kids. 'Why not me?' I asked. I'd also read books on Indira Gandhi and Rani of Jhansi and wanted to become like them. I told dad that my brother's studies aren't being stopped–then why mine?"
Seeing her passion and determination, Seema's teacher had a conversation with her father and convinced him to send her to school. And that's how she became the first girl from her village to study beyond the 8th grade. "But dad was worried about my security, because it took me 3 hours each way. He soon realised he had nothing to worry about, because when a boy tried to pass cheap comments, I beat him black & blue. A crowd gathered & that guy began apologising, but I said, 'Mein chodungi nahi tujhe!' Word spread. These boys would say, 'Bahut dangerous ladki hain, usse panga mat lena, woh seedhe maarne lagti hain'. My intolerance towards patriarchy started since then, but maybe it was in my destiny to go through all of this, so that one day I could fight the most important case of my life–to get justice for Jyoti Singh Pandey… Nirbhaya."
Once she got her family's permission to study further, nothing was able to stop her. "I was so excited to study further that I didn't care about much else–I put on my worn-out slippers, carried my jhola, took my brother's cycle and went to class. I took part in everything–I gave speeches and even got chosen to captain my NCC team in Lucknow–again everyone in my village opposed. 'She'll go to the city and ruin our name,' they said–but my dad supported me. I took money from my brother and without telling anyone, left for Lucknow. There, we won the competition and my name came in the paper–a small article about a village girl leading her team to victory. After that, for some time, I was left alone." But as soon as she passed 10th standard, her family wanted her to get married, but she didn't give up and went on a hunger strike for three days. After hearing this, the boy's family got scared of her and did not show up.
"I was desperate to study. To pay for my college fees, I sold my payal and earrings. I also began teaching at a school. Throughout, I refused to give up," Kushwaha recalls, "Even in 2002, when my dad passed away and my eldest brother said, 'Now no one will pamper you, you have to get married', so my friend Rinky helped me get the LLB form and books. Finally, I left home."
Seema used to take up jobs, walk miles to get to class, sacrificed food and sleep just to become a lawyer.
"This has been my life–taking up jobs, sometimes walking to get to class, sacrificing food & sleep–just so that I could become a lawyer.But let me tell you, the status of women lawyers in Bombay or Delhi is different than those in smaller cities. In Kanpur, we were given no respect in courts–it was common for a woman lawyer to not get dates just because of her gender. So eventually, I moved to Delhi where I began preparing for my UPSC exams."
Seema used to live in PG when it happened, "16th December 2012, the day they gang-raped her in a way no one could fathom. When we woke up to the news, there was fear and anger. 12 girls from my PG immediately left Delhi, because their parents were terrified. I was gutted. I cried uncontrollably thinking about her; about what she went through. When more details started pouring in, something in me moved. I wiped my tears. All my life, I'd fought for myself, but this wasn't the time to sit at home and cry–it was the time to get out there and fight back."
"The whole country became aggressive. She went through the torture that we can't even imagine -- and we all felt the pain. At that point, had any of us seen the accused, we would have shredded them to pieces – such was our frame of mind. Where we were housed, there was around 50,000 youth in and around the area – we decided to protest."
"On 22nd December, I was at the forefront of the protest at India Gate. I'd climbed a pole to tell the crowd that we needed to fight to get her treated out of the country. They sprayed water cannons on us; lathi-charged us -- but we didn't stop. I attended every protest from the beginning until end. I can't explain how I felt when we got the news that she had succumbed and lost her life. I felt so deeply connected to her that I organised a meet in her memory and invited her parents. After that, there's rarely been a day that I haven't spoken to aunty. I also followed the case like a hawk and attended every hearing, even though I wasn't Jyoti's counsel."
She even visited the court on 7 January when they filed the charge sheet in Saket court. "There were a few lawyers there who wanted to take the case of the accused -- I appealed to them on moral grounds to not take it. I knew it was illogical; the accused had to go through the due process -- but I was just so angry. That's when AP Singh jumped in and took the case of the accused, while the state provided a lawyer to defend Jyoti. Over the next year, the convicts were sentenced to death in the District Court. Still, there was no execution. Months went by and aunty grew sadder with each passing day. To add to everything, when a journalist had questioned AP Singh on whether he would have taken the case, had Jyoti been his daughter -- he said, 'If she was my daughter, I would have poured petrol on her and let her burn'." This made her blood boil and she decided to fight and prevail the justice.
Seema still remembers the way she felt when she saw the convicts in the High Court first time. "I was gut-wrenched – images of their brutality and crimes haunted my mind. But they behaved as if nothing had happened; they joked with each other and even dared to smile at aunty – they just didn't care. I was filled with rage like never before. As a woman, I wanted to beat them and make them pay with my own hands for what they did. But as a lawyer, I had to put a stone on my heart and keep calm."
"Through a flurry of cross-examinations, witness statements & DNA testing, I saw all 4 of them lie through their teeth. Vinay & Pawan said they were at a party that night; Akshay claimed he was out of town, and Mukesh said he was just driving the bus & didn't rape her. The bite marks on Jyoti's body matched Akshay's teeth. The skin in her nails was theirs & samples of their sperm were found in her private area. I can't put into words what I felt when they produced that rod in court. I felt like I'd faint, even imagining the pain that it would have caused her -- still, they lied & said they hadn't seen the rod before. Their fingerprints were all over it. Even after the High Court passed the death sentence, AP Singh amped up his aggression to save the convicts. He verbally attacked judges in court, delayed the appeals to stop the case from moving forward & even insulted Jyoti's character. I was shocked. I saw my opponent for what he was -- a prejudiced man who'd stop at nothing."
But Seema knew that she couldn't finch and need to understand AP's mindset to defeat him. "I kept my composure no matter how much he tried to rile me up & fought with dignity. Still, justice was nowhere in sight & the matter wasn't moving forward. As much as I tried to comfort uncle & aunty, they'd lost hope. But I swore to them that as long as a death penalty was in the letter of the law, justice would be served. My fight wasn't just for Jyoti anymore...it was for every girl in India. I was ready for anything that came my way. Even if that meant fighting my first ever case in the highest court of India – the Supreme Court."
"It was tough for me to even get a date in the Supreme Court–I desperately tried to get our matter heard but in vain. The courts had a backlog of cases & I was even told that our case wouldn't be heard before 2021–but how could this case be ignored? I made calls to advocates, aggressively pushed the registrar's office & finally got a hearing after 1 full year."
Don't Miss: Empowering Quotes Given By Powerful Indian Women
In 2017, the Supreme Court gave the verdict to execute the convicts but AP delayed it. "He drowned me in petitions–every time I won a round, there were 10 others that hadn't even begun. He had found his loophole–the convicts had to be hung together or not at all. He could've filed petitions for all 4 of them together, but he filed each one after the previous one had been dismissed, prolonging the trial & our agony. It was a vicious cycle. Every day they lived was another day of justice denied. It had been 6 years by then."
"Justice felt distant, but I found the strength every time I went to Jyoti's room & saw a photo of her smiling. You know, after everything the only thing she told aunty in the hospital was that she wanted to live? That she wanted to see her torturers hang & become a doctor to help others? I kept looking at her photo & promised her I would make sure they hang–to prove that she did nothing wrong that night. That her being out at 8 pm with a male friend didn't give them a right to rape her & take her life. I became relentless. I wrote to the President & PM, I questioned the delay in the media & fought in court like my life depended on it. It didn't matter that it was my first case–for every ounce of experience that AP Singh had, I made up for it by not giving up," she told the portal.
But finally, after 7 years and 3 death warrants, their hard work paid off as supreme court ordered to hang convicts. But AP didn't give up and had another trick rolled up his sleeve.
"The night before the hanging, while India slept -- I was in court. After trying his luck in the lower courts, AP Singh woke up the Supreme Court at 12:00 am in a last-ditch attempt to save the convicts. An emergency session had been called. I watched as he scrambled in front of the judges. He tried using old arguments, made baseless accusations and even tried to use COVID-19 as an excuse to delay the execution. At that point, I didn't even need to fight back; the court was tired of his antics and saw through them. Finally, at 3 in the morning, the judge said, 'It's time for your clients to meet with God and you need to accept that AP Singh!' But he still couldn't accept it. Outside the courtroom, he abused Jyoti in front of the media and blamed her for the suffering of the convict's family. He asked, 'Pawan's mother is handicapped, Vinay has a young son–who will look after them?' When a journalist asked him, 'What about Jyoti's mother?', he said, 'What about her? She didn't even know where her own daughter was that night!' We didn't even bother responding– he had lost the war."
"At 5:30 am that same morning, as aunty, uncle and I watched the news of the hanging at Tihar jail, we hugged each other and cried. We had finally won -- Jyoti's soul could rest in peace. It's strange... I've never even met Jyoti, but I felt attached to her as if she was my little sister. She could have grown up to do such amazing things for the world, had she survived."
"We fought for over seven years, but we still have a long way to go because the mentality is still the same. After they were hung, I began receiving threats on my social media handles. They abused me and said things like, 'We'll rape you worse than Jyoti'. I don't care about those comments, but what pains me is that ever since I've received over 500 messages from women - some send me pictures of the FIRs they've filed to no avail and others tell me about how they've been raped, harassed or violated without any justice. I'm going to reach out to all of them to say, 'Hum chodenge nahi unhe'. The fight has just begun."
This courageous lady is a true inspiration who fights for what's right.
Did you like this article ?