We all remember Renuka Shahane as the demure 'bhabhi' in Hum Aapke Hain Kaun but off-screen, she is never afraid to call a spade a spade. Known for her work in Indian television through serials like Circus, Surabhi, Junoon, Kora Kagaz and more, she is pretty active on social media. Her statements on the judgment of women's dressing sense, society and politics are totally legit and filled with a level of clarity that most people lack these days. She did not even hesitate to shame MeToo accused minister MJ Akbar when he added the name chowkidar as part of the campaign by PM Modi. Her post with the hashtag #BesharmiKiHadd said how women were not safe if Akbar becomes a chowkidar (watchman). It just makes us wonder how great it would be to have an ultra-sane member like her our families.
Renuka On Suchitra Krishnamoorthi's Criminal Comments
Former actress Suchitra Krishnamoorthi took to Twitter to thank her middle-class upbringing but her analogy on money and sex workers was somewhat skewed:
Amma always said " Money is not everything.Even criminals and whores have money. What matters is not money but character and integrity"

I truly truly understand her words only today.

Jeez ive never felt more proud of my middle class roots 😊

— Suchitra Krishnamoorthi (@suchitrak) March 25, 2019
Renuka Shahane condemned the thought of equating sex workers with criminals. "Whores sell what is theirs. Criminals take what is others. Whores aren't respected by any social class in our society. Many criminals hold very respectful positions, some even in our Parliament & Industry", said Renuka.
"No disrespect to your Amma @suchitrak but as women let's try & correct the injustice that our traditions have imposed on whores. We castigated whores while letting off their customers who are leading "respectful" lives! Whores are often pushed into their profession due to human trafficking at ages as young as 7. Does any child have the right to say "no" at that age? Whores are pushed into prostitution by people they trust explicitly. Whores are abused, raped, tortured, drugged, given hormonal injections at a very early age & then raped relentlessly throughout their professional lives. Most of what should be their earnings is taken away by pimps & middlemen or middle women! Very often it's because of these whores that our children are safe from sexual predators. They face the brunt of society's evil."
Renuka's statement neither glorifies sex trade nor insults it. It just shows a mirror to society's condition. Now what followed this was a healthy discussion between the ladies but trolls had a field day going after Suchitra on Twitter. Sigh! When will we ever have a healthy discussion on social media!
Renuka On Trolls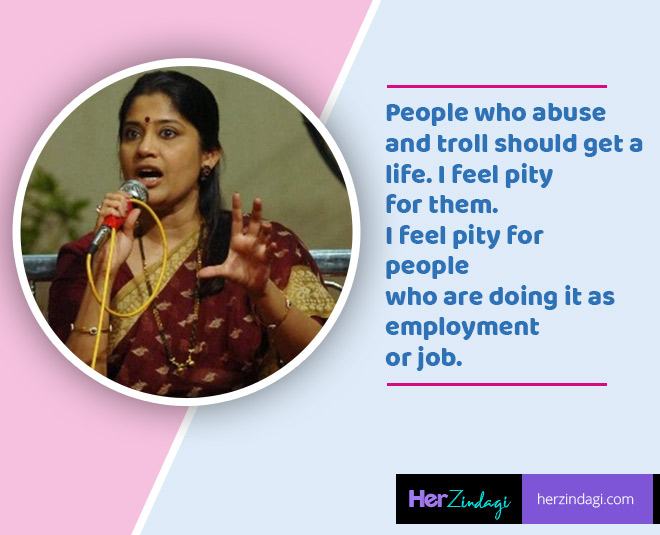 Being a level-headed person, Renuka never lets criticism or praise get to her head. In an interview to IndianExpress sometime back, she had said how she is extremely critical of herself in the first place but does not entertain personal criticism. She had asked that people who are paid to troll online have sold their self-respect and how Twitter is so negative because of them. Well, she is still holding her ground on social media and we hope her views never get affected by the negativity.
Renuka On Judgement Of Women's Dressing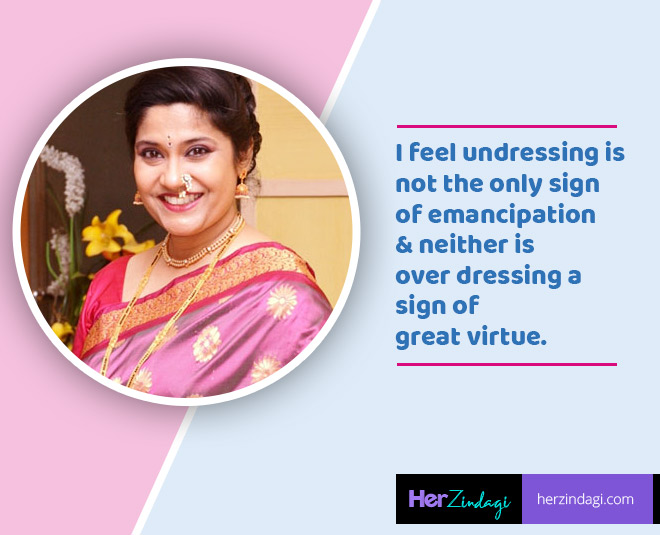 After the row that had erupted over a ban on Burkini (burqa-style swimsuit), Renuka had talked about how a woman is always seen to be either underdressed or overdressed. Women never seem to get it right. Whether you are raping, or becoming militants or gunning down innocent people or spreading hate, is the root of it all the way a woman dresses? Her post questioning the double standards on society was shared by many people and truly brought out the fact that women have to face the evils of patriarchy, conservatism and even extreme liberalism.
Don't Miss This: MeToo Controversy-Mallika Dua Trolled For Tirade Against Sona Mohapatra
Salman Khan's Rape Remark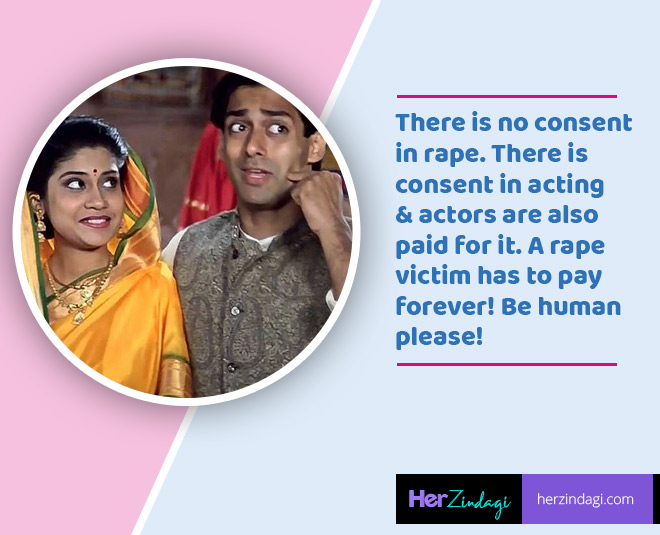 Renuka is perhaps one of the very few people who has openly criticised a Khan. Along with Kangana Ranaut, she had condemned the rape remark by Salman Khan. She had played the role of a bhabhi to Salman's character in Hum Apke Hain Koun and she rightfully schooled Salman off-screen for his insensitive comment, even alluding to his Being Human brand in the process! She had also questioned the judgment over the Black Buck case, not hesitating at hinting that Salman may have gotten away scot-free because of his 'big bucks'.
Support To Irom Sharmila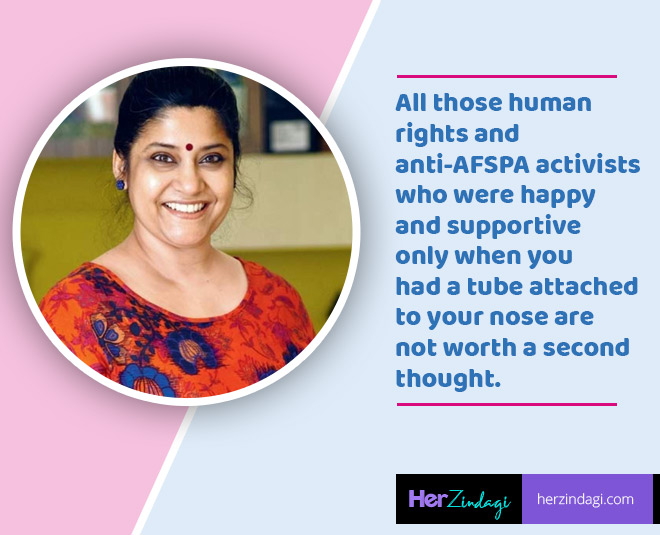 After anti-AFSPA activist Irom Sharmila had broken her 16-year-long fast over the cause, she was shunned by everyone. Renuka had then tried reaching out to her and even invited Manipur's Iron Lady Irom to stay at her house in Mumbai. Supporting her fight, Renuka had shamed the fake people who had abandoned Irom for choosing to be with her British fiancé and the phenomenon of choice shaming of adult women.
Not just an excellent bhabhi but she is also the mother-in-law we all need:
For all these statements and her overall awesomeness, we salute Renuka Shahane. May her tribe increase!
Want to know about the life of sex workers in Asia's biggest red light district or how actress Nimrat Kaur deals with internet trolls? Then keep reading Her Zindagi.