Matcha is known for its cleansing properties when mixed with other ingredients such as lemon and grass. This marvellous elixir has been consumed for over a millennium, and is known to be one of the most commanding super foods in the market today. It has a number of benefits, which we have categorised for you.
Beauty Benefits
1. Rich in Antioxidants, matcha has almost 60% catechin which is a powerful anti-oxidant and can be used as a great anti-pollution mask, a cleanser, a toner, a face wash or a scrub.
Matcha comprises of an amino acid, thus it makes for the safest sipper detox drink for getting rid of pigmentation, acne or ageing.
2. Good for the treatment of acne, matcha decreases the sebum protection and can bring drastic changes to the one concerning fine lines and wrinkle issues. It also prevents to cell damage, resulting in pre-mature skin ageing.
3. With the ability to prevents premature graying of hair, this powerful ingredient protects us from harmful UV rays that encourage premature graying of hair and premature ageing. This is an energy booster and stimulates dead skin cells.
Ingredients like rose water, dandelion extracts, lemongrass essential oil, coconut oil, yogurt and honey when mixed with matcha, can do wonders to our skin.
Health Benefits
1. Matcha contains chlorophyll which is power dosage detoxifier that flushes harmful toxins and empowers you to fight against free radicals that damage your body underneath. It helps in a healthy weight loss & burns calories too.
2. Known to prevent liver damage, matcha has the ability to decrease the risk of liver diseases. It has immunity supporting properties and is anti-inflammatory.
3. Richly absorbed by the body, matcha is rich in amino acids, dietary fiber, potassium and is full of vitamins A and C.
1Matcha Tea
pixabay.com
There has been a huge demand for matcha tea in the market lately with several variants once can choose from. We recommend that you try out different combinations to know what suits you best.
2Matcha Ice-Cream
pixabay.com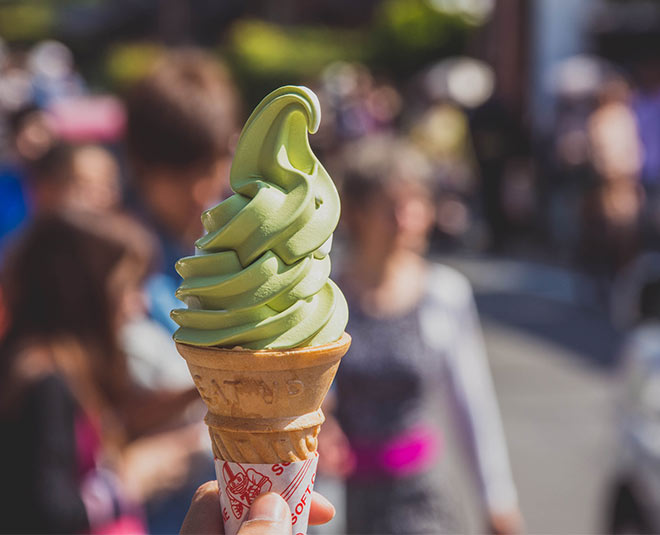 Agreed that the idea of a matcha ice cream can be repulsive, but personal experience says you got to try it. How can you say no to something you have not even tried! Why judge a book by its cover?
3Matcha Waffles
pixabay.com
Pour some organic honey on it. Sprinkle a berry here and there, voila! A healthy yet tasty breakfast is ready! You could even have it during tea time.
4Matcha Cake
pixabay.com
No No don't be scared! When you think of cake, you imagine chocolate or cheescake, we know but if you do not want a guilt trip later, a matcha cake is haven.
5Matcha Capsules
pixabay.com
This is the most basic shortcut to consuming the elixir. Simply gulp it down with a glass of water. You will neither taste it nor will digesting be a problem.