Have you ever heard of bath salts? Of course you have! They have been trending for quite some time now. They are refreshing, relaxing, calming and have numerous other benefits!
If you still have no clue about what bath salts are, not only are we going to educate you about them but we will also teach you how to make lavender bath salts at home! These are ideal for a therapeutic bath session or even for gifting it to someone! Read on to clear all your doubts about the same!
What are Bath Salts
Bath salts are made using Epsom salts or sea salts and are used while taking a bath. They are easily dissolvable in water and work wonders in the domain of stress relief and ridding pain. It is also instrumental in calming the mind and body. These bath salts had been first developed for them to recreate the feeling of taking bath in natural springs. Usually, colours and fragrances are added to these bath salts in order to increase the enjoyment of the users.
Lavender Bath Salts
Image Credit: musthavemom
Even though there are so many different flavours in which you can make bath salts, the lavender ones work the best! While we just told you the benefits of bath salts, the various benefits that lavender has are why we love making lavender bath salts! The benefits of lavender bath salts are as follows:
Studies have shown that lavender works in reducing anxiety.
Not only do bath salts relax you, but lavender bath salts are also known to improve your sleep noticeably!
The fragrance of lavender and the magic of bath salts together work as a mood stabiliser and also helps in reducing pain.
How To Make Lavender Bath Salt
Now that you know how beneficial these bath salts are, let us show you how you can make it at home!
Don't Miss- Here Are Some Amazing Health Benefits Of Ice Bath
Ingredients Required
2 Cups Natural Epsom Salt
½ Cup Pink Himalayan Salt
20 Drops Pure Lavender Essential Oil(Make Sure It Is 100% Pure)
3 Tablespoons Dried Lavender
Jar For Storing
Directions To Make
Take a large bowl and add both your salts to it.
Now add the dried lavender to this mixture. Mix well and voila! Your lavender bath salts are ready to be used!
Don't Miss- Rock Salt Is Great For Skin & Health, Here Are Its 8 Proven Benefits
Directions To Use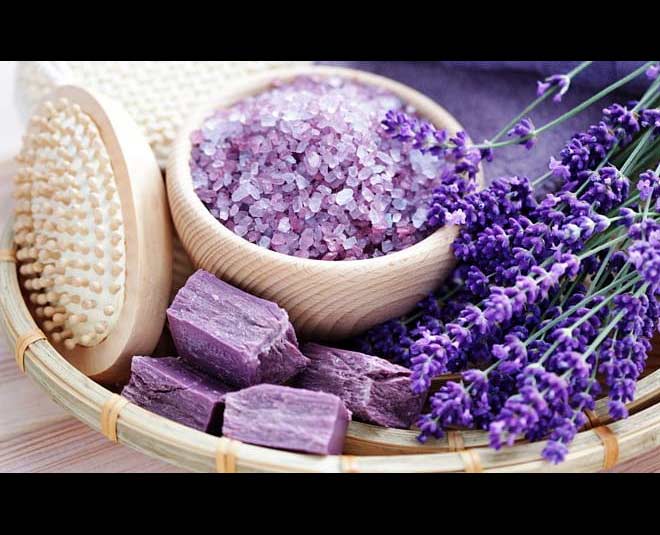 Image Credit: cdn.imgbin
Once you have made the bath salts, transfer them into a mason jar where you can store them for long periods of time.
Whenever you wish to use them for bathing, you can add around ⅓ cup of these salts into your bathtub of warm water.
For the best experience, we suggest you light up scented candles in the bathroom and sink into your relaxing and aromatic bathing experience!
You can also gift these bath salts. They look beautiful and smell amazing! They are a very thoughtful gift and as you gift this to your dear ones, you are not only gifting them a bathing product but an entire experience!
We hope you enjoyed reading this article! If you wish to read more such articles, stay tuned to HerZindagi!