Triphala is one of the oldest and most popular Ayurvedic herbs known to us. It is used as a healing medicine and recommended for holistic development. It is a dry mixture which is made by combining amla, bibhitaki and haritaki. Read on to know different health benefits provided by triphala and how to use it for maximum benefit.
Improves Vision
Triphala can prove beneficial for those who are aiming to improve their eyesight. Consumption of triphala powder, along with proper exercise and good diet can improve your overall eye health. You can consume one teaspoon of triphala powder with lukewarm water before going to bed for best results.
Aids Weight Loss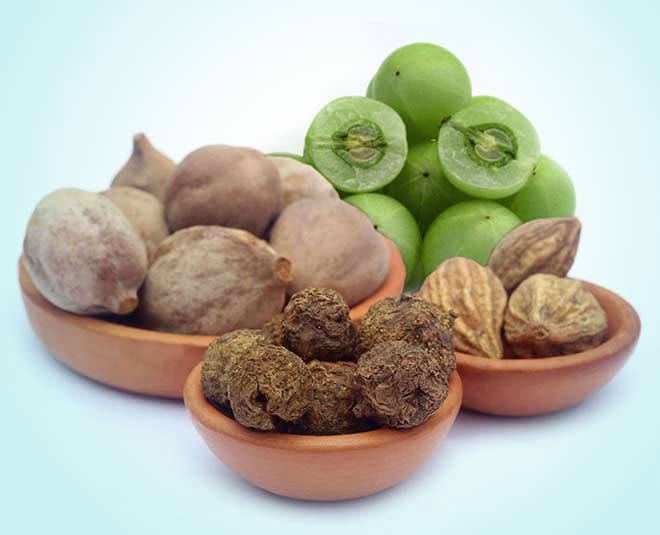 You can also include triphala in your diet if you wish to lose weight. A right balance of exercise and diet, along with consumption of this powder can reap effective results. You can mix a teaspoon of triphala powder in a cup of water and drink it before your workout. It also helps in maintaining your blood pressure and cholesterol, which further contributes to your well-being.
Increases Immunity
This traditional Ayurvedic medicine can also help in increasing your immunity. Due to its anti-inflammatory properties, triphala can keep infections and minor diseases away. A study published in The Indian Journal of Pharmaceutical Sciences found that, when taken regularly, triphala can help in boosting your immunity as well.
Don't Miss: Pumpkin Seed: 5 Reasons Why Kaddu Ke Beej Is The Healthiest Snack
Amazing Antioxidant
It is also an amazing antioxidant which helps in detoxifying the body. Loaded with nutrition, triphala contains vitamin C, flavonoids, polyphenols, tannins and saponins. It reduces inflammation, protects your heart and guards you against several diseases. You can consume a teaspoon of triphala powder half an hour before having any meal for good results.
Controls Blood Sugar Spike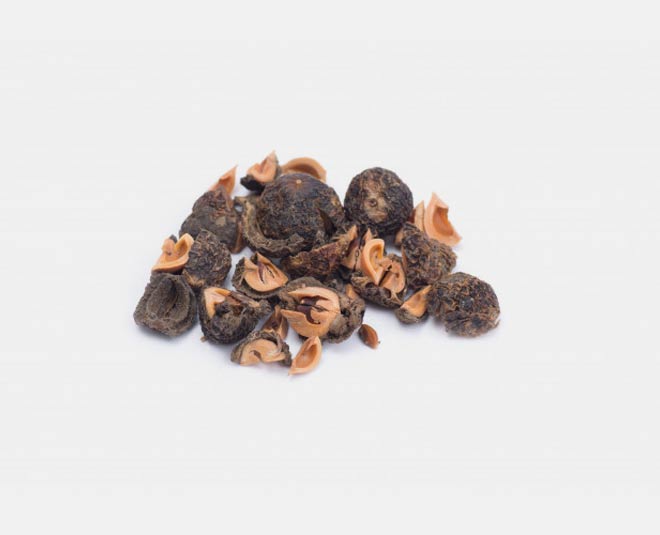 Triphala is a wonder medicine for those suffering from Type 2 diabetes. The phytochemicals present in it promotes insulin secretion, which further controls blood sugar spike. You can either consume it in the powder form or capsule and even tablet.
Don't Miss: Benefits Of Eating 2 Cloves In The Morning Everyday
Keeps Teeth And Gums Healthy
Very few people are aware of the benefits of triphala for mouth. From keeping your teeth clean to strengthening your gums, it can help in keeping mouth problems at bay. You can mix it in half a cup of water and use it as a mouthwash. Another way of using it is by directly using the powder to massage on your gums and teeth.
Good For Skin And Hair
Apart from catering to health issues, triphala is also an amazing home remedy for skin and hair. It has antifungal and antibacterial properties, which will not only clean your skin but will also prevent skin problems, such as eczema.
Make a paste by mixing one tablespoon triphala powder with curd and apply it as a mask on your head. The goodness of curd will nourish your scalp, while triphala will make it squeaky clean.
You can also apply it as a face pack, by mixing equal amounts of honey and triphala powder in a bowl. Mix a few drops of lemon in the mixture and apply it all over your face. Wait for 15-20 minutes and wash off, once it dries. This face pack will clear the excess oil on your face and will make it clean and glowing.
For more such health and diet tips, stay tuned to HerZindagi.com