Hitting gym regularly but still those side fabs are not going away? In case you're still not able to lose weight despite following a strict diet routine and spending hours in the gym, it's time to turn to natural home remedies that will not only help you lose weight but will also improve your health in various forms. One such remedy is eating jaggery. Jaggery, or gur in Hindi, is a potent natural ingredient that triggers the burning of fat from the belly and other adipose tissues.
According to Ayurveda, when we consume jaggery with warm water, it boosts the natural digestive enzymes, speeds up digestion and is also very helpful in dealing with any kidney-related ailments.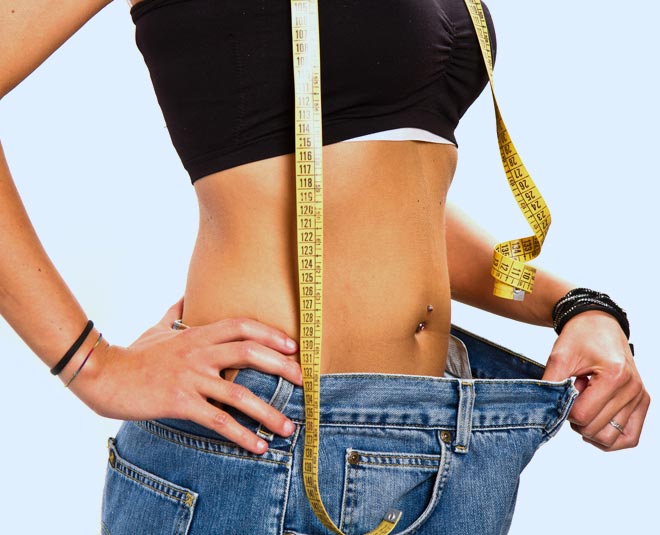 Apart from this, gur is loaded with potassium, magnesium, vitamins B1, B6, and C, which help in removing toxins from your body and cleaning your digestive system. The potassium content in it helps balance out the electrolyte and mineral level in the body, which in turn boosts your metabolism and keeps you active even after workout. Jaggery and warm water also flush out harmful toxins from your body.
Some Other Benefits Of Eating Jaggery
Eases Menstrual Pain
Laden with fiber and potassium, jaggery helps in keeping menstrual cramps at bay. In fact, if you are experiencing sudden mood swings just before your period, you should eat a small piece of gur to combat symptoms of premenstrual syndrome since it leads to the release of endorphins.
Prevents Anaemia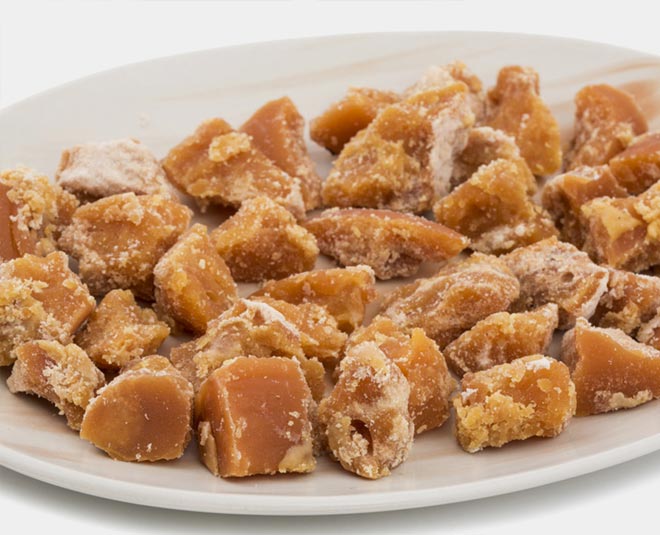 Gur is rich in iron and folate which ensure that a normal level of red blood cells is maintained.
Treats Common Flu
If you often fall ill or suffer from cold and cough, start including jaggery in your daily diet. You can either add it in your tea or have it with warm water.
Prevents Respiratory Problems
As per experts, eating jaggery daily can prevent many respiratory problems like asthma, bronchitis, etc.
Relieves Joint Pain
Experts claim that eating gur after a meal or eating it with warm milk can strengthen the bones, which in turn, prevent joint and bone problems.
Don't Miss: Here Is Why You Should Start Drinking Methi Water Everyday
How You Can Make This Magical Concoction
If you're really serious about slimming down, you should include jaggery in your daily diet. It can be used to make a healthy tea or you can also consume it in a raw form.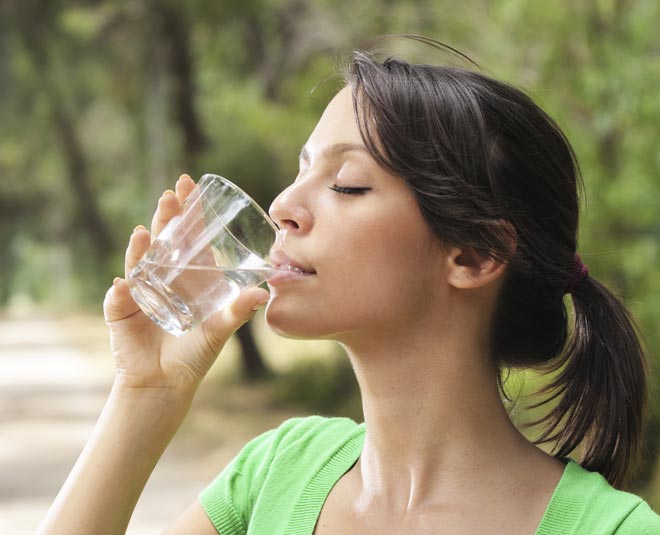 Drinking warm jaggery water is an effective way to reduce weight. This magical concoction is easy to make and can be prepared in few minutes only!
Pour a glass of water in a pan and heat it over medium flame for about 10 seconds. Add a small piece of jaggery to it and mix well. Drink this concoction every morning regularly to see the desired results and make your struggle to lose belly fat a little easier.
So, will you kick start your morning with jaggery water or not? Tell us in the comments.
Disclaimer: All content, including tips and suggestions, is entirely based on research and data available on the internet. So, it is advised not to construe it as professional medical advice and consult a doctor before making any changes in your diet.