As cold weather sets in, it's time to show off your winter wardrobe. However if you think your wardrobe is outdated, we will help you update it with most trendy and stylish outfit choices. Choose these outfits for your winter outings or casual days and unleash the stylish fashionista within you.
1. Trench Coats
Trench coats look classy, elegant and stylish all at the same time. Wearing trench coats are a great way to make your clothing stand out and make the appearance more appealing. To make things more interesting, choose vibrant colours to add some contrast to your neutral or all-black attire. For a gorgeous appearance, pair your trench coat with knee-high boots and a structured bag.
Don't miss: Deepika Padukone To Priyanka Chopra, 10 Times Bollywood Divas Carried Trench Coats In Style
2. Bralette With Sweaters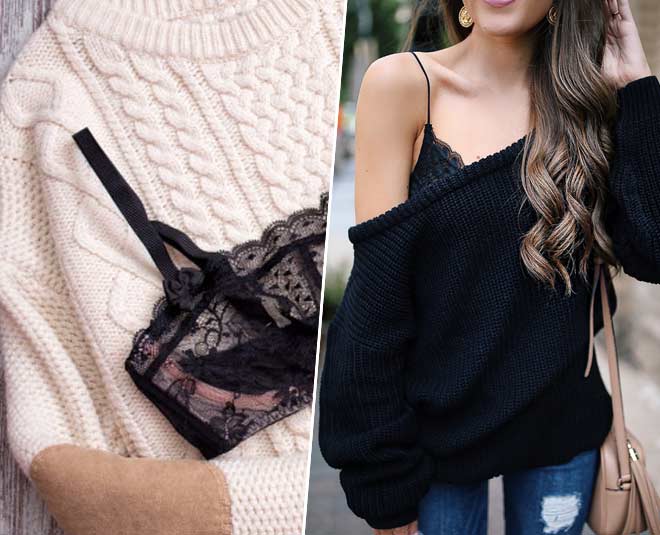 Lace bralettes under sweaters are an adorable way to style your outfit. Bralette with sweaters make a great set that gives both chic and cozy appearance. So get glam with this mix-and-match combination and turn heads wherever you go with your stunning appearance. The outfit is perfect for a date, a day out with friends, and a variety of other occasions.
Don't miss: Top 7 Ways To Style A Bralette
3. Sweater Vest
A sweater vest is a terrific winter wear that doesn't compromise on either coziness or style. Vests are very popular these days, and even Generation Z is drawn to this look. These sweaters come in a multitude of designs and colours, and they have a cool appeal. You can dress these vests with pleated skirts, or denim pants.
4. Blazers With Bralette
For a more sophisticated look, go for a blazer. However, to give it a more casual approach, switch it up a little and go for a blazer with bralette attire. It is an unexpected match, but makes a wonderful one. Just layer a sultry bralette underneath a blazer and you'll be all set to dazzle everyone.
5. Sweater Dress
If you want to show off your legs while being warm, a knitted sweater dress is the way to go. For added warmth, wear it with your favourite winter coat or tights. You can get a body-hugging or a loose-fitting jumper dress, whichever one you like more. The best thing about wearing a knitted jumper dress is that it goes with just about any pair of shoes or boots.
6. Pullovers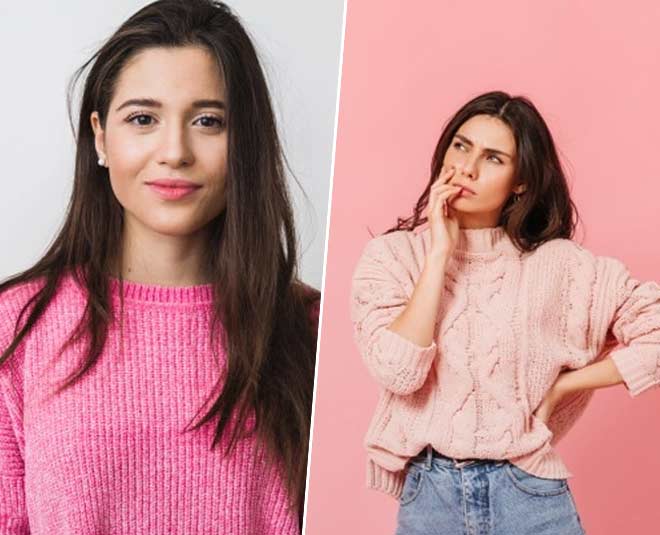 Pullovers are a simple yet important winter clothing essential which deserves a place in every woman's winter wardrobe. They are very versatile as they may be worn with jeans, mid-skirts, printed trousers, and even leather pants. This sweater can also be worn with a collared shirt peeking out from underneath. It will give a smart look if worn properly.
Don't miss: Bollywood's Guide On How To Rock A Cosy Sweater
7. Turtle Neck
This winter, wear a turtleneck top to feel lovely, toasty, and snug. This looks great and will go with anything. You may wear it with a sweater, a sleeveless dress, or just with your favourite pair of jeans and it will give the most stunning look.
Check for these clothes in your wardrobe, and if you don't find them, get them As Soon As Possible! These are the outfits that are dominating the most fashionable wardrobes, and if you want to show off your winter style and turn heads, these are the outfits for you.
For more fashion tips and stories, stay tuned to HerZindagi!
Did you like this article ?