With the wedding season on, we all want to wear something different and look fashionable. How about using our mother's old saree? Our mothers have a beautiful collection of sarees which we are not sure if we can wear as they have become weak at the borders or our a bit torn and some might have lost their shine. Of course we cannot just throw them! What we suggest is reuse them! Here are some tips that could help you reuse those old beautiful nine yards without giving you or your mom a heartache.
Reuse The Borders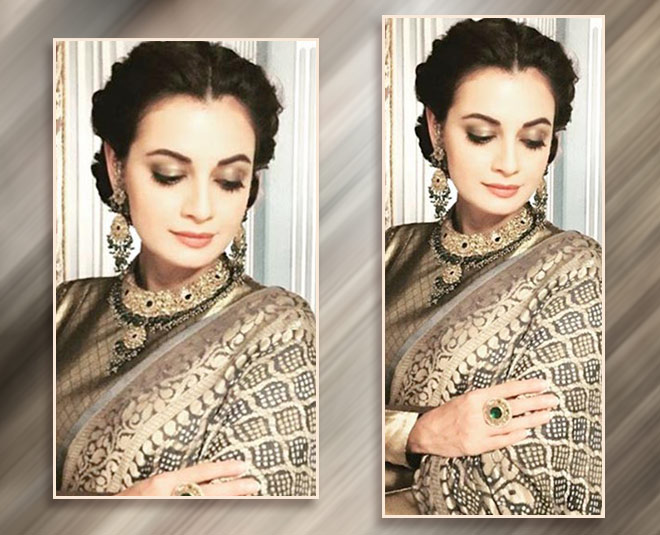 Retain the old charm and mesh the old with the new. The nine-yard sarees at the time had beautiful, pure silver borders at the time. Just cut those borders and stitch them over the new outfit! You can add them to your new saris, suits or long kurtis and dupattas!.
Turn Them Into Anarkalis
This is the best way to use the entire saree! But yes it completely depends on how you design it and what the tailor does to it. I suggest a floor length anarkali. That way you can flaunt the entire design and those big borders for that perfect ethereal look.
How About A Lehenga?
Image courtesy: peachmode.com
Instead of investing a fortune on designer lehengas, you can churn out something amazing by either use the pallu of the old sari as the dupatta and make a new skirt and blouse or use the whole sari as a skirt and make a blouse using the heavy and gorgeous pallu.
Turn It Into Dupatta
The easiest way to reuse the golden silk saree is to turn the pallu or the middle part of the saree into a dupatta. You can also cut the borders and add them to a new dupatta. If you a scarf person then you can turn it into a scarf as well.
Make A Floor Length Kurta
Image courtesy: rediff.com
A stunning way to display the whole saree is to turn into a floor-length kurti. Here you do not even need a dupatta or anything else to cover it up. Just get some nice and elegant accessories but do not overdo it.
Read More: This Is How You Can Maintain Your Sarees When Not In Use
For The Dress Lovers
If you are not a fan of traditional clothes but still love ma's saree then go for a chic dress. Use the material as the base of a dress and churn out our own dress creatively. A skater and short length dress would be best.
Long Skirts
Use the saree to make a nice long skirt. Team it with a western top to make it look trendy. If the saree is heavy then opt for a simple colour blouse. Make it quirky is what we recommend.
Jackets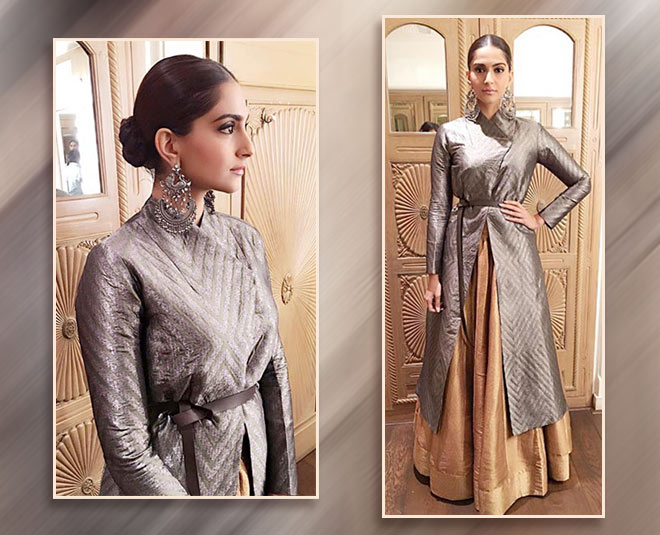 Image courtesy: rediff.com
It's a great option for women who like to go trendy but love a traditional touch. Flaunt it with grace and do not forget to team it with nice chunky earrings that could either be traditional or even modern.
Turn Them Into Palazzos
Just like a skirt, you can turn the silk saree into palazzos. They are very much in fashion if you want them to be. Team with a long kurti in contrast shade.
Make Some Drapes
If you have old Chanderi or Banarasi saree then convert them into new drapes. That will change the look of your room. Wake up the designer in you.
Table Linen
Spread them over your dining table. Rope in a good tailor and get some nice table runners stitched. You can also get some dining table mats made.
Cushion Covers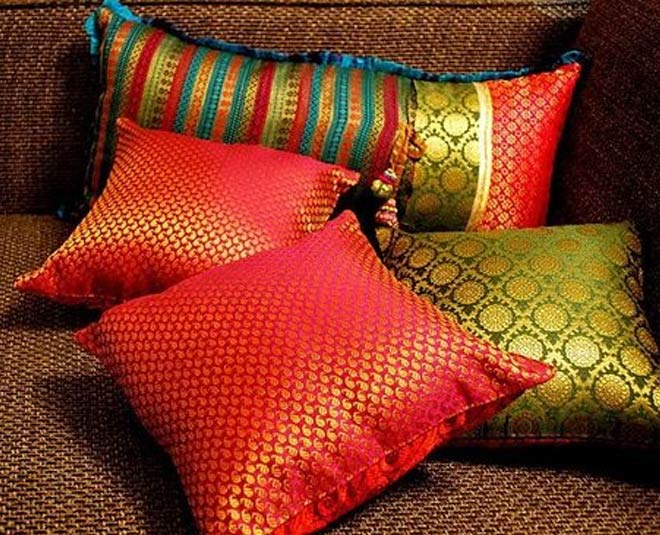 If you are bored with the way your living room looks, use those silk sarees to jazz it up. Get some cushion covers made and we bet your guests will in awe! Don't tell them how you have them, just say you picked them up at an exhibition!
Bed Canopies
For that classic yet amazing look for your bedroom, create some bed canopies. Bring out those least used canopies and hang them over the bed where you sleep. It will give a very romantic and rustic look.
Quilts
In the winter season, quilts give your room a cosy makeover. Get some old sarees together, catch hold of the guy who makes quilts and voila your beautiful quilt is ready. This way the saree is used and your room has something different as well!