Sarees are a part of every woman's wardrobe in India whether she is married or single. Be it cotton, tissue or silk, which is a must-have during the wedding season, we have to care for the expensive buys as well. Don't worry. we have you covered. Here are some tips that will help you in the maintenance of the sarees so that you can wear them during the upcoming wedding functions.
Cotton Sarees
These sarees are very wearable and are best for a hot climate. This is what you need to do to maintain cotton sarees:
Washing them separately as dark colours usually bleed.
Dry them in the shade.
Starch them after every wash to retain the shine and colour.
Chiffon and Georgette Sarees.
Avoid immersing these sarees in water for a long time as this would lead to fading of colour.
Chiffon & Georgette Sarees
These need to be handled with care as the fabric is very delicate and prone to tear easily. Special care for maintaining chiffon and georgette sarees include:
Handwash gently and allow the water to drip.
Do not hang them for a long time as they might lose their shape.
Do not squeeze or wrap tightly.
Refold these sarees from time to time to avoid ripping on creases.
Read More: Try These Celeb Approved Silk Saree Looks This Wedding Season
Tissue & Organza Sarees
Since this material is very delicate, they need much care. Here are some tips to take care of them:
Dry clean only.
Do not hang.
Keep them folded.
Store them by wrapping them in a muslin cloth.
Refold these sarees from time to time to avoid ripping on creases.
Silk Sarees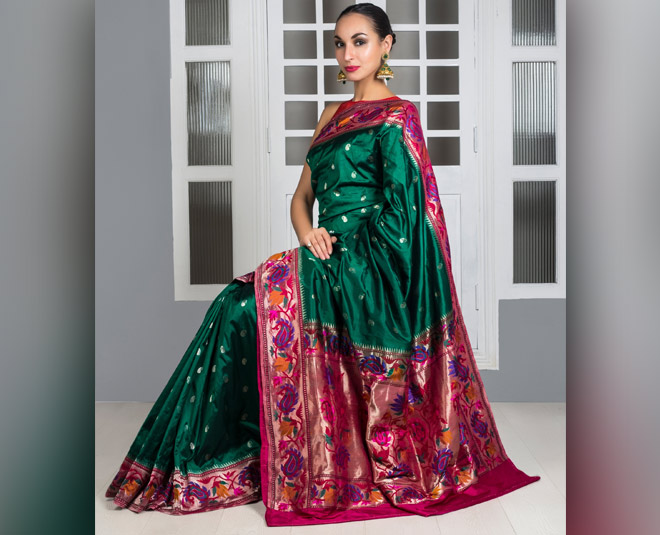 These sarees burn a hole in our pocket and require high maintenance. You can maintain their freshness for decades if handles the right way. Here is how you can go about it:
Dry clean only.
Refold these sarees from time to time to avoid fading on the creases.
Do not store them with sarees of other materials. Store them separately.
Try to keep them wrinkle-free.
Never dry the saree under direct sun.
Always iron on medium heat and do not spray water while ironing as it might leave a stain.
Store them folded and wrapped in a pure cotton cloth as this would allow the saree to breathe.
So, check if your sarees have been stored the right way and if you have some upcoming weddings to attend, do not worry, buy whatever you like as these tips will keep them fresh.