Ear cuffs were one of the trendiest jewellery pieces in the 90s, and it made a comeback with much more sass and style. In 2020, this accessory is a must-have in your jewellery boxes. They go with all your outfits and are available in big, small and in multiple designs or patterns. Even if you don't have your ear pierced, these earpieces come in a style that can do without it. Picking a piece that specifically suits you can be a bit tricky. You need to find a balance and right occasions of wear either too heavy ones or the small ones, which can be worn on casual or formal outfits. Here are a few types of trendy ear cuffs.
Chain Hybrids
Simple to don, all you need to do is place the band on the helix, orbital and put the earring part as normal in the hole of the ears. Both parts are attached to a long chain. On any outfit, including western or traditional, this particular style of ear cuff makes you look very alluring and exotic. If you pair this piece with your outfit, you won't be needing any other accessories to wear along with it. Just bold make-up, beautiful dress, and you are good to go.
Spiked
This piece of jewellery is for all the boss ladies out there. A bit edgier than any other ear cuffs available, the spiked earrings look great on girls who follow gothic fashion trends. You must have seen a lot of celebrities walking down the red carpet, wearing this stunning accessory. Available in different metals and colours, it looks gorgeous on people with any face cuttings. Just side part your hair and clip back the side on which you will be wearing it. One can never look anything less than a diva in this.
Long-Multi Chain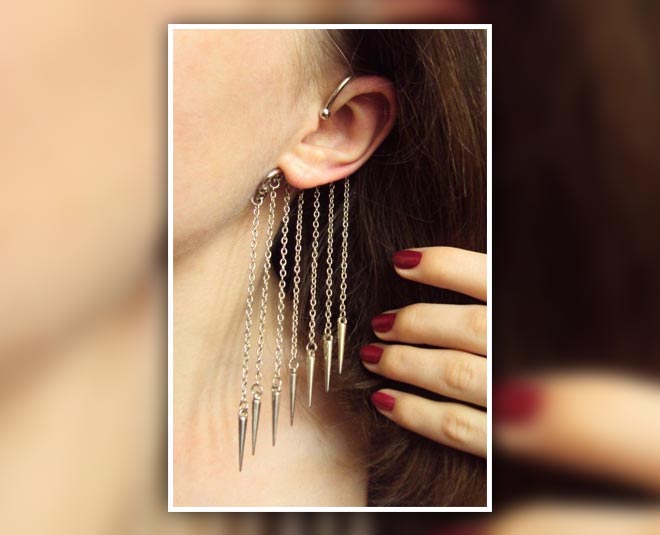 If you like going extra when it comes to accessories, probably this is the piece for you. The long ear cuff with multiple chains attached, this ear cuff is completely dramatic and high fashion. Running late for the party from office, keep a piece of this in your handbag and wear on simple jeans, black tee and pair of pumps. You will be looking drop-dead gorgeous. However, for those who do not like heavy jewellery, carrying the long-multi chain ear cuff can become a bit more tricky and difficult, because of its weight.
Wrapping
If you like floral and elegant pattern, this piece will become your favourite in no time. Available in several styles, such as butterfly, leaves, flower petals, etc, the wrapping ear cuffs are slightly bigger in size but are not heavy. Some of the pieces of this jewellery are so light that you won't even remember that you are wearing something.
Don't Miss: 5 Top Earring Designs To Steal From Nita Ambani This Festive Season
But managing hair with this can somewhere become tricky. Both for long and the shorter hair you want to go with a hairstyle that shows all the great design of the ear cuff and not hide it.
Don't Miss: Discover The Latest Jewellery Trends Of 2019 And Accessorize With What's In Vogue
Rings And Multi-Rings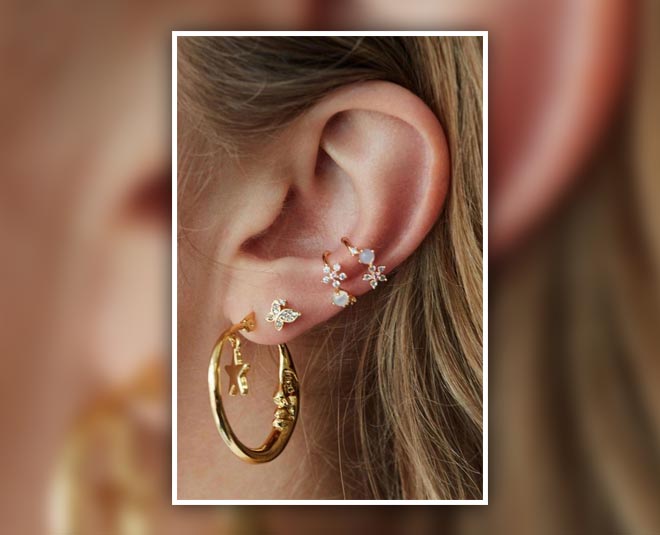 The simplest yet the most elegant ear cuff is the ring one. These are the best choice for girls who don't want or don't have ear pierced. Worn on the auricle, these are extremely easy to carry and is very light-weight. If you like donning accessories to the workplace and wish like going a bit extra even on regular days. This is the piece you definitely want to choose.