Saree is one clothing that fits all women and looks graceful on all body types. However, when it comes o the right kind of blouse that should not look cheap, and fit us like a glove and contemplating on what the neck design should be as per the bust size and many other factors that need to be considered, there has always been a confusion unless you have nailed it by yourself. So, here is a quick guide that will help you solve this million dollar 'guththi'.
Small Busted Figure
Small busted women can carry off a number of blouse designs but if you wear a blouse which gives an illusion of fuller bust would look better right?! To make that happen, you have to make sure your blouse is well-padded or has heavy embellishments in the front area. As for the neck we suggest is that you get a halter neck, high neck, and collar neck made. As for the fabrics, buy heavier fabrics, like brocade, velvet, and tussar silk.
Top-Heavy Figure
It's great that you have heavy assets but then again the right blouse cut is an issue. Well, all you have to do is avoid embellished blouses or heavy work blouses around the chest. Instead, opt for plain blouses stitched out of light fabrics like crepe, satin, and georgettes. Wear monochrome and stay away from big prints. Avoid very deep neck blouses, but if you like to flaunt some skin then deep backs are awesome for that.
Don't Miss: 10 Tips On How To Wear & Style Your Deep Neck Blouse
Slim Figure
You guys have nothing to worry about! Like Priyanka Chopra and Sonam Kapoor, everything you wear you look amazing in it. Go crazy with all the styles you always wanted to wear. Opt for noodle straps, corset style, halter necks to the long-sleeved blouses, the blouse world is yours!
Broad-Shouldered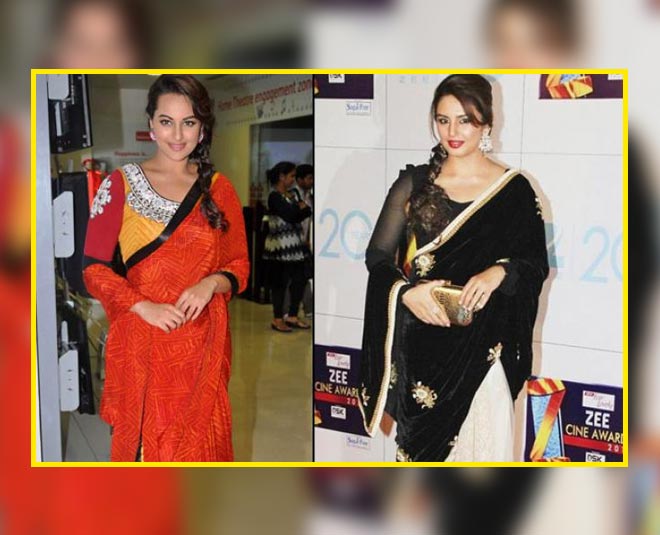 If you have sculpted broad shoulders like Sonakshi Sinha and Hema Qureshi, you might be a bit confused with what truly suits you. What we suggest is that you should show off your toned arms or your sexy back by baring it all. Wear broad necklines with short sleeves. You can ditch thin straps and padded blouses.
Voluptuous Figure
Go for full-sleeved or quarter-sleeved blouse, but bare that sexy back and create that balance as your arms will be covered. Let go halters, puffed sleeves, and noodle straps and get your blouses made using lightweight fabrics with smaller prints or light embroidery.
Did you like this article ?