Adorning beautiful flowers in your hair on the big day has been a ritual since a long time. Most women wear lovely jasmine flowers in their hair on the wedding day which are also known as gajras. These gajras definitely look striking but at the same time, they have gotten boring.
If you are also bored of gajras and want to try something different for your hair, then we are here with a list of flowers that you can use to adorn your hair on the big day.
1Roses
Starting with the basics, roses are our go-to hair ornaments after gajras. These evergreen classic flowers look extremely beautiful as well as cheer everyone up with their sweet fragrance. All the brides are trying this now-a-days and you can even sport numerous celebrity brides adorning roses of different colours on their hair.
2Baby's Breath
This is another option that is very 'in' these days. You can use these for any hairstyle, from open hair to a bun to a braid. These tiny flowers will never fail to impress and a plus point is that these can be paired up with any other flowers.
3Pansies
Pansies are surely one of the prettiest flowers out there. We all must have seen them on various occasions but never thought of using one. Well, now you know that you can use these for your bridal hairstyle as it will surely enhance your look and the variety of colour options available will allow you to experiment.
4Orchids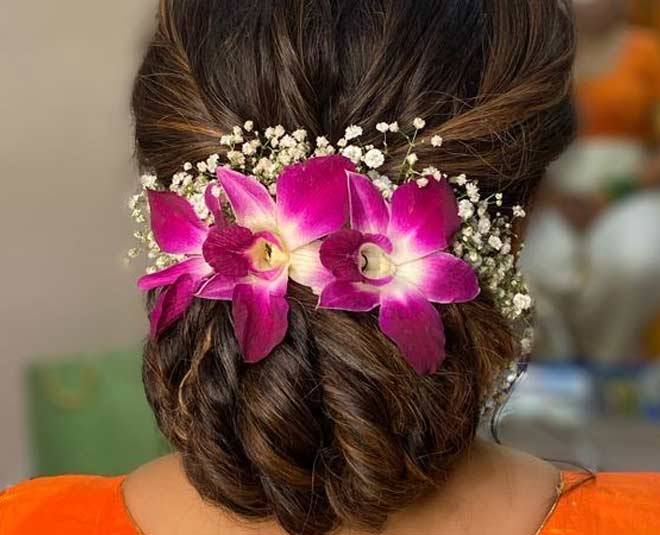 Orchids can not only be used in bouquets or decoration but can also be used as a hair accessory. Pair the perfect colour to go well with your outfit and I guarantee you that you will be the talk of the town for a long time.
5Hydrangeas
If you have chosen a pastel colour for your outfit, then these flowers are the perfect choice for you. These come in variety of light shades including lilac, sky blue, baby pink and cream. These will go best with your light coloured outfits but you can also create a contrast by using them with a dark coloured outfit.
6Dahlias
Dahlias are perfect for either an open hairstyle or a bun. These lovely flowers usually come in dual tones giving you a unique look. These flowers will definitely take your hairstyle to the next level.
7Carnations
Carnations are one of the most elegant and fancy flowers that are available in a variety of colours. Use different colours for your hairstyle that match your outfit and we assure you that you will look breathtaking.
8Daisies
These are the perfect kind of flowers for bridal hairstyle. While most go for white and yellow daisies, you can choose any colour according to your outfit. The best part is that these are easily available and can go with any hairstyle you wish.
9Frangipani
These flowers have been adorned by Hawaiian women for generations and it is high time that we take some much needed inspiration from them. These are perfect for a beach wedding and will give yu a tropical vibe to go with your theme.
10Bouganvillea
These colourful and inexpensive flowers are really underrated. These are the best for your hairstyle as they will a long evening without getting ruined and spoiling your look on the big day. Go for these beautiful flowers and have a great time at your wedding without worrying about your hair.