There is nothing like munching on a handful of nuts all day during the winter season. When we talk of nuts, we can't miss talking about pine nuts, especially during the chilly weather which is one of the most loved treats of the season.
Pine nuts, which are edible seeds of pine trees have a delicious nutty flavour that is loved by everyone. Like all our other favourite nuts, pine nuts too are packed with the goodness of vitamins and minerals which makes them great for our overall health. Read on to know some amazing benefits of enjoying a handful of these delicious nuts everyday.
Boost Energy
Pine nuts have monounsaturated fats, iron, and protein which boost the energy level of your body. Also, these nuts are a good source of magnesium which keeps you active all day.
Do you know, munching on some pine nuts can help in developing and repairing tissues of your body which can otherwise lead to fatigue?
Helps In Weight Loss
If you are on a diet then pine nuts are a good food option for you. Pine nuts have fatty acids and protein which suppresses your appetite. This further prevents you from consuming more calories which leads to weight gain.
Also, the fatty acids present in pine nuts help in burning the belly fat.
Good For Diabetics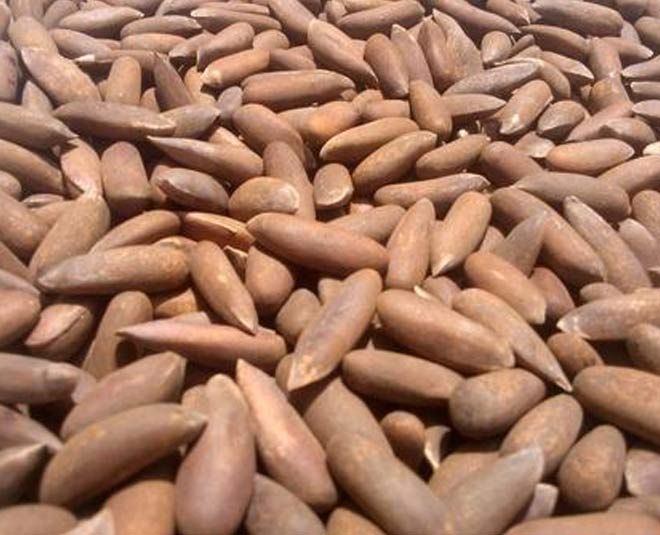 According to a study, consuming pine nuts is beneficial in preventing type 2 diabetes. It is also said that diabetics who consume pine nuts everyday have glucose control and also see a reduction in the bad cholesterol level of the body.
Prevents Cancer
Pine nuts have a good amount of magnesium present in them. Magnesium is a mineral that is believed to lower down the risk of cancer. Consuming pine nuts can thus lower the risk of cancer.
Improves Immunity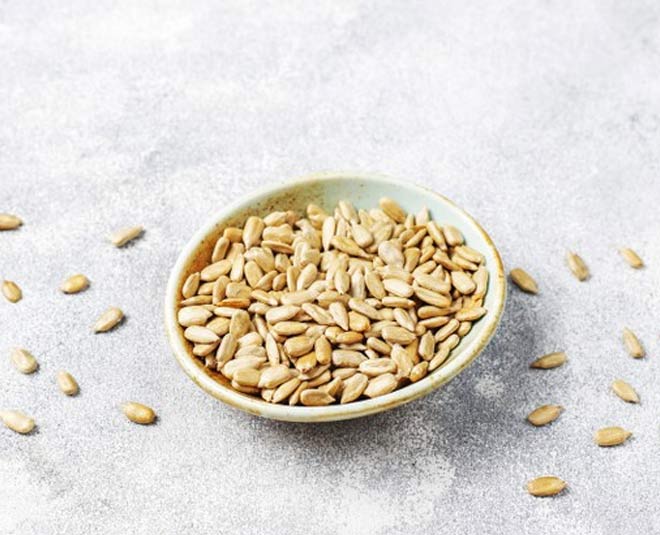 The zinc and manganese present in pine nuts are believed to be great for our immune system. Manganese helps in maintaining the hormonal balance in the body. Zinc works as an immunity booster and heals the body quickly.
Good For Bone Health
These delicious nuts have vitamin K present in them which increases bone mineral density and also reduces the risk of fractures.
Don't Miss: 7 Amazing Benefits Of Cashew Nuts For Skin, Hair And Eyes
Prevents Anxiety, Depression
Pine nuts are a good source of magnesium which is also known as the mood mineral. This mineral is said to decrease anxiety, stress, and depression. Munching on these nuts improves sleep and calm the body.
Great For Eyesight
Pine nuts have vitamin A and lutein which are great for our eye health. Consuming pine nuts on a regular basis helps in developing a sharp vision. Consuming these nuts also prevents macular degeneration and glaucoma by fighting free radical damage.
Don't Miss: Consume Almonds Daily To Prevent Cancer, Lower Your Cholesterol And More
Pine nuts are not only great for your health but for your skin and hair too. These nuts are packed with the goodness of so many essential vitamins and minerals, which are great for your skin and hair.
The vitamin E and antioxidants present in these nuts prevent any skin problems like pimples, eczema or itching among others. These nuts also slow down the ageing process and make your skin glow.
Also, pine nuts help in boosting hair growth. They keep the scalp healthy and prevent hair issues like thinning and hair loss.
Pine nuts are highly nutritious and you should have a lot of them during this winter season and enjoy the amazing benefits. For more such health stories, stay tuned!