It is once again that time of the year when it is toughest task to step out of our beds. Chilly winters are here and this is the time we all wish to snuggle in our blankets all day long to stay warm.
However, in reality, not many of us can afford to get lethargic and lazy during the winter season. What to do?
To keep our body warm during the winter season, we need to make some diet changes. Some foods can help regulate our metabolic rate, keep us warm and help us stay active through the day.
Recently, Nutritionist Pooja Makhija took to her Instagram handle and shared that foods which take longer to digest keep us warmer. These foods raise body temperature and further help us feel warmer during the winter season. She shared that this is known as thermogenesis.
Further, the expert shared that there are 3 foods which can help us keep warm.
Ginger
The expert shared that not only ginger is a great digestive aid but it is also known as a diphoretic which means it makes you feel warm from the inside.
Red Meat
Beef, pork, mutton, all types of red meat have great iron content present in them. The iron helps transport the oxygen all throughout the body. She also shared that those who have low hemoglobin levels have cold extremities.
Sweet Potato
All the root vegetables take longer to digest, they produce more energy, therefore helping one keep warmer during the winter season.
In the video, the nutritionist can be seen taking a ginger shot to keep herself warm while travelling. If you too wish to drink up ginger shots this winter season then here is an easy recipe for you.
How To Make Ginger Shot At Home?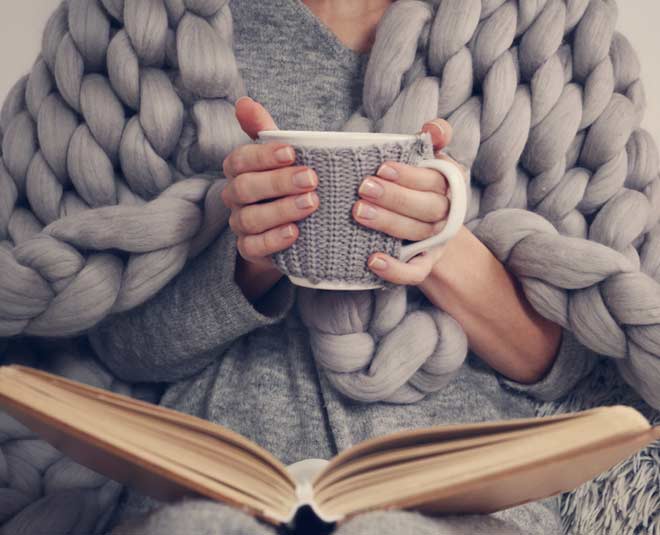 Ingredients Required -
1 Tbsp Ginger Juice
1 Tbsp Lemon Juice
1 Tsp Honey (Optional)
1/4 Tsp Black Pepper Powder
Directions -
First wash ginger and peel the skin using a knife.
Grate ginger and extract about 1 tbsp juice.
In a bowl, add ginger juice, lemon juice and mix.
Next you can add honey if you want it to be sweet.
Sprinkle black pepper powder.
Mix well.
Drink this ginger shot immediately or it can oxidise. For best results, it should be consumed on an empty stomach.
Other than these 3 foods, there are many other regular foods in our kitchens which can help us stay warm and energetic during the chilly season. Read on.
Desi Ghee
A kitchen stable, desi ghee is known to balance the heat element or the pitta of our body. That's one reason why our grandmothers made us consume desi ghee in large quantities during the winter season. Consuming desi ghee helps you keep warm. Also, adding desi ghee to your diet during the winter season helps protect one from common issues like cold and cough.
There are different ways you can add desi ghee to your diet. Add it to your parathas, cup of milk or homemade desserts.
Don't Miss: Thermal Brands Trending This Winter Season
Sesame Seeds
Ever wondered why sesame seeds or til are consumed in such large amount during the winter season? Sesame seeds are found just everywhere during the winter season, from ladoos to gajjaks to chikkis. These tiny white seeds are loaded with iron and calcium which keep you warm during the winter season. An easy way to consume sesame seeds during this season is by preparing small balls using jaggery and sesame seeds. Popping one of these balls everyday helps you stay warm and energised.
Don't Miss: Expert Shares Health Benefits Of Eating Gur Paratha During Winter Season
Jaggery
Another loved food during the winter season, jaggery or gur too helps you keep warm in winters. It also keep any digestive issues at bay. You can prepare jaggery tea or add some jaggery to your glass of milk. Having some jaggery after every meal also helps.
Add these foods to your diet and stay warm during this winter season! For more such stories, stay tuned.