Due to the coronavirus pandemic, immunity has been a much talked about topic and a lot of us have been trying different recipes and ingredients all this while. We have been trying to incorporate all healthy ingredients in our diet for all their amazing benefits, especially the ones which are great for our immune system. If you have been hunting for some immunity-boosting recipes then you have landed on the right page.
Celebrity nutritionist Munmun Ganeriwal recently took to her social media account and talked about immunity-boosting foods.
Nutritionist Munmun Ganeriwal on her post shared that immunity is something that can't be built in one single day. Her post read, "Although immunity-boosting foods have always been a much talked about topic, the advent of this pandemic has really resulted in a widespread conversation around it with opinions and suggestions coming in from all ends. But one thing's for sure, immunity can not be built in a day."
It further read, "It is the everyday foods we eat and lifestyle we follow that result in a healthy immune system. It is the little things we have been following at home, not when illness strikes but as a part of our everyday life that make the big difference." Further, she shared the recipe of ginger turmeric balls. On her post, she stated that consuming these can help in boosting immunity and help in clearing sinuses. Read on for an easy recipe.
How To Make Ginger Turmeric Balls?
Image courtesy: Tarla Dalal recipes
Ingredients Required:
Ginger powder
Jaggery
Haldi or turmeric
Ghee
Directions:
In a pan, add ghee, powdered jaggery, and mix well. Let it cook on low heat till it gets a syrup-like consistency. Add ginger powder, turmeric powder to the pan and mix well. Take off the flame and next start to roll out small balls of the mixture. Keep aside. Ginger and turmeric balls are ready! Store these in an airtight container.
Don't Miss: Here's How Multi-Beneficial Turmeric Can Help You Deal With Some Health Problems
Benefits Of Consuming These Ginger And Turmeric Balls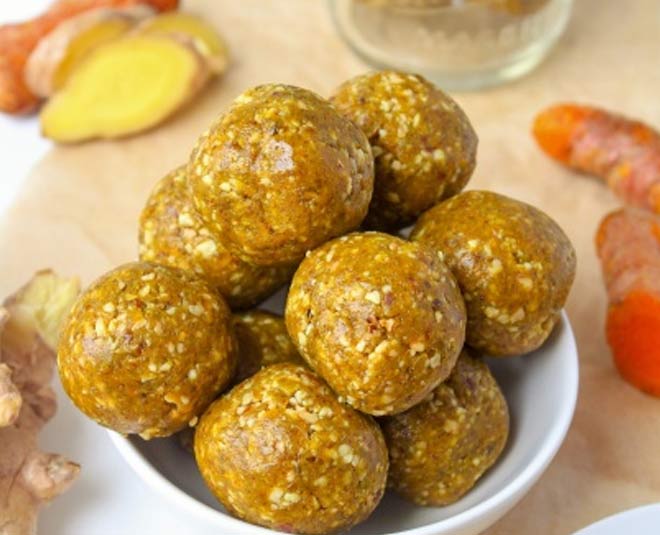 Image courtesy: fannetasticfood.com
These ginger and haldi balls are prepared using healthy ingredients which are great for our overall well being. Consuming them everyday can have numerous benefits like the following.
Turmeric has anti-inflammatory, antiseptic, and antibacterial properties which make your immunity stronger. Turmeric has curcumin which has healing properties. It helps in fighting common infections and viruses at bay.
Ginger has gingerol which has anti-inflammatory and antioxidant properties which are great for your immune system. It helps in easing health problems like common cold, flu among other infections.
Both turmeric and ginger are also great for the stomach. They ease the digestive process and prevent any problems like indigestion, constipation, or bloating.
Ginger and turmeric have medicinal properties that fight cancer.
Also, these healthy balls are great for regulating blood sugar levels and cholesterol levels.
If you suffer from health issues like morning sickness and nausea, then these dry ginger and turmeric balls can provide quick relief.
Other ingredients used in the preparation of these healthy balls, jaggery, and ghee, they are packed with iron and calcium which boost your overall well-being.
These healthy and tasty balls can be prepared using a few ingredients which are completely natural. Do try making these healthy balls at home and tell us how they turn out to be. For more such healthy, immunity-boosting foods, stay tuned!