If you have been planning to get away for a while but haven't been able to do so then we will tell you the right spot that will be super cost-friendly, picturesque, and super relaxing. We are talking about Kasauli. It is a quaint town located near Shimla in the state of Himachal Pradesh.
The small hill town is home to a lot of colonial-era houses that were built during the time of British rule in India. Not only that, but the town also has a plethora of activities to do and a great vibe to enjoy quality time with your friends, family, or even your own self.
Therefore, if you are planning your vacations then visiting this beautiful place could be great for you. Here are 10 things that you should definitely check out if you happen to be here.
1The Timbre Trail
The Timbre trail is one of the most famous activities to do in Kasauli. It provides the perfect setting for those awe-worthy Instagram pictures and a relaxing cut-off from the hassles of the city.
2Paragliding In Kasauli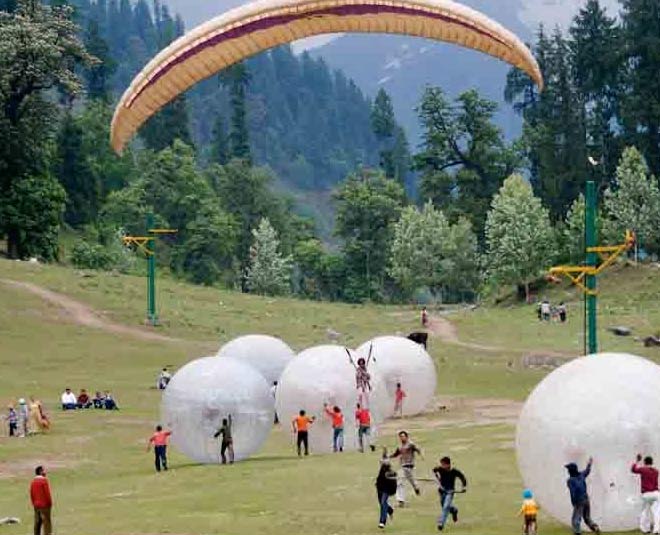 Paragliding is a very amazing adventure sport that people love doing, it is done in various spots of India and Kasauli is one of them.
3Trekking
Trekking is another cool activity to take up while you are in this town. The picturesque town is surrounded by many captivating trails ranging in difficulty. One of the most famous ones is the Kalka Kasauli trail.
4The Gorkha Fort
The Gorkha fort is a remarkable place to tap into the history of Kasauli while unwinding and enjoying the perfection of stillness present here.
5Try The Amazing Tibetan Food
The town of Kasauli has a reflection of the Tibetan culture and hence the fantastic food. Ranging from a variety of dishes, Kasauli can serve as a paradise for food junkies.
6Check Out The Markets
For those who love shopping, this place does have a big Tibetan market for you where you can shop your heart out and grab some exclusive Himachali stuff to show off to your pals.
7Enjoy Nightlife In The Hangout Bar
One of the best places to enjoy the nightlife, the hangout bar is one of the few bars that have an amazing ambiance along with a great vibe to make the most of your night in Kasauli.
8Visit The Monkey Point
When in Kasauli, you must visit the highest point of this town that is the monkey point. It is one of the best and the most visited tourist spots as it offers a panoramic view of this beautiful town.
9Check Out Historical Spots
To know even more about this resplendent town, you can also visit the Kasauli brewery that is quite famous. Not only that you might also want to take a stroll to the Angelical Church located here.
10Take A Nature Walk
Soak yourself in the beautiful and irreplaceable charm of this Himachali town and take a nature walk that will help you get rid of your anxiety and negativity that's keeping you down.