For some travelling can be a source of enjoyment and escape, while some take it as a therapy and dive deep into the intricacies of the places. And with the advent of Travel Influencing as a career, many devote a lot more time on travelling to the most exotic locations around the world to get clicked for their Instagram posts.
Therefore, we have some of the world's most enchanting hotels listed for you below. So, go have fun getting clicked in the most instagrammable hotels in the world.
1Sultan Caves Suites, Cappadocia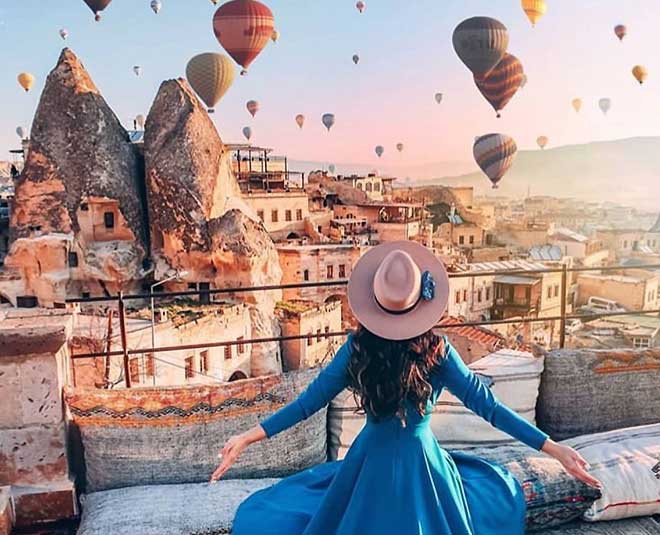 With a backdrop of numerous hot air balloons adorning the sky, Sultan Caves suites, located in Cappadocia, Turkey is definitely the best and the most picturesque hotels to visit and get clicked.
2Icehotel, Sweden
Icehotel located in Sweden offers you the golden opportunity of staying amongst ice art sculptures and making your dream of getting clicked at the most breathtaking places, come true.
3Keemala Hotel, Phuket
Curved shapes and uniquely designed architecture are the two most amazing factors of this hotel located in Phuket, Thailand.
4Jade Mountain Resort, St. Lucia
Watch the world go by while you swim across the magnificent infinity pool located at one of the most instagrammable hotels, the Jade Mountains Resort, St. Lucia.
5Giraffe Manor, Nairobi
This very intriguing hotel is located in the Langata suburb of Nairobi, Kenya. Herds of Rothschild Giraffe visit the hotel in the morning and evening and pork their necks inside the window in hope of treat. Which indeed makes it the most instagrammable thing about this boutique hotel.
6The Silo, South Africa
Designed with, modern and out of the box interiors and decorated with a captivating facade, this hotel located in Cape Town is another perfect location that would light up your Instagram pictures.
7Hotel Plaza Athenee, Paris
With an enthralling view of the Eiffel Tower and a bird's eye view of the city of love, this is just the most impeccable place for you to dine on the balcony and get clicked.
8Hotel Fasano, Rio De Jenario
Another hotel offering a divine infinity pool with a mesmerising view is the Hotel Fasano, located in Brazil. Relax, unwind in the amazing pools of this hotel, while gaining more followers on your Instagram.
9 St. Pancras Renaissance Hotel, London
Featuring elegant decor inspired by the Renaissance period, this is another great hotel to check-in and get clicked. The hotel has been decorated most artistically with vintage English painting and regal appeal and has served numerous celebrities who came here to shoot their music videos and films.
10The Muraka, Maldives
Developed by the Conrad Hotels in Maldives, The Muraka is the first underwater hotel residence with a first-of-its-kind, luxury two-level residence with a master bedroom submerged over 16 feet below sea level in the Indian Ocean.