As we get ready for our favourite day of the year, many of us also like to get our nails done for the occasion of love. Have you been searching for some nail art inspiration to get a manicure done asap? We searched through multiple portals online to find you some.
1Queen Of Hearts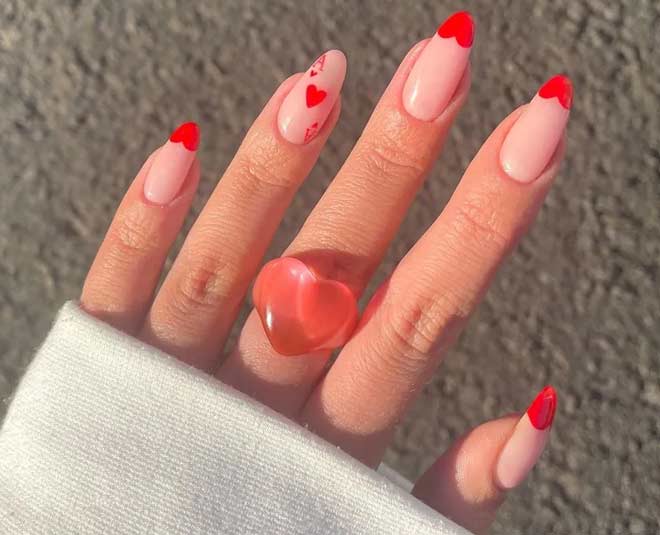 If you are inspired by the deck of cards, the ace is definitely a go-to choice for you.
You can get the ace card as a sticker to go on your accent finger while you can opt for a French manicured nail art for the rest of your nails inspired by the hearts figurine.
2All About Love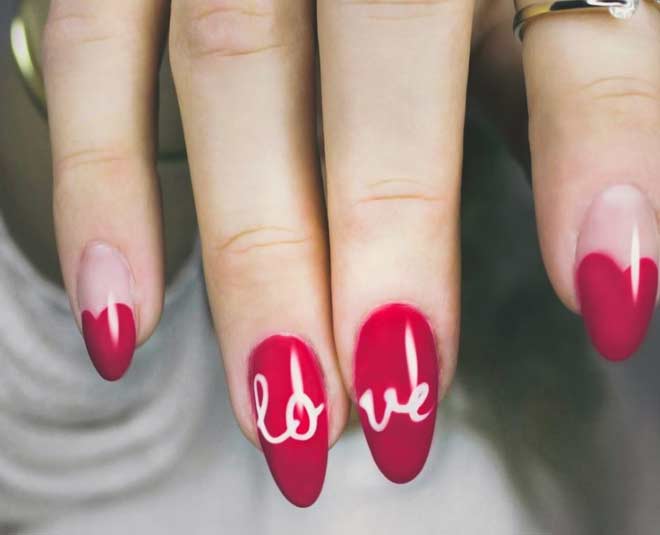 Want to go for another look inspired by the heart French manicure? You can go for this one!
While you chose to go for 3 heart-shaped French manicured tips, you can get two accents in a running print like the word 'love' with a full solid base colour!
3We Want Candy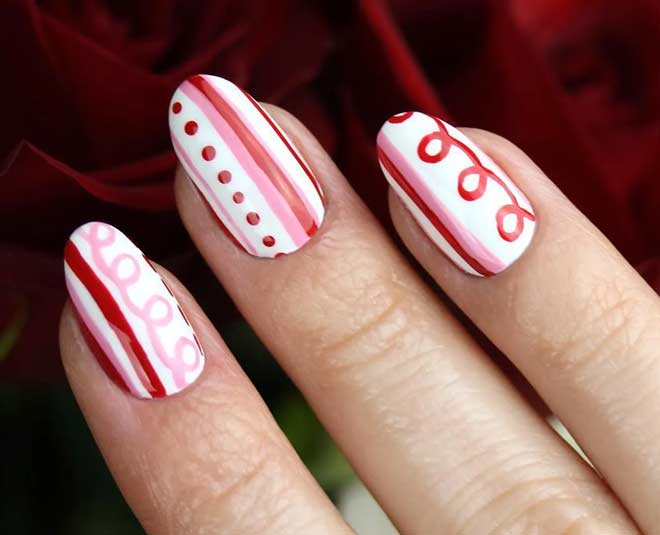 Do you love candy as much as we do? This is surely is our inspiration for this Valentine's Day lunch. We love candy so much that we want it all over our nails!
You can opt for these non-symmetrical nail art designs for every nail bed as you go, not sure if they are going to resemble the other!
4Little Hearts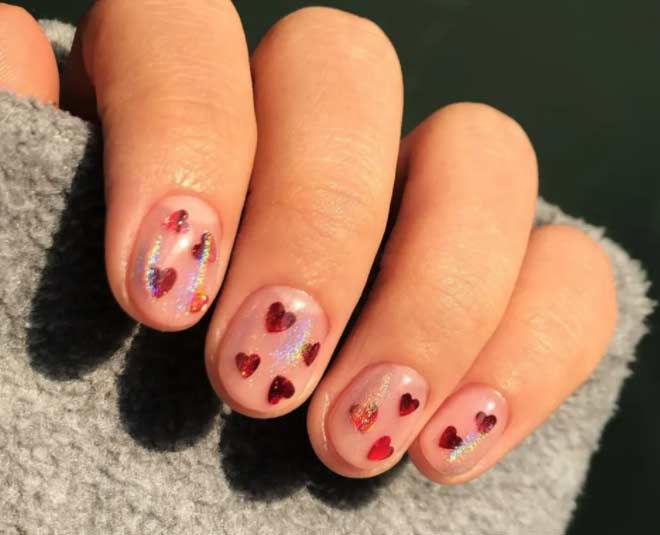 If you love minimal, this one is for you!
You can go for a shimmery base coat in a silver-tone and add stickers to the top. Let the stickers be as small as they can, giving a cute, Valentine's feel!
5We Love Pink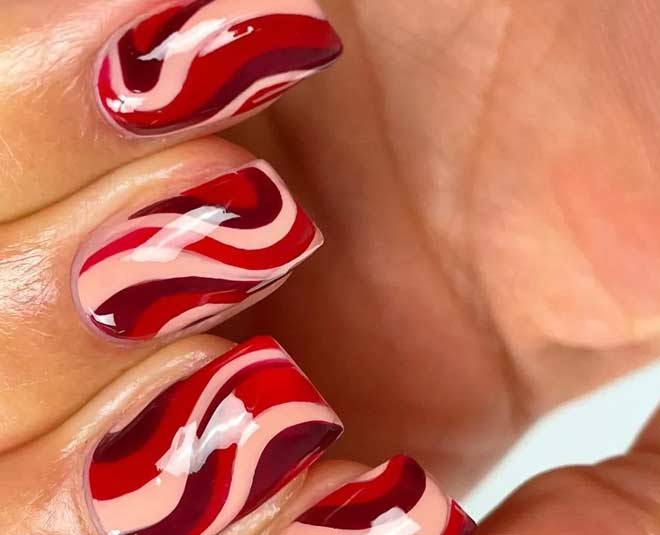 Is pink all you've been thinking of for this Valentine's Day?
You can go with a baby pink base coat while opting for heart-shaped red stickers to give the touch of love!
6Red & White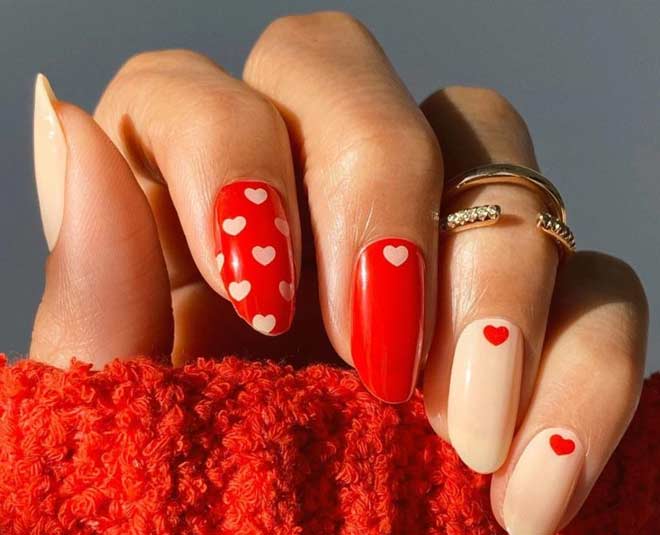 Red and white is surely a classic choice for the coming Valentine's Day celebration. You can opt for little heart-shaped stickers to go on the top of your freshly manicured nail beds as you wish to go for alternative colours.
You can also go full in with the stickers on one of your accents and leave 1 sticker each for the other fingernails.
7Month Of Love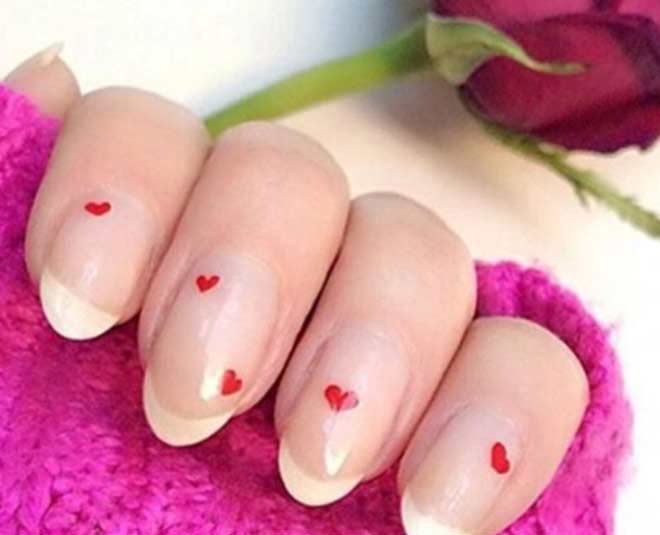 Celebrate the month of love with another minimal nail art inspiration. You can opt to go for a simple transparent base coat going all over with heart-shaped stickers.
Group them as you like, one or two on each nail bed, giving them an asymmetrical look!
8To The Sky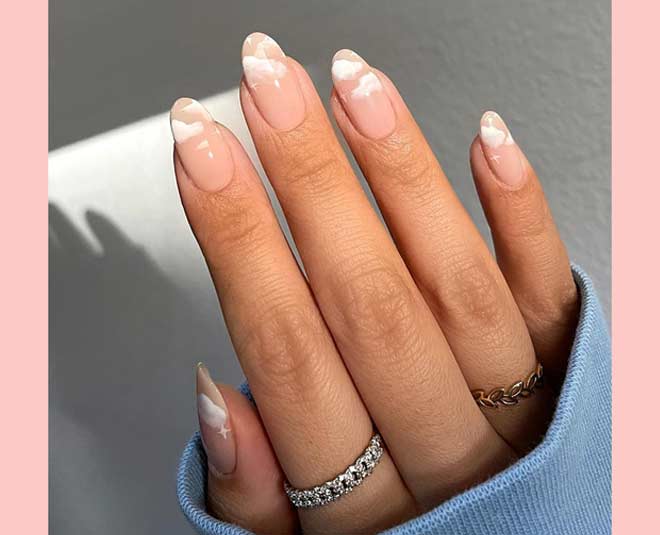 Not everybody is looking for a red or a pink inspiration. For all those white-loving people, we got an all-white colour-inspired nail art just for you!
You can go for a cloudy sky on your nail beds as you apply a nude beige colour as your base coat. You can use a sponge to create the cloudy effect and later apply a top shiny coat and let it dry!
9Calling All In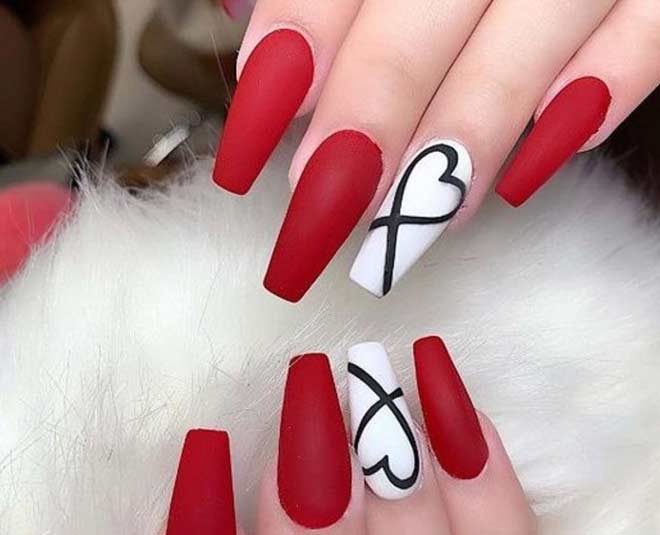 This nail art inspiration has all the red, black and white colour you will need.
Go in with 4 red matte coloured nail beds while picking an accent to flaunt the other two colours.
The accent chosen nail bed can have the base coat of a white shade while painting a shape of a heart on top with black colour.
10Everything Heart
Love hearts? You can try this heart-inspired nail art and spread the joy of love through the day of Valentine's with your bae!