The past year and the New Year has some serious makeup game on and getting those eyebrows perfect is a fad I am totally loving. This year it has been said that Ombre eyebrows will be in but I am sadly yet to master the normal eyebrow makeup which means filling in those mistakes made by the 'parlour waali' where she "by mistake" played with the shape of my brows and even got rid of some hair strands right in the middle. Also the fact that I do not have growth on the edges of my brows as we go towards the temples. So my quest for the perfect eyebrow products is still on and I keep looking for what's new in the market. Now this may not be very new but I noticed it now and that is the Maybelline New York Tattoo Brow 3 Day Gel and here is my review truly in details.
Claims
A peel-off gel tint for well-defined brows
Gives you fuller and natural-looking brows
Long-lasting, stays put for up to 3 days
Enriched with royal jelly and aloe vera
Ingredients
Price
Buy Maybelline New York Tattoo Brow 3 Day Gel for Rs 625, here.
Shade
I bought the one in medium brown because very dark may look funny since I was using it for the first time and was a little scared. But the good thing is that it is buildable so you can use other eyebrow products over it and create the perfect shade.
My Experience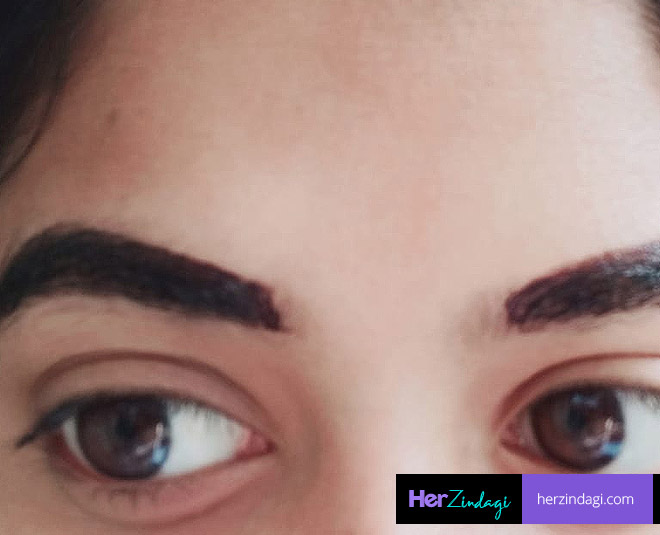 I tried this gel and I was surely a little scared because it claims to stay on for 3 whole days and just in case something goes wrong... I will not be able to go to work but nope nothing wrong happened and in fact they look really nice. I let it stay for 20 minutes after applying and made sure that I stick to the boundaries of the eyebrow shape.
After peeling it off which is really easy and is not tedious at all. I got a nice hue that simmers down a bit once you wash your face within 24 hours. So try any makeup remover immediately if you think something went wrong but otherwise let it be.
It looked good to me but yes you have to practice it a bit to get the right shape. But it is worth it as it saves you from touch ups. Itis also buildable if you use trio powder kit as it has light to darkest value of brown shades or black for that matter, so panic button is not needed.
Don't Miss: 5 Top Affordable Eyebrow Kits You Can Buy From To Get That Diva Look
Texture
It has a sort of gooey gel texture which is easily applicable.
Packaging
It comes in a sturdy bottle like an eyeliner tube with an applicator where the brush has a nail polish like look.
Pros
It stays for 3 days
Good results
Comes in different shades
Good applicator
Cons
You may not be able to peel it in one go however I did but my friend had to do it in bits.
A bit on the expensive side.
Not waterproof
My Verdict
You should try it atleast once. Maybe get it during a sale, but it is totally worth it. Try it on a weekend when you have two holidays.
Rating
4/5