In this monsoon season all you need is a fresh smelling fragrance. This time I became a bit extravagant and bought a 100 ml bottle of Forest Essential Nargis Body Mist to fulfill that need. I sprayed it on the right points and waited for 15 minutes to understand the actual fragrance. Having used it for two weeks I am ready with a review and here it goes.
Claims
This Body Mist has pure Aloe vera juice. It is infused with a delicate fragrance of Nargis flower, also called Daffodils in English. It has cooling and refreshing properties. The mist has notes of floral fragrance. The vitamin E in the mist protects the skin from UV rays, pollution, is an antioxidant and natural preservative.
Main Ingredients
Aqua
Pure Grain Alcohol
Aloe Vera
Wheat Germ Extract
Nargis Flower Extract
Glycerin
Packaging
Made using a sturdy plastic, the bottle looks pretty sleek and the plus point here is that it is stored in a dark bottle which is good. How? It would take longer for the molecular structure of a fragrance to break. The bottle cap is like any other, however for the price that the brand charges, we have more expectations.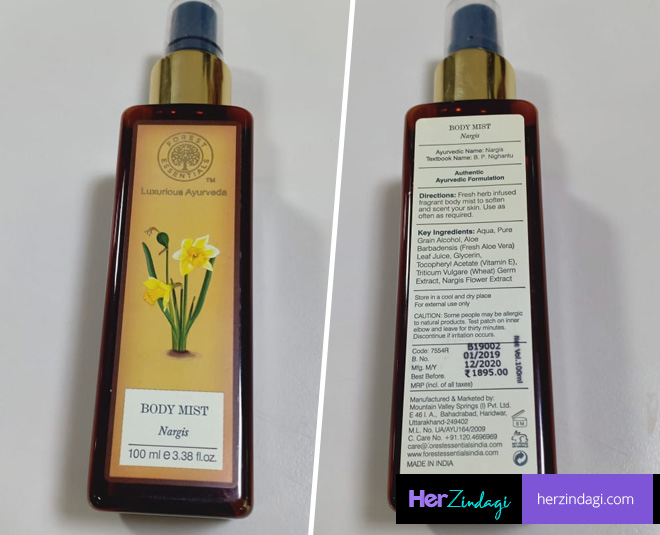 The branding placement and the colour combination used is pretty. What I like here is the flower on it. Their other variants also have different cute paintings drawn on it which explain the fragrances, in case you don't know which flower it is.
Price
50 ml: 1,025.00
100 ml: 1,995.00
Fragrance
It is a strong smell for the first note if you are not into florals and giving this is a try. The first 20 minutes you have to let it sit and then you shall realise the subtle fresh fragrance of a Nargis. The mist doesn't last the entire day since it is just a mist and not a perfume, but on dry skin like mine, it stays for 4 hours at least when sitting in an AC room. If you are sweating a lot then give it just 2 hours.
To make it long lasting, spray it on your pulse points. I generally spray it behind my ears, on my neck base, between my chest when I wear a deep neck, inside my elbows and knees and on my wrists.
Tips that you cannot miss: These Fragrance Hacks Will Make You Smell Divine All The Time
My Experience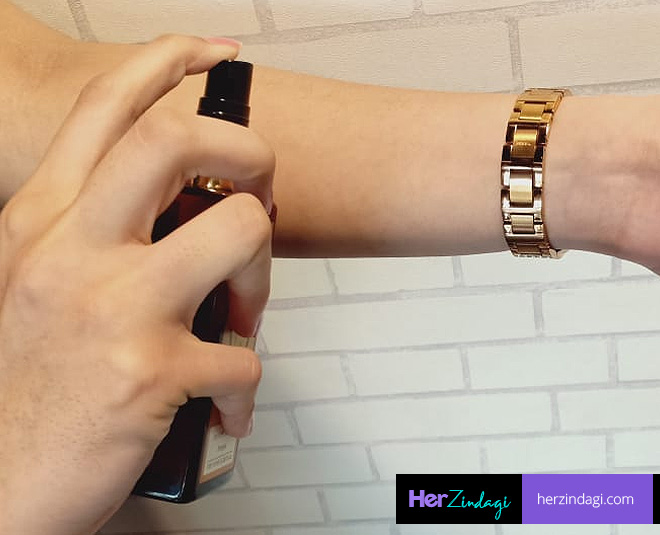 I certainly love this fragrance as it is light and floral and leaves an impression on other people. However, the packaging I feel could be worked on. Also, for the lasting power, it is a bit overpriced.
Pros
Travel-friendly bottle
Refreshing fragrance
Cons
A bit on the expensive side
Buy the 50 ml bottle if you are travelling
My Verdict
I will buy another bottle once this is over simply because I have not come across any other brand which gives me as an authentic fragrance of Nargis as Forest Essentials.
Rating
4.5/5