White or grey hair among children is becoming more and more common. Parents are seen giving their children nutritious food items to remedy the situation. While it is imperative to first give them the right nutrition needed to enable the cells at the hair base (melanocytes) to begin producing pigment again, it is also vital to provide the wholesomeness to the hair follicle and scalp from the outside.
Since kid's skin and hair are more vulnerable than adults, one must not use chemical-infused products, like store-bought hair dyes, etc. It is ideal to stick to the natural ingredients to get rid of premature greying.
Causes Of Grey Hair In Kids
Lack of certain nutrition can result in deficiency diseases or problems like grey hair. A deficiency of vitamin B12 in the body is most likely result in the greying of hair in children.
Stress and an extra load of exams or studies in children may also result in premature greying.
The kid's skin is sensitive and not prone to harsh products. Using synthetic soaps and shampoos can make their hair rough, other than causing greying of hair.
Genetics can turn out to be one of the most common causes of premature greying of hair in children. Home remedies can be effective but do consult a doctor as well.
Loss of pigmentation of hair can also be a symptom of several disorders, like vitiligo and piebaldism, as per health reports.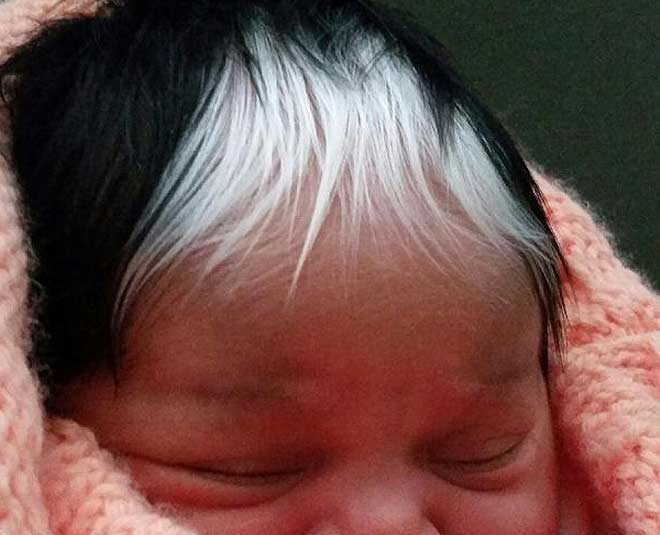 Amla & Coconut Oil
Natural ingredients like amla and coconut have almost no side effects. Also, these are extremely mild and are not likely to harm children's delicate skin. Vitamin C and antioxidants in amla can play a huge role in remedying the grey hair.
Steps
Take 1 tablespoon of coconut (coconut oil benefits) and amla oil in a steel bowl.
Place on stove and heat for around 2 minutes or less.
Test on the back of your palm to check if the oil is not too hot.
Massage your child's scalp with it every alternate day.
Curry Leaves
Curry leaves are known to be a potent hair tonic, which protects the beautiful tresses from woes. If your child plays outdoors and ends up with dirt in hair, using curry leaves will keep his/her mane safe from hair problems.
Don't Miss: Baby's Body Language: Here's How To Decode It
Steps
In a small iron wok, boil 10-15 leaves of curry leaves.
Keep cooking them, until they turn black.
Add 2-3 tablespoons of water and cook for another 2 minutes.
Strain the water and apply it on the scalp after cooling it.
Desi Ghee
We Indians love to eat most of our dishes cooked in scrumptious desi ghee. There are many benefits to consuming clarified butter. Packed with enzymes, ghee is effective in retaining the shine of the hair. Also, it will help to strengthen the roots from an early age in children if used regularly.
Steps
Take one tablespoon of homemade desi ghee.
Heat it in a bowl to melt it and make it lukewarm.
Apply slightly warm ghee twice a week on your child's scalp, and leave it on for an hour.
Wash it with a homemade or mild shampoo.
Almond Oil & Sesame Seeds
It's vital to stimulate hair growth alongside trying to treat grey hair. Apply almond oil to boost hair growth and use sesame seeds to enhance melanin production. Both will together help restore the natural pigmentation of your child's hair.
Steps
In a mixer grinder blend 1 tablespoon almond oil and ½ tablespoon sesame seeds.
Apply this mixture on your child's scalp.
Massage for about 15-20 minutes and let it sit for an hour.
Lastly, wash hair with lukewarm water.
Yogurt & Yeast
Kids can through serious tantrums when it comes to applying something on their bodies. In case your kid also doesn't seem to like certain home remedies, you can count on yogurt and yeast to help you out. Natural yogurt is full of protein, which offers nourishment and cleanses the scalp. It will also help the cells to produce more melanin. Whereas, yeast, rich in vitamins and proteins will improve the condition of old and newly grown hair.
Steps
In ½ cup of yogurt add ½ teaspoon of yeast.
Mix well and give your child to have it on a daily basis.
You can also use flavoured yogurt for the same.
If you liked this article, do comment on our Facebook page. Stay tuned to HerZindagi to read more updates.