Curry leaves are amazing for your hair, especially when used for hair growth, controlling hair fall, for dry hair or damaged hair and more. Also known as 'Curry Patta', this kitchen ingredient is a blessing in disguise for the tresses we love so much and if you love the fragrance as I do then it's a brownie point. Let's take a look at what these leaves growing in your garden or balcony pot can do. Scroll down to know more.
Treat Damaged Hair
Thanks to excess pollution and chemicals in the hair products you get in the market, our hair follicles tend to clog and therefore become weak, damaged and dull as well. This may also cause hair loss. Curry leaves are amazing for the scalp restoration process, as they help the hair follicles breathe and make them stronger.
Reduces Hair Fall
Hair loss can occur due to improper diet, lack of proteins and stress as well. Since curry leaves are a rich source of beta-carotene and proteins and they also have amino acids and antioxidants, this helps in strengthening the hair follicles and moisturising the scalp. 'Curry patta' also helps in removing the dead hair follicles, which can be the reason behind dandruff. Buy Khadi Global Onion Shampoo with Caffeine Curry Leaf and Indian Alkanet Root Controlling Hair Fall Splitends and Dandruff at a discounted price of Rs 355, here.
Premature Hair Graying
Your hair turns grey when you live in stress or it could be genetic or perhaps too much alcohol and smoking. Curry leaves are a rich source of vitamin B, which help restore hair colour by nourishing and strengthening the roots. Buy KAZIMA Curry Leaf Essential Oil - 100% Pure Natural & Undiluted For Skin care & Hair at a discounted at a Rs 315, here.
Don't Miss: Hair Care Tips For Coloured, Chemically Treated Hair In Summer
Hair Packs
Curry Leaf and Methi Seed Paste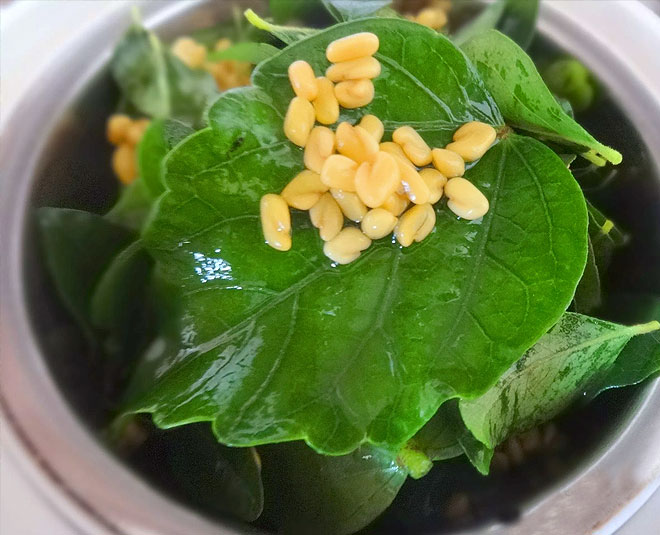 Ingredients
4 tbsp methi seeds
25-30 curry leaves
Method
Soak the methi seeds overnight and next morning grind it into a fine paste.
Take fresh curry leaves and remove them from the stems, now grind these up into a paste as well. You could also Buy Go Organic Curry Leaves Powder Curry Leaves to Grow Long, Strong and Shiny Hair at a discounted price of Rs 150, here.
Now mix it up with the methi paste.
Take this paste and apply it in your hair.
Leave it on for at least an hour. And then wash it off.
Use this pack twice a week for reducing hair fall and improving the hair texture.
Curry Leaf, Amla & Shikakai Pack
Ingredients
25-30 fresh curry leaves
A handful of amla and shikakai
Method
Soak amla and shikakai in water overnight.
Next morning boil the mix for a good 10-20 mins in water.
Let it cool and then squish the mix using your hands.
Strain the excess water and apply the mix on your hair.
Leave it on for an hour and wash it off.
This promotes hair growth and conditions the hair at the same time.