Losing face fat and that double chin is no easy task and it takes time and effort to do so. If you are confused about what plan to follow to lose those chubby cheeks and get the jawline of your dreams, follow this ultimate guide to chisel your face. This list will walk you through a detailed 21 Day plan. Each day follow a skincare home remedy and a simple exercise, following which you will notice a visible change in your face. However, you have to make sure that there are no cheating moments involved while following this rigorous plan.
Day 1
Coconut Oil Massage
Rich in vitamin E, coconut oil is an excellent skin moisturiser. Not just that, it keeps the skin hydrated which is necessary for your skin flexibility and elasticity. Apply this oil on your face and neck instead of face cream and let it stay for an hour. Then take warm water and lightly rinse your face to remove the excess coconut oil and let the remaining sit for the whole day.
Chew A Sugar Free Gum
Chewing gum is the best when it comes to losing face fat, in the form of a workout. It keeps the face muscles active and keeps the skin toned. It cuts down the calories from your chubby cheeks. Do it for at least 20 minutes twice a day.
Day 2
Turmeric Face Pack
This king of spices has curcumin which has anti-aging properties. These properties help in maintaining healthy skin. Mix some turmeric powder with gram flour or besan and some curd to make a paste. Apply it on your face and leave it for 30 minutes. Wash it off with cold water. This will ensure a good tight skin texture.
Rotating Tongue Exercise
The easiest face exercise to lose fat, this workout requires you to rotate your tongue with the mouth closed. Your tongue should touch the outer surface of your lower and upper teeth. Do this for 15 minutes both anti-clockwise and clockwise.
Day 3
Cucumber Peel Mask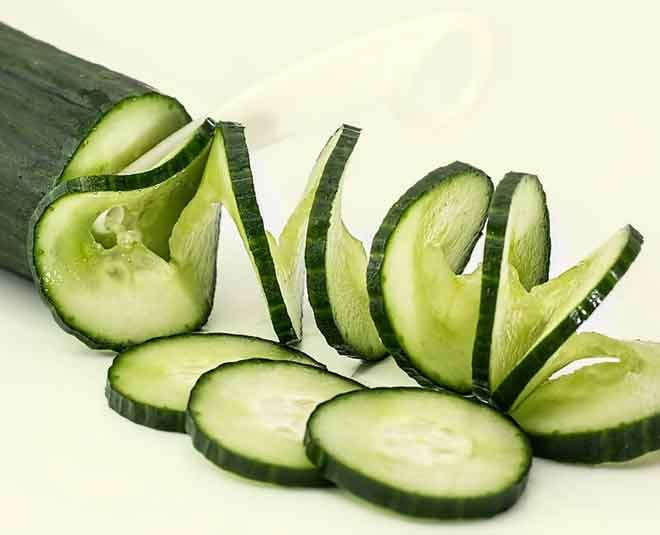 Want to reduce a bloated face? Cucumber is your answer. This vegetable or salad is amazing for refreshing your skin and livening up. For face fat, all you got to do is make a paste of cucumber peels and apply that on your face. This will also give you a cooling and relaxing effect.
Gargle Exercise
Using warm water only, you can easily shed that face fat. Twirl the water in your mouth at least 3-4 times a day. Make sure you do it once before sleeping as well.
Day 4
Mineral Oil Wrap
A wrap like this is necessary if you want a chiseled jawline along with hydrated skin. Mineral oil is what we have in baby oil and vaseline. Reduce the fat by applying some of that oil on your chin with some cotton and then take a cling wrap and wrap around your face. Keep this for 45 minutes and then rinse with water.
Puffy Cheeks Exercise
All you have to do is close your mouth and puff up your cheeks by taking in some air. Hold it like that for 10 seconds and keep shifting it from right cheek to left. This is a perfect exercise if you want to strengthen your facial muscles. It is the best exercise to reduce fat from the upper and middle parts of your face.
Day 5
Clay Mask
A clay mask is superb if you want to increase the collagen level of your skin. It tightens the skin and prevents sagging. It absorbs the excess oil and water in the skin tissue through a process called osmosis. Natural clay masks help in giving a slimmer look to your face.
Face Stretching Exercise
Strengthen your facial muscles and reduce the fat on lower parts of your cheeks with this exercise. All you have to do is open your eyes and stick your tongue out. With your tongue, try to touch your chin. Hold for ten seconds and do this continuously for the next 5 minutes.
Don't Miss: This Pineapple Cucumber Water Recipe Is Good For Weight Loss, Digestion, Thyroid And More
Day 6
Hot Towel Treatment
This treatment makes your face sweat as the steam reduces the fat. It also tightens your skin. Boil some water in a pan, let it cool a little so that we don't burn our face and then soak a towel in it and squeeze out the excess water. Now press the towel on your face and do this for 5 minutes. Repeat this process five times. This will tone down your cheeks and also open the pores of your skin which will need immediate moisturisation and no exposure to dust for atleast an hour please. Best time to do this is before sleeping or afternoon naps.
Smiling Fish Exercise
This exercise helps in toning the face muscles as it helps in reducing the fat from the lower part of your face. Suck in your cheeks a bit more than a pout. Hold it for 10 seconds and try to smile. Repeat it five times.
Day 7
Milk Massage
Milk is a boon when it comes to skincare. It has nutrients that help in toning and tightening the skin. It also acts as an anti-ageing agent which helps in maintaining the elasticity of your skin. Milk has Sphingomyelin, which is important for the skin. Just take some raw milk and massage it in the face and neck. Let it stay for a few minutes and wash it off with lukewarm water. This will help get rid of the double chin. You can also make a paste by mixing a few drops of honey in milk cream and apply it on your face, chin and neck area. Rinse it off after 10 minutes.
Move Your Jaws
Sit straight on a chair and open your mouth. Now, you have to push your lower lip forward. This will make your jaw move. Now keep stretching until you feel the stress near your ears. Keep this posture for 10 seconds and then move your jaw backward. Do this 10 times as this help reduce fat from the lower portions of your face.
Don't Miss: Get Rid Of Your Double Chin With Yoga To Get A Chiseled Face Like Kareena Kapoor Khan
Day 8
Melon Mask
Tighten your skin with the extracts of melon as it contains Vitamin C that has anti-aging properties. Take a dish and extract melon juice and apply it on your face with cotton. Keep it for five minutes and wash off with cold water.
Day 9
Vitamin E
Just massage in some vitamin E oil on your face and neck as it will enhance the elasticity of your skin. This particular vitamin type has the ability of the stratum corneum to balance humidity which helps reduce face fat. You can also add food that is rich in vitamin E which includes seeds and nuts, green vegetables, brown rice, barley and legumes.
'O' Exercise With Mouth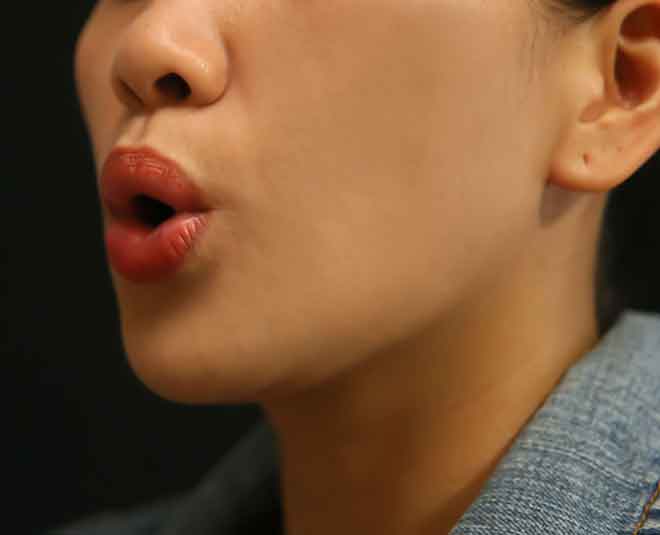 All you have to do is take a deep breath and exhale. But, fill the mouth with air and close your lips. Hold for a few seconds. Then, make a small "O" shape with your mouth and blow the air out like we do when whistling. Move your face upwards and then do that. This helps in reducing the double chin. Relax and repeat it for 7 times.
Day 10
Cocoa Butter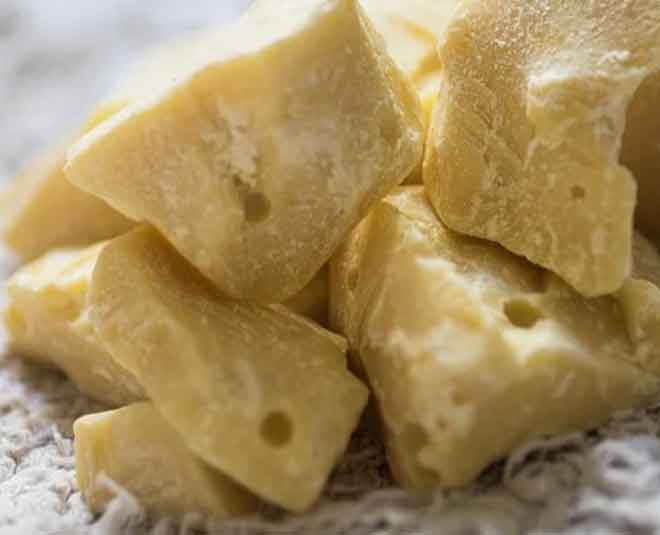 Elasticity in our skin is maintained when we have proper hydration. Cocoa butter is what fits the bill here. Heat two tbsp cocoa butter in the oven and massage it in when it is warm enough, onto your face, neck and chin while it is warm. Do this twice. Once before taking a shower in the morning and once before going to bed.
Don't Miss: Get Glowing Skin With These Simple Yoga Exercises
Facial Twist Exercise
Sit on a chair and keep your head straight. Now stretch your lips to the right side but keep them closed. Keep stretching till you feel the stress on your left cheek and stay like that for 10 seconds. Do the same with your right cheek and do it 5-6 times a day.
Day 11
Egg Whites
Egg has vitamin A that helps in improving the resilience of the skin.. Just blend a spoonful of milk, honey and lemon juice with two egg whites. Add in some drops of peppermint oil and apply as a mask. Do not forget the neck as well. Leave it on for 30 minutes and then wash it off with cold water.
Lower Lip Exercise
Reduce the chin fat by moving your lower lip over the upper lip and try to stretch it towards the nose. Hold that for 10 seconds and repeat 10 times.
Don't Miss: Avon Anew Skin Reset Plumping Shots Detailed Review
Day 12
Glycerin
To improve the elasticity of your skin, make a mask by mixing one spoon of glycerin with half tbsp of Epsom salt. Now add in two to three drops of peppermint oil and mix well. Apply this on your neck, chin and face. Leave it till the skin absorbs it and then rinse off with cold water.
Day 13
Stretching Of Facial Skin
Place your index and middle finger on your cheek bones and stretch your skin towards the upward direction. While you do this and hold, open your mouth in an oval shape. Stay like this for 10 seconds and relax. Repeat this three times.
Day 14
Whole Grain Cereals Bowl
Today we just concentrate on our diet. Consume a bowl of grain cereals which are high on vitamins and minerals and are low fat and do this every alternate day from now on.
Move Your Jaws
Repeat this exercise you did on Day 7.
Day 15
Smile With Closed Lips
This day we will just concentrate on a simple exercise that requires you to smile a lot. Keep your mouth close and smile like a joker smile. Don't Open your mouth and stay like this for 10 seconds. Repeat it for 10 times.
Day 16
Almonds
A big source of omega-3 fatty acids, vitamin E, and B6, almonds help in tightening your skin and also does a good job in moisturising the skin. Apply almond oil to your face to retain its elasticity. So a night before, just soak a few almonds in milk overnight. Bend them together into a paste and apply your chin and neck. After it dries, wash off with water.
Puffy Cheek Exercise
Repeat this exercise and do it four times.
Don't Miss: Use The Spice Star Anise To Get Rid Of Your Wrinkles At Home With These Easy Recipes
Day 17
Lemon Extracts
Want to burn fat? Make friends with lemons. Mix some lemon extracts in a glass of warm water and then mix in a tsp of honey to it. Drink it on an empty stomach. This will not just help in reducing fat from your face but it also does wonders to the body.
'O' Exercise With Mouth
Repeat this exercise we performed on Day 9 and this time do it 10 times.
Day 18
Wheat Germ Oil
Rich in tocopherol, this oil plays a very important role in fat reduction and tightening of the skin. Just before going to sleep, apply wheat germ oil on your chin area. Massage it from bottom of your neck in an upwards direction till the chin for 20 minutes. It will help reduce your double chin.
Day 19
Potato Pack
Cut a potato into pieces after peeling it, smear some lemon them and the grind to make a pulp. Apply the pulp on the neck and chin and let it stay for 10-15 minutes. Wash off with cold water.
Smiling Fish Exercise
Repeat this exercise you practiced on Day 6 but this time repeat it 10 times.
Day 20
Castor Oil Face Pack
Today we will enhance our skin's collagen and elasticity with this oil by mixing in a spoon full of castor oil and a teaspoon of lemon juice. Apply this on your cheeks, chin and neck in upward circular motions and leave it for a few minutes. Leave it on overnight.Rinse with cold water in the morning.
Chewing Gum
During the day, chew a piece of gum, at least 4 times with a few hours of break in between.
Day 21
Green Tea
Sip on 3 cups of green tea spread out throughout the day.
Blow Balloons
If you have birthday balloons in the house then this workout will help a lot.It will help in making the face slimmer. All you have to do is take a balloon and fill it with air. Do this 10 times throughout the day.
If you follow these home remedies as per plan, you will definitely see a difference at the end of the cycle. However, you have to quit all that fried and unhealthy food to make them more effective. Also, if you have some back problems etc or dental issues, it is best that you consult your doctor just in case something is not fine for you. For the beauty packs as well, do test them on your inner elbows before applying on the face.
Stay tuned to HerZindagi for more such tips.