Govardhan Puja is a popular Hindu festival which is celebrated on the first day of Shukla Paksha during the month of Kartik. The festival falls a day after Diwali.
According to Hindu religion, Govardhan Puja celebrates the victory of Lord Krishna over Lord Indra. On this day, people also worship the Govardhan mountain by preparing a pile of grains.
What Does Govardhan Mean?
The word 'go' here means senses and 'vardhan' means increase. It is said that people who worship Govardhan mountain have an increased devotion and belief in Lord Krishna.
Govardhan Puja 2020 Time And Shubh Muhurat
This year, Govardhan Puja is falling on 15th November 2020. The Sayankal muhurat of Govardhan Puja will begin at 15:18:37 and end at 17:27:15.
Govardhan Puja Vidhi
On this day, people worship Lord Krishna and Govardhan mountain. Begin the puja by preparing the Govardhan mountain at home using cow dung or grains. Decorate it with flowers. Offer water, flowers, and incense sticks to Govardhan.
Place a clay lamp on the Govardhan mountain prepared by you and put milk, curd, honey, gangajal, and bataashe in the lamp while performing puja. Later, distribute this as prasad.
After completing the puja, hail Govardhan ji and revolve around the idol.
It is said that women on this day should eat first and begin their meal by having something sweet.
Don't Miss: Interesting, Unknown Facts About Lord Krishna's Temple In Nidhivan
Legend Behind Govardhan Puja
Remember how Lord Krishna saved so many lives during the unprecedented rain by bringing them under the Govardhan mountain? According to Hindu mythology, Lord Krishna asked people to worship nature and not Lord Indra. He sent out this message because he wanted people to value nature. However, Lord Indra, who is the God of rain got angry with Lord Krishna and his teachings. He then started heavy rain in Gokul. To protect the people, Lord Krishna lifted the Govardhan Mountain on his little finger and gave shelter to everyone.
Annakoot For Govardhan Puja
People celebrate Annakoot along with Govardhan Puja, a day after Diwali. It is celebrated in different ways throughout the country.
Annakoot means a mix of different cereals that are offered to Lord Krishna while worshipping him on the day of Govardhan puja. There are some places where khichdi and puri are prepared and offered to Lord Krishna. Also, sweets prepared from milk are prepared on this day and offered as bhog to Lord Krishna. Once the puja is over, all this food is offered to the devotees. There are many temples around the country where the day is celebrated with songs and dance all night.
Don't Miss: Bhai Dooj Special: Keep In Mind These Things While Celebrating Bhai Dooj This Year
Vishwakarma Day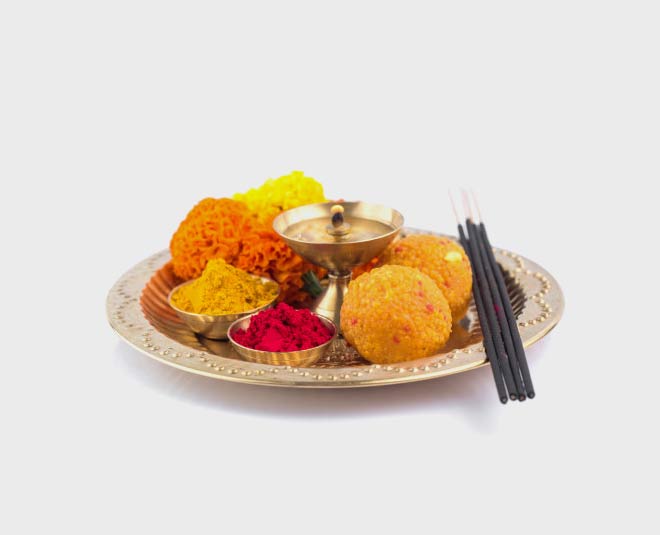 Vishwakarma day is also celebrated a day after Diwali, the same day as Govardhan Puja. Vishwakarma is a Hindu God who is believed to be the one behind constructing the holy city of Dwarka where Lord Krishna ruled. The God is also known to be the creator of many weapons for the Gods. Vishwakarma is also believed to be a genius in machines and architecture.
Thus, Vishwakarma day is specially celebrated in factories, workshops, and industrial areas. On this day, people worship tools, machines. Artisans, welders, craftsmen, workers, and mechanics pray for a safe working condition and the smooth functioning of their machinery.
This year, due to the pandemic, the festivals won't be celebrated as they usually are. However, that shouldn't really affect your zeal. Temples may not be open for large gatherings but you can do Puja at home following the vidhi.
We wish you a very happy and prosperous Govardhan Puja. For more stories around the festive season, stay tuned!