Water chestnuts have been found growing in South-East Asia, Australia, Africa, and many Pacific Islands as well since a long time now and it has been introduced to and inducted into our culinary uses in some really interesting ways and forms. Besides the fact that these water chestnuts have a lot of potential health benefits to offer us, they are easy to adapt to and modify into our recipes on a global level from Indian to Italian and from Mexican to Malaysian as well.
Singhara as we know water chestnuts in India have however not gained a lot of popularity in most of our menus be it home or commercial while we do at times involve it in some Asian or Chinese and Thai recipes most commonly. We get them with a coating of green covering and another variety as well with an ash black coating as well which can be peeled to enjoy the goodness inside.
Health Benefits Of Water Chestnuts or Singhara
1. Water chestnuts are an excellent source of nutrients and anti-oxidants.
2. Water chestnut consumption can also help reduce free radical movements in our body and lower blood pressure as well.
3. Water chestnuts are really good for our hair growth and development.
4. Water chestnuts are also effective in the treatment of several urinary infections.
5. Water chestnut powder mixed with lemon juice helps eczema if applied regularly.
6. Water chestnuts are an excellent food for creating a healthy lifestyle and a good diet.
7. Water chestnuts serve as a great coolant to our body.
8. Water chestnut powder is also great to eliminate cough.
9. Water chestnuts are also a good source of potassium, vitamin B-6, manganese, copper, and riboflavin.
10. Water chestnuts also help in curing indigestion and nausea.
Don't Miss: Amazing Water Chestnuts Recipes Shared By Chef Kaviraj Khialani
Culinary Uses Of Water Chestnuts or Singhara
1. While most of us enjoy our singhara fresh and crunchy as it is but it can be used in several ways like adding it to chaat in combination with sprouts, onion, tomatoes, mint, and coriander with our tamarind chutney, etc it is a nice variation.
2. Singhara goes well into soups as well like broths, clear soups, puree soups, and also as an added nutrient value into even the regular soups which we prepare. Water chestnut with mushroom cream soup, a spinach and water chestnut clear soup, broccoli, and water chestnut soup with roasted almond dumplings.
3. Water chestnuts are more often found in Chinese recipes adding it to the wok with varied colors and textures a light soy or chili sauce with some garlic, chilies and a dash of honey and sesame does a good choice, besides it also goes well with marinated boneless chicken, with prawns, and braised fish with hot pepper water chestnut sauce!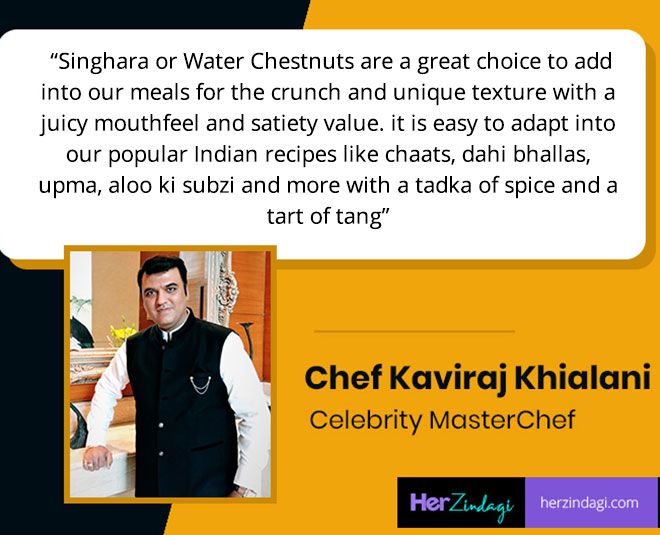 4. Thai cuisine too has involved it in a number of ways from adding to a piping hot n spicy Thai veg/chicken soup laced with coconut milk and galangal/ lemongrass a dash of Thai curry paste and a few select veggies. Adding it to Phad Thai noodles, Thai style stir fry, into the Thai red/green/yellow curries and even to the steamed jasmine rice adds a nice crunch to it.
Don't Miss: 5 Foods That Can Be Cooked In Iron Vessels According To Expert
5. Speaking about how to use it in Indian recipes or a desi andaz with Singhara, I enjoyed doing it in a number of ways like a tomato dhaniya Singhara shorba, Lasooni palak singhare ki subzi, makhana and Singhara korma, Singhara atta and whole wheat flour parathas stuffed with soy mattar ka keema, Singhara and cheese stuffed malai kofta, singhare aur methi gajar wala dum pulao, singhare ki kheer, brown rice aur singhare ki phirni, and of course the singhare ke halwa or meetha is a true delight.
6. For the fusion lovers there is a lot to explore and I'm sure you would love my ideas and innovations! Spinach- cheese and water chestnut ravioli served with sun-dried tomato and basil pesto, chicken mince, and water chestnut lasagne layered with makhani Arabiata sauce! Water chestnut macaroni and sausage bake with fresh herbs and dash of chili flakes in pink sauce, trying it in a Filipino style add it to the favorite Panset – made with rice noodles, veggies, and light dash of soy and garlic. The desi version talks of doing a makkai aur singhare ka cheesy tava pulao served with mooli boondi ka Tadkewala raita.
Chef Kaviraj is a popular celebrity Master Chef. He has varied experience in airlines and hospitality. He is also an author, food writer, food designer, creative cuisine specialist and consultant. For more such stories from the expert, stay tuned!