In many Indian households, people don't actually wear slippers at home, mostly due to their religious beliefs. There are also others, who prefer not wearing slippers in the house for hygienic purposes. While all this makes sense, have you ever thought, why wearing flip flops at home was considered in the first place? Despite other reasons, it has a health significance, which many are not aware of. Not fancy and uncomfortable pairs, but supportive, flat slippers can make a lot of difference when it comes to your well-being and robustness. Here are some of those reasons.
Wards Off Common Illness
There are many, who suffers from cold and flu throughout the year. While they need to focus on boosting their immune systems, they must also check out the common mistakes that perhaps can be resulting in such problems. Not wearing slippers at home, allows the heat of the body to get out through the feet. As the body keeps losing the heat, blood circulation decreases and it leads to many common health problems. When you develop a habit of giving protection to your feet, they stay warm and heat loss is reduced, which helps to keep blood flow normal and allows the system's defenses to fight off diseases.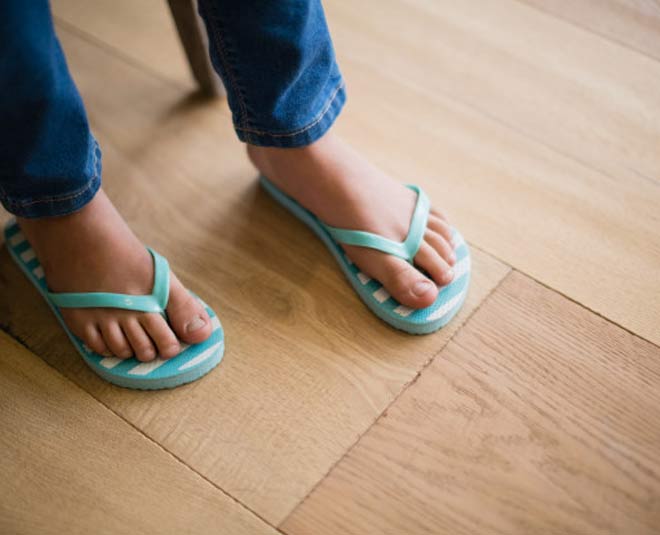 Keeps You From Bacterial and Fungal Infections
Most people think that the floor of their house is absolutely clean. Yes, it might look clean and spotless, but there are so many germs and bacteria that you simply cannot see from the naked eye. Besides, using vacuum cleaners, mopping with cleaning agents, etc, you cannot stop harmful microorganisms from entering the house with air, water, and other carriers. Wearing slippers is vital, as it helps protect your feet from communicable foot diseases. Some of them are athlete's foot and toenail fungus infections. The bottom line is, slippers shield your feet against contracting bacterial or fungal infections at your home.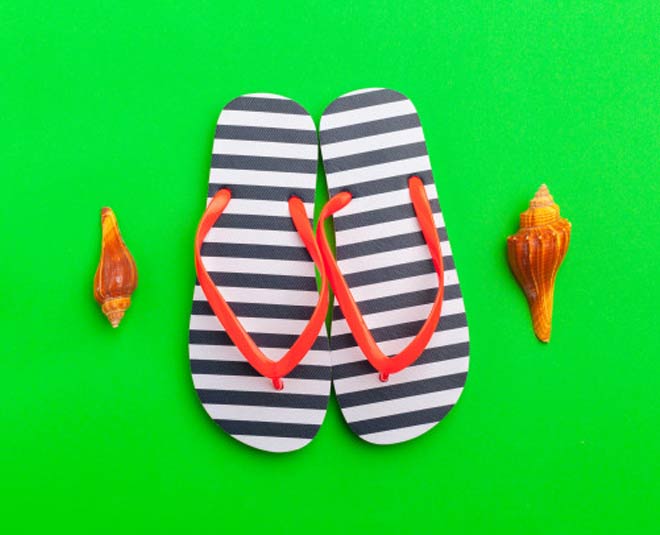 Don't Miss: Ditch Your Uncomfortable Footwear This Summer And Pick These Stylish Flip Flops Under INR 500!
Increases Body Balance
This mostly applies to small babies and older people. A baby's feet are not flat, so, until a certain age, they fall more while walking. If your baby is taking time to walk, perhaps you should help him/her to walk while wearing slippers. The flat footwear will provide support. When it comes to older people, they must wear a slipper that has good arch support built. Other than comfort, it will help to alleviate strain. If you feel you are trembling a bit while walking with growing age, make slippers your best friend to increase your balance and stability with every step you take. However, do mind that you're not wearing something that might increase the problem, as an unsupported arch can lead to pain and discomfort.
Don't Miss: You Will Start Doing Mopping Or Pocha Everyday After Reading These Surprising Benefits
Heals Swollen Feet
One of the main reasons behind a swollen foot is improper blood circulation. Until the situation doesn't get severe, many don't even realise that their feet are swelled up. While it can also be due to medical conditions like diabetes, wearing supportive flip flops can boost the blood flow to your feet. This will further reduce the amount of swelling they experience. You can try ortho recommended slippers that are available online and even in retail stores. These are designed to fit your foot perfectly and support its imperative structural elements.
If you liked this article, do comment on our Facebook page. Stay tuned to HerZindagi to read more such articles.