She is no more just a celebrity wife. Mira Rajput Kapoor, with her active social media presence and useful, engaging content has managed to turn into an influencer.
From beauty to wellness to fitness, Mira Kapoor has been posting a lot of valuable content over her social media handle lately.
Recently, Mira Kapoor took to her Instagram handle and posted a video of herself skipping using the new remix feature on reels. She captioned the post, "Show me your inner freak, Remix with @athletifreak. Come on all you Athletifreaks, bring out your passion & obsession! Let's do it, Level Up!"
View this post on Instagram
Mira Kapoor's fun fitness video is indeed inspiring us to do some skipping right away. If you haven't tried skipping then read about some benefits of doing the exercise.
Improves Heart Health
If you can't hit the gym for a cardio session then a skipping rope is just what you need. It is one of the best forms of exercise you can do if you want a healthy heart. When you skip more regularly, your heart starts to function more efficiently. It will help in circulating blood and oxygen between the heart and the other organs of your body. A lot of people suffer from shortness of breath. If you are one of them then doing skipping will help you build stamina.
Helps In Weight Loss
With that long and tiring work schedule, we really don't feel like stepping out but maintaining a healthy weight is important too. In this case, a skipping rope can be your best friend. Skipping for 30 minutes everyday can help you lose a lot of calories for the day and help you maintain a healthy weight. It is one of the easiest ways to lose weight.
Improves Balance And Coordination
If you want to improve your balance and coordination then skipping is a great exercise. A lot of players do skipping as a part of their daily training. It is believed that doing skipping everyday helps in improving functional movements like footwork and balance in the body.
Don't Miss: Mira Kapoor Will Inspire You To Do Planks Everyday
Your Full Body Workout
When you skip, you are using all the parts of your body which is why it is your full-body workout. While you are jumping with your lower body, your arms, shoulders and abdominal area is constantly moving.
Improves Bone Density
Bone mass starts to decrease with age. Also, bone loss happens after the age of 35. Skipping can help you strengthen your bones and improve bone density.
Boosts Your Mood
Do you know skipping can help release endorphins? It is a hormone that helps in easing your depressing mood. Skipping regularly can help you improve your mental health.
Don't Miss: Mira Kapoor's Tip To Brisk Walk Can Help You Stay Motivated, Read On Its Amazing Benefits
Improves Your Immune System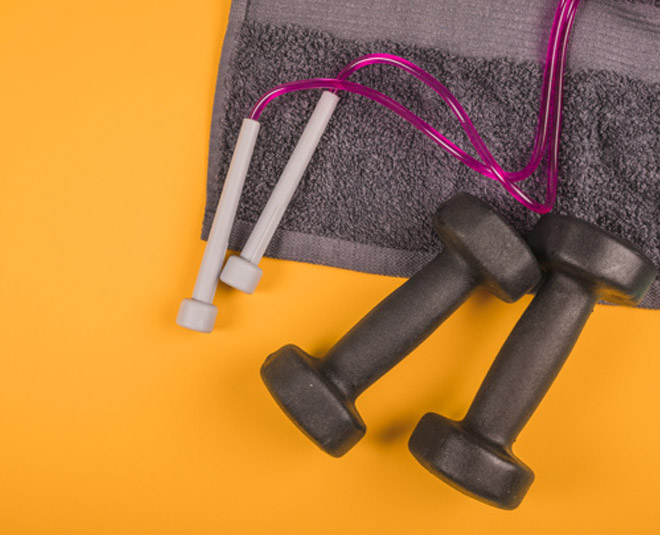 Skipping can help in boosting your immunity which means that it helps you keep any health problems at bay. Also, skipping can help in improving your metabolic rate and boosts overall health.
Though skipping is highly beneficial, this form of exercise requires a lot of concentration to prevent any kind of injury. Those suffering from knee problems should avoid skipping completely.
The best part about skipping is that the rope is handy and you can just take it anywhere and do your exercise. So get a skipping rope and get back to fitness!
For more such health and fitness-related content, stay tuned.